New domestic flights for Liverpool John Lennon Airport
WELSH airline Air Wales today announced that it is to commence three new domestic air services from Liverpool John Lennon Airport with flights for the first time to Cardiff International and Newcastle International Airports, plus a link to Plymouth City Airport via Newcastle.

Daily scheduled services to all three destinations will commence on December 8 and will operate a set price structure for fares to Cardiff, Newcastle and Plymouth.

Until now, Liverpool John Lennon Airport has experienced growth mainly in European scheduled services and these new flights are seen as an important development for the Airport as it looks to widen the choice of domestic flights, particularly for business travellers in the North West.

Neil Pakey, Liverpool John Lennon Airport's Managing Director commented:- "In working closely with the region's business community, the Airport recognised the need for good, fast links between the North West and key business centres, which is why these additional services are important to business travellers across the whole North West.

Clearly, the fact that both Cardiff and Newcastle were contenders for the European Capital of Culture 2008, demonstrates that they also have a lot to offer tourists from the North West, whilst the opportunities for visitors to this part of the UK from all three regions, should also prove attractive."
New sponsor for North Liverpool City Academy
AFTER months of speculation, it was officially announced today that the main sponsor for North Liverpool City Academy is Granada Learning.

As a leading-edge company in the field of educational software and services it completes a powerful educational alliance with the University of Liverpool and the city's education authority to bring about a radical improvement in secondary education
facilities for the young people of Anfield and Breckfield.

Design work is already underway on the new Academy building at an estimated cost in excess of £20 million and Managing Director of Granada Learning Nigel Ward has given a personal commitment to take the lead role in helping shape the future of the Academy. The news has been welcomed by the citys education chiefs.

PJ Party at the Strand.
Photographs by Patrick Trollope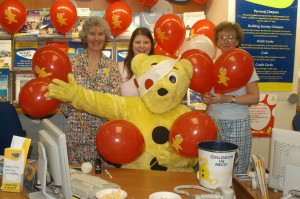 THE Pyjama Party at Travelcare in the New Strand, Bootle was a huge success on Saturday 15 November. Assistant Manager (Pudsey Bear) greeted shoppers in the shopping center as staff inside the shop gave out balloons. One shopper said:- "It is a fantastic idea and we are pleased to see them collecting for BBC Children In Need.". Manager Veronica Gorden said:- "We do a lot of charity work and we love dressing up and entertaining the children. We just hope we can raise a lot of cash for charity." As well as entertaining the children and in between serving customers the staff members Margaret Patton and Kerry Morgan served people with refreshments.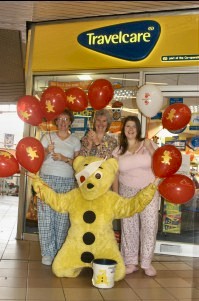 EMAIL US YOUR NEWS & VIEWS TODAY and we will look into them for you.
SEND US YOUR CHARITY INFORMATION AND WE WILL TRY AND COVER IT.