WHO CAN SAVE CHRISTMAS?

YEP, it is that time of year when the Christmas Panto adverts come out. Ok, I agree that Christmas is still a long way off, also that we have Halloween still to come and Bonfire Night. So why do we offer a report about a Christmas Pantomime? Well, this is the best time to book your tickets before you suddenly find Christmas has crept up on you and all the tickets are sold out. Not forgetting another fact that the show deserves a plug, as we have gleaned from the many rehearsals taking place.

Our editor Patrick Trollope has taken a sneak preview of the show, before it hits the stages of Crosby Civic Hall and then the Arts Centre in Southport. The show is produced by a local theatre company ABD Productions and has many local actors and actresses ranging from children as young as 7 years old to radio presenters on Dune FM and professional actors who have played on stage in London's West End. As far as big names go the show may be light, but it more than makes up for this in terms of the storyline. Also the acting skills put lots of big name pantos to shame.

The story goes something like this… Santa's hard at work sorting the all the lists of children's presents on a new computer system when the villains arrive and put a Virus on the computer! There is afear that Christmas might without presents. To stave off this threat a group of toys must take on a dangerous mission to fix the computer and this exiting original musical promises a good mix of clean family action and adventure, with dazzling costumes, stunning choreography, catchy songs, and lots of "Oh yes, they will, …."

So to see this amazing show book your tickets now from the booking office on 01704 54001.

Ticket prices are £12 and £8. If you book 10 tickets you get 1 free and special school rates are available on request.

Performances are at the Crosby Civic Hall, Crosby, on from 12 December 2007 to 18 December 2007, with shows on at 10am, 1pm and 7pm, but ring up for full details.

The show will be on stage at the Southport Arts Centre, Lord Street, Southport, from 20 December 2007 to 5 January with 2pm and 7pm showings. Again ring for more information.

Fake Lottery Emails

LOTTERY

scams (fraudulent) emails are increasing at an alarming rate with more and more are being reported to us by our readers. This email, we are alerting you to, looks like it is from

"The National Lottery"

and it has got our attention. Not only has is clogged up out email system but lots of readers have told us about it this week. Internet security is a hot issue at this point in time and as a general rule, we can say that if you have not purchased a ticket from the UK National Lottery, you won't have won a prize, and you should treat the emails that say you have won with absolute caution. Sadly some of the current scams are very convincing and if you do play the Lottery via the web, remember that most fraudulent email ask for the Player information like name, address or bank details on an email. Often they carry the words

"Winning Notification"

or

"Lottery Sweep Stake"

in the text. This email that so many of you have told us carries the header

saying

"Wins !"

and the sender comes up as

"Camolot Office"

, yet the email is from infomgt@charter.net. The National Lottery told us that:-

"These scams often work in two ways. The first method is to persuade the victim to part with personal information that will allow the scammers to carry out Identity Theft. The other common scam is to persuade the victim to part with money as an up front payment in order to release a winning Lottery prize which does not exist. This is a common problem, yet people still fall for them. You can find out more about how to spot a scam Lottery email by visiting this link."

The full fake email we received reads as follows:-

"This Email is to inform you that you emerged a winner of £480,152.00 on our online draws which was played on the 13th of October, 2007. For further Information about your Winnings, contact our Lottery Fiduciary Agent with the following contact Address. Green, with your full names and draw number (i.e 1088)

1.First Name:
2.Last Name:
3.Your Ref:
4.Address:
5.Country:
6.Telephone:
7.Occupation:
8.Age:
9.Preferred payment Mode:
(a) Cheque (b) Bank Transfer
Name;Mrs Roxanee Green
E-mail Address:- camelotprom9@yahoo.co.uk
Telephone:+44-7024028114,+44- 7024028262
Fax:+44 -+448704792368, +448704794060
Sir. Richard K. Lloyd
Co-Ordinator(Online Promo Programme)"

If you receive this email, bin it immediately... It is a 100% fake!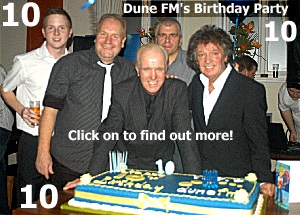 --- MORE NEWS REPORTS BELOW ---
BMFC 2007 Results...
The Greenhouse effect… Gigantic Inflatable Plants and Flowers
North West vote Formula 1 Hamilton as having most envious job
Happy 10th Birthday Dune FM!
Letters To The Editor:- "Yet another major blow to small business in the UK."
Darling Labours IHT threshold rise
Young 'Catalyst' inspires peers to transform their Liverpool community
NORTHWEST FILM FANS TO GET EVEN MORE CHOICE
Liverpool International Market October 2007
NORTH WEST'S FORESTS GO TECHNO-COLOURED
'Work while you're sick' attitude begins to hit organisations in the North West
Prêtence-a-Manger
Support for families in Liverpool
HOLLYOAKS STAR HELPS CELEBRATE WITH THE CHILDREN'S SOCIETY
The Ultimate Tribute (working title) is holding auditions!
Vue
Film Showing
Times
GET YOUR NAME DOWN - GRAND CHARITY BOXING DINNER
Middle-eastern bazaar sets up stall in Liverpool
New Technology for Libraries?
PLASTIC FIRMS TO CLEAN UP ON BACK OF POST STRIKE
Red carpet screening for race hate film
Liverpool John Lennon Airport emits the same amount of CO2 as Mali's total CO2 emissions
LET me start by saying that the album is great and that you must rush out now and get it.
CARBON MONOXIDE AWARENESS WEEK TO RAISE AWARENESS OF KILLER GAS
1st chair for Liverpool's new regeneration company
Craven Minor JFL Match Reports For 14 October 2007
DJ Trevor Nelson breaks down barriers for under privileged kids
SILVER SURFERS TAKE THE NET BY STORM - MONEY SITES TOP OF THE OLDIES' HIT LISTS
Wish upon a DVD…
Young Achievers Trust launches national search for England's star achievers.
Social care system is failing 4 million working age carers
Letters to Editor:- "Liverpool Hauntings"
Boost for medical research to drive innovation in health
FUNDING FOR TV FREELANCERS
LENNON AND McCARTNEY STAGE
North West winners in line for a national Teaching Award
50,000 PEOPLE RISK BLINDNESS AS NHS FAILS TO MEET TARGETS
CHARITIES PULL TOGETHER TO MAKE GIVING EASIER FOR WORKERS
SOUTHPORT RAISES £££'s FOR RED CROSS
CHARITIES JOIN FORCES TO HELP PEOPLE WITH SEVERE MENTAL HEALTH PROBLEM TO QUIT SMOKING
MEDIA BULLIES IN THE FRAME AS NEW BROADCAST MONITORING WATCHDOG BITES BACK ON BIASED REPORTING
Dental charity hot for new chilli pepper based anaesthetic
GIVE PCSOs THE RIGHT KIT FOR THE JOB SAYS UNISON....
Midas Invites you to an Evening Of Swing
Southport Weekender Nov. 2007 Live Artist Line up!
Merseyside leads the way in sustainable tourism as New Zealand imports the best of British
MERSEYSIDE LAUNCH OF CHILDREN'S CHRISTMAS APPEAL
Half of Brits need help to 'dress for success'
Craven Minor JFL Fixtures for 20/21/27/28 October 2007
~HAPPY BIRTHDAY~
21 this week! Louise Hudson, Happy Birthday from all of us on your course at Liverpool Uni.
If you have someone you want to say happy birthday to, for free,
then use the email address below to send us the names
you want us say happy birthday to, and/or a photograph.
Email us today!