STAR OF THE FUTURE on top station Rock FM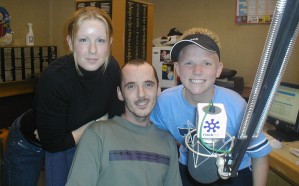 I listened to some of the interview on the radio and then we got contacted by rock FM, who said "On Wednesday 3rd October up-and-coming Southport Star, Lewis Devine visited the studios our radio station 97.4 Rock FM. Lewis was interviewed live on Mark Kaye's Drive time show ahead of his appearance in the STARS IN THEIR EYES final this Saturday."

Mark Kaye was highly impressed with the 14 year old and said "Lewis was really confident on the show and came across really well, and I will definitely be voting for him this Saturday"
"Let's hope Lewis wins." Matt Bolton told us.
Mark also said he as been used a lot in theatres though-out the northwest and been on some TV programs. "Mark is a shining light for the north west and is full of real talent." One said singer who knows him.