OVERSEAS BOOST TO GOLF TOURISM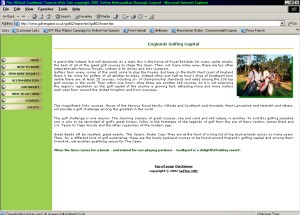 Southport's reputation as England's Golfing Capital has been given a major boost as tourism officers team up with the country's leading tourism authority to promote the product.

Southport:- England's Golfing Capital features prominently on the British Tourist Authority's (BTA) website:- www.visitbritain.com/sport.

BTA's mission is to build the value of inbound tourism to Britain, generating additional tourism revenue throughout Britain, throughout the year.

Lord Fearn, Sefton's Cabinet Member for Economic Development and Tourism, said:- "This is fantastic news for Southport. Not only does our golfing product feature on this influential website but is the only single destination listed. The other destinations offer generic information on golfing in Ireland, Scotland and Wales."

"A lot of work has already taken place to attract golf enthusiasts to the town but the BTA website will be the first port of call for millions of overseas players who are looking to visit and play golf Britain."

The Southport:- England's Golfing Capital has its own page on the BTA site with a hyper-link to the town's recently launched www.golf-england.co.uk. This new site, together with the new guide to golfing to the area, has proved a hit with both players and golf clubs in the area.


Carol Birrell, secretary at the Southport & Ainsdale Golf Club, said:- "I have recently reviewed the site and have to congratulate you on the design. I found it very easy to navigate my way around and the information displayed is very informative. There is a good balance of photos and text."

www.golf-england.co.uk has already had hits from throughout Europe and the Far East.

The BTA operates in 27 overseas markets to promote Britain as a tourism destination.