Rocking to the Christmas Beat.

Photographs by Patrick Trollope.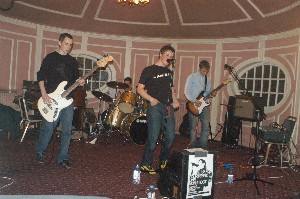 Southport Champion Christmas Light campaign is now well underway and as part of the fund raising, the youth of Southport took part. A local band called Four Penny One from Southport entertained the audience at the Royal Clifton on Monday night, playing pieces of music, from classic covers from bands like Oasis to some of their own. The night was well received by the fans who turned up, only one glitch struck when their speaker broke leaving them a piece short of their intended play list. One of the fans said "It is good the see a band give something back to the community as well as entertain. I think they are fantastic and look forward to their next gig."