If you went down to the Woods at WLLR...
Photograph by Patrick Trollope.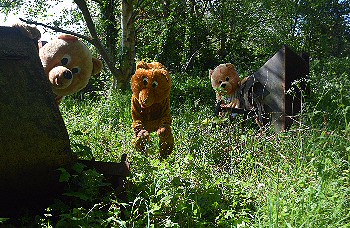 THE West Lancashire Light Railway (WLLR) held their Annual Teddy Bears' Outing, on Sunday, 22 May 2016. We are told Yogi Bear was spotted with Boo-Boo, luckily for those attending we are also informed that they both stayed out of trouble. The event was extremely well attended, with people travelling in from all over the North West. Trustee Chairman, Mike Spall said:- "I would like to thank everyone who helped us make this a very successful day. The morning was a damp start, but the Sun came out to play, as did the bears. Over the event we have continually run trains in full steam, plus we have also seen the odd bear transporter taking our furry visitors around. For our human guests, we have had model a model railway exhibition, the amazing stam traction engines, a coconut shy and lots of other things for them to do. Plus, they have all had the opportunity of seeing the bears in the woods... We have not had any picnic hampers stolen though, so Ranger John Francis Smith, from Jellystone Park will be pleased." Please let us know if you attended this event and also let us know what you thought of it via emailing us to:- News24@SouthportReporter.com. It is worth taking note that steam trains will be running on Sundays and Bank Holidays between April and October, throughout 2016. The next major event will be Strawberries and Steam, on Sunday, 19 June 2016. This will be followed by Summer Steam Weekend, over Saturday, 6 August and Sunday, 7 August 2016... Also, lots of other events taking place throughout the year, from Steam Gala to the Halloween Specials, plus the all important Santa Specials in December...

To see our photographic coverage of this event, please click on here now...

Fact File:- Did you know? The railway is Lancashire's only working narrow gauge track, but despite only being built in 1967, by 6 schoolboys, the site has become a very important locally and nationally. Not only does it prove to be an increasingly popular tourist attraction, it's preserving a valuable part of our industrial and railway heritage for generations to come. It's also worth noting that the long lost Preston to Southport line, that was run by the West Lancashire Railway (WLR) Company, had its River Douglas Station next to Alty's Brickworks, where the WLLR is now located. 2006 the Railway became a registered charity and has recently been given funds via the National Lottery in the hopes that they can expand and take over the site from their landlords, Alty's. The idea will be to expand the West Lancashire Light Railway's 2ft gauge track to take them to the river and around the lake, as well as converting the rest of the site, including a large lake, into an extensive leisure park and wildlife centre. These plans are still under discussion, but are increasingly looking like becoming a reality. If this happens, it will secure the future of the WLLRailway. It's hoped that the good news will break as the small railway celebrates its 50th Anniversary next year. For more information about the railway please call:- 01772 815881 or visit:- WestLancsRailway.Org.
See SPACE live in Southport!

Click here to get tickets!
B.O.A. 70th Anniversary DVD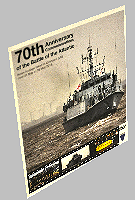 THE video footage we have taken at the 70th BOA events this year in Liverpool has now been fully edited is available to buy, on a DVD, from our Online Shop, on Mersey Reporter very soon. For each DVD sold, £3.00 will go to the Liverpool's Lord Mayor's Charity Appeal. (Registered Charity No. 229539) At this stage we can only do UK postage options, but if you are outside the UK, you can still order copies, but only via emailing our newsroom at:- news24@merseyreporter.com with your FULL address and we will get back to you with a postage cost and a payment link, should you wish to continue.