Flowers on the Promenade

Report and photos by L Trollope
SOUTHPORT and Formby Amnesty International Group are 21 years old this year, and to celebrate this, a design for a flowerbed was submitted to Sefton Council's Leisure Department. The design was based upon the Amnesty International emblem of a candle entwined with barbed wire. This design has been duly executed and on Saturday 26th July, a group of people led by Liberal Democrat John Pugh, Southport's MP, Brian Plant, Chairman of the Amnesty International local group, Pauline Leyland, (Labour), visited this mini garden to commemorate the occasion.
Do look out for this display which is situated in the Promenade Gardens almost opposite the Clifton Hotel.

Amnesty said, "Our thanks go to Sefton Leisure Services Department for giving us this opportunity, and for all the hard work in making such a lovely display."
Elsie Alder, one of the founder members, whose late husband founded the Southport Branch in 1960, commented on how much Amnesty International had expanded over the years. She said that it began in a relatively small way; their work was mainly confined to writing letters to people of influence in the East and West and in non-aligned countries, to highlight cases of abuse. Mrs Adler has herself written hundreds of letters to prisoners over the years. The work has now expanded and the organisation is now involved in many countries supporting human rights and much of its work is campaigning for fair treatment of prisoners of conscience and the many 'disappeared'.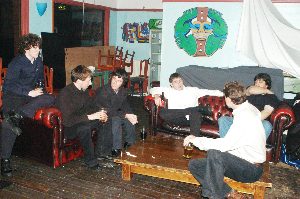 The hard work of the group letter writing and fund raising will continue; various members of our group take interest in particular concerns, such as Paul Griffiths with the Burma campaign and Roger Darby with the North Andean Regional Action Network which covers Venezuela, Columbia, and Ecuador.

The group meets regularly in Birkdale and always welcomes new members. The next meeting is Monday, September15 2003. For further information please contact John Kirby on 01704 567313.
All Old

Woodworking Tools

Wanted.


Workshops cleared. £100 minimum paid for NORRIS planes. Old model or pond yachts wanted. Best Prices Paid. Phone TONY MURLAND on 01449 722992.
Email:- tony@antiquetools.co.uk
Website:- www.antiquetools.co.uk