Why was Tulketh Street Closed?
This was the second time the road had to be blocked off. The first time wind stopped play but it was to prove Second time lucky for the instillation of new refrigeration units on the roof of Marks and Spencer.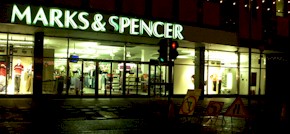 On hand on was Project Manager John McCourt who told us after the safe lifting of the units "This is part of the food hall redevelopment at the Marks and Spencers Southport Shop,2 new roof mounted refrigeration units have been supplied. These were lifted into place using a 250 tonne crane sited alongside the store in Tulketh street. This size of crane was necessary due to the reach involved. Local diversion around Tulketh street was required and the co-operation of the local traders and Sefton Council Highways dept. was much appreciated to enable the lifting operation. The lift had been cancelled the previous Sunday, because of adverse weather conditions expected. The weather with respect to high wind speeds, was also a driving factor in operation this Sunday, the lift having to be done hastily but with great care and attention to safety, before high winds were again expected. The operation was a resounding success and we would like to thank all those involved."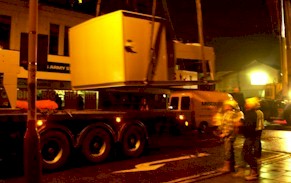 Above the 250 Tonne Crane.

Go to the top of the page.
Photos and article by Patrick Trollope.