Data Warning!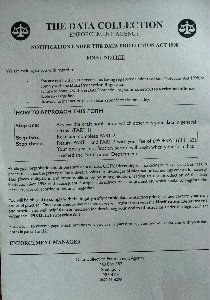 Paul Murray of ACAR Recruitment contacted Southport Reporter to look into a strange letter sent by a group calling them selves The Data Collection Enforcement Agency. The copy of the first page of the letter sent out to organizations throughout Southport is below. The letter opens with the words "NOTIFICATION UNDER THE DATA PROTECTION ACT 1998 FINAL NOTICE" and has two distinctive clipart logos of scales either side of their banner.

"The forms look very convincing at first glance. If you don't look very closely you can fill it in and be conned very easily." Said one business that has received a letter, but does not want to be named.

ACER RECRUITMENT said "We are always on the guard for strange letters, this one caught our eye straight away. We told Southport Reporter about the letter as we feel other businesses should know about its existence. We think a lot of people who are not as vigilant as us, or who have just started up could be conned into handing over the £111.63 and information that is about their company's data storage!"

We went to Southport's trading standards and they sent us this statement "Sefton Trading Standards is recommending businesses go through correct channels when seeking registration under the Data Protection Act.

Officers have learnt that misleading mailshots are being sent to businesses across the borough requesting payment for registrations under the 1998 Act.

In some cases businesses are being asked to pay nearly £100. But the current charge, payable to the Office of Information Commissioner, is only £35.

Andrew Naisbitt, Principal Trading Standards officer said: "The department is currently looking into the legality of the demands being sent to companies. If anyone receives literature or demands asking for payment we would strongly recommend that they contact the Office of Information Commissioner directly.

"If any other company asks for more than the £35 our advice is not to pay it without querying the reasons for the higher charge. Anyone who has already forwarded money in response to such a mailshot should contact their local Trading Standards office."

If a company does need to be registered under the Data Protection Act 1998, then the current charge is £35. Sefton Trading Standards can be contacted on 0151 934 2089 (north Sefton) or 0151 934 4027 (south Sefton). Businesses from outside Sefton who have responded to the mailshot should contact their local Trading Standards department."
Data Protection Agency direct. They also sent this press release to us:- "NOTIFICATION UNDER THE DATA PROTECTION ACT 1998 The Information Commissioner, Elizabeth France is concerned about the volume of telephone calls and correspondence received by her Office in relation to the activities of a business trading as the Data Collection Enforcement Agency.

The Commissioner is keen to make clear that there is no connection between her Office and the Data Collection Enforcement Agency.

She has been disturbed that a number of people have been confused and troubled by the wording and tone of correspondence issued by the Data Collection Enforcement Agency.

Her Office is cooperating with other relevant authorities, who are exploring what action might be taken. Speaking from her Office in Wilmslow, Cheshire, she said

"I advise data controllers to ignore any approach made by this business, who appear to be charging a £95 + VAT fee for notification.

Other than paying the annual statutory notification fee of £35, on which no VAT is payable, there is no charge made by this Office to any data controller wishing to notify." Organisations who wish to complain about correspondence received from the Data Collection Enforcement Agency, should contact their local Trading Standards Office.

-"

Southport Police also said "We are aware of this letter and warn everyone to check all mail of this nature as normal business practice."
Anyone who has received a letter should contact trading standards who are interested to see how far it has spread and they strongly recommend that you do not send any money to this group.

Anyone who does have to register for data protection should apply for registration to:- The Data Protection Registrar, The Office of the Data Protection Registrar, Wycliffe House, Water Lane, Wilmslow, Cheshire SK9 5AF. Tel:- 01625 545 740 Information line:- 01625 545 745

Home page:-

Direct Access to the Register:-



Remember never ever give money out to anyone with out checking who they are first.

The letter that is suspect has the post box address as follows: -

Data Collection Enforcement Agency, P.O. Box 352, Southport, PR8 4ZZ.
Always check if you get a letter asking for money before you send any!