Formby Remembers Its Dead!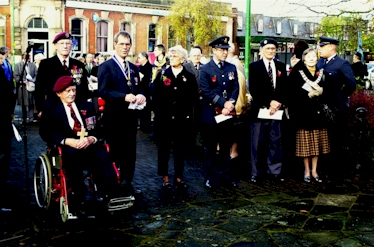 As every year since the end of World War 1, Formby showed its respect to all who died in all the wars before and since. It was the 11 hour on the 11 day of the 11 month that sore piece in Europe prevail in 1918. After the World war 2 which ended in Europe in 1945 but was still raged on in Japan until 1946. In the UK and through out Europe the decision was made to mark the 11 hour of the 11 day of the 11 month each year, then on to remember the dead and all who sacrificed their lives to gain the freedom we all enjoy today in all wars. In the UK the Royal British Legion adopted the poppy, that was the first flower to grow up on the trenches and battles field as the symbol of remembrance. Today the poppy stands for al wars past, present, and future and purchasing one from the Royal British Legion goes to help the service men and women who have been killed, injured etc. through war. It is also a powerful reminder to those of us who have never experienced war, of the horrors and suffering war brings.
As every year the village was closed off to traffic as the crowds came to pay their respects. The service stated with a small reminder of those who have recently lost their lives in New York and then the normal service resumed. The two minuet silence was marked by the early sounds of a solo trumpeter playing the last post and the silence ended with River Valley. Representatives of Sefton, The Formby Royal British Legion, Navy, Air Force and Army joined other representatives and the public in a reef laying ceremony. Two young girls laid crosses in remembrance of those who died to give them the freedoms they enjoy today.
One member of the public said "If we did not have a remembrance day, the next generation would forget the horrors of war and end up repeating the same thing again. The money from the poppies goes not only to the survivors of WW2, but also to the service men and women who fall victim to wars we fight today. The remembrance day service also allows us to reflect on all wars not just World War 2 and World War 1, and allows families of victims of all wars and conflicts to show their appreciation for the sacrifices their loved ones who have helped keep the freedoms we cherish today. With out the sale of the Poppy the victims families and injured of all modern conflicts would not get the money that is raised through the poppy scheme, that helps them re-build shattered lives."
More information about remembrance Poppy appeal and the Royal British Legion can be found on:-