Free event:- 'Makes' a comeback!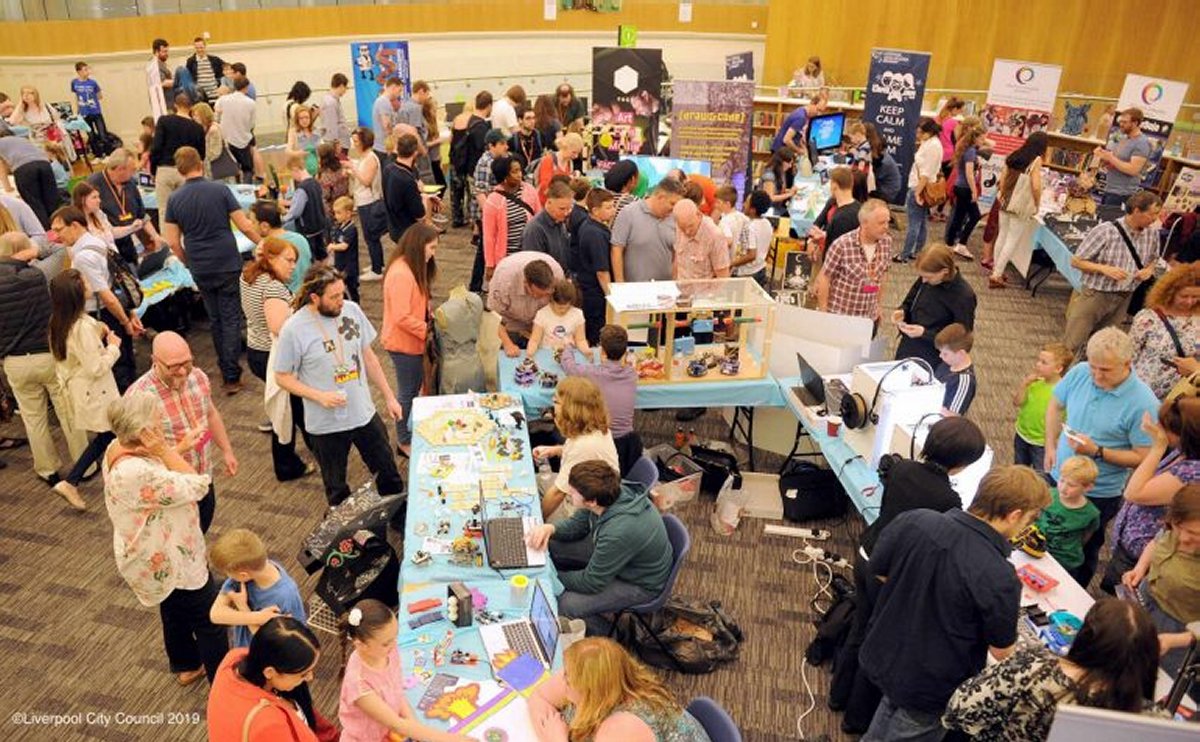 THE UK's largest free:- 'Maker' community festival is returning to Liverpool Central Library. Taking place from 9am to 5pm, on Saturday, 2 July 2022, Liverpool MakeFest is an annual 1 day art, science, digital and technology fusion festival that takes place throughout the library. It includes:- exhibitions, demonstrations, debates, workshops, and hands on activities which aim to introduce people of all ages to how:- science, technology, engineering and arts and crafts are shaping our world.

This year, there will be inclusive and free fun filled family workshops and showcases, covering topics from 3D printing to knitting and robots to rockets; Liverpool MakeFest will be bursting with activities across 3 floors, breakout rooms and even on the outside and upper terraces of Liverpool Central Library.

Organised by teams of volunteers and the local:- 'Maker' community it attracts innovative makers, creative and visual artists, electronic engineers, musicians, crafters, and hobbyists from all over the UK eager to share their skills, expertise and knowledge.

Since its creation in 2015, Liverpool MakeFest has become the place to hookup, network, brew ideas, co-create and include the whole community in demonstrations and opportunities to try things out and be inspired.

Although the event is free, booking a ticket is recommended. For all the information and to secure a ticket, head to:- LiverpoolMakeFest.Org.

Assistant Mayor and Cabinet Member for Culture and Visitor Economy, Councillor Harry Doyle, said:- "This event really evolved in its 1st4 years to become a hub of creativity that was both inclusive and inspiring. I'm delighted that it's back, bigger than ever before - its aim is to make the worlds of science and technology accessible, and to do so in a way that is fun and engaging and can help ignite a spark whatever your age."

Caroline Keep , Teacher, Data Scientist and Liverpool MakeFest co-creator and organiser, said:- "I'm thrilled to see the return of Makefest! It's such a honour to bring leading makers and digital innovators back to our annual showcase for young people in Liverpool."
---
Sound City Satellite presents a brand new initiative in collaboration with the Merseyside Music Education Hub Alliance…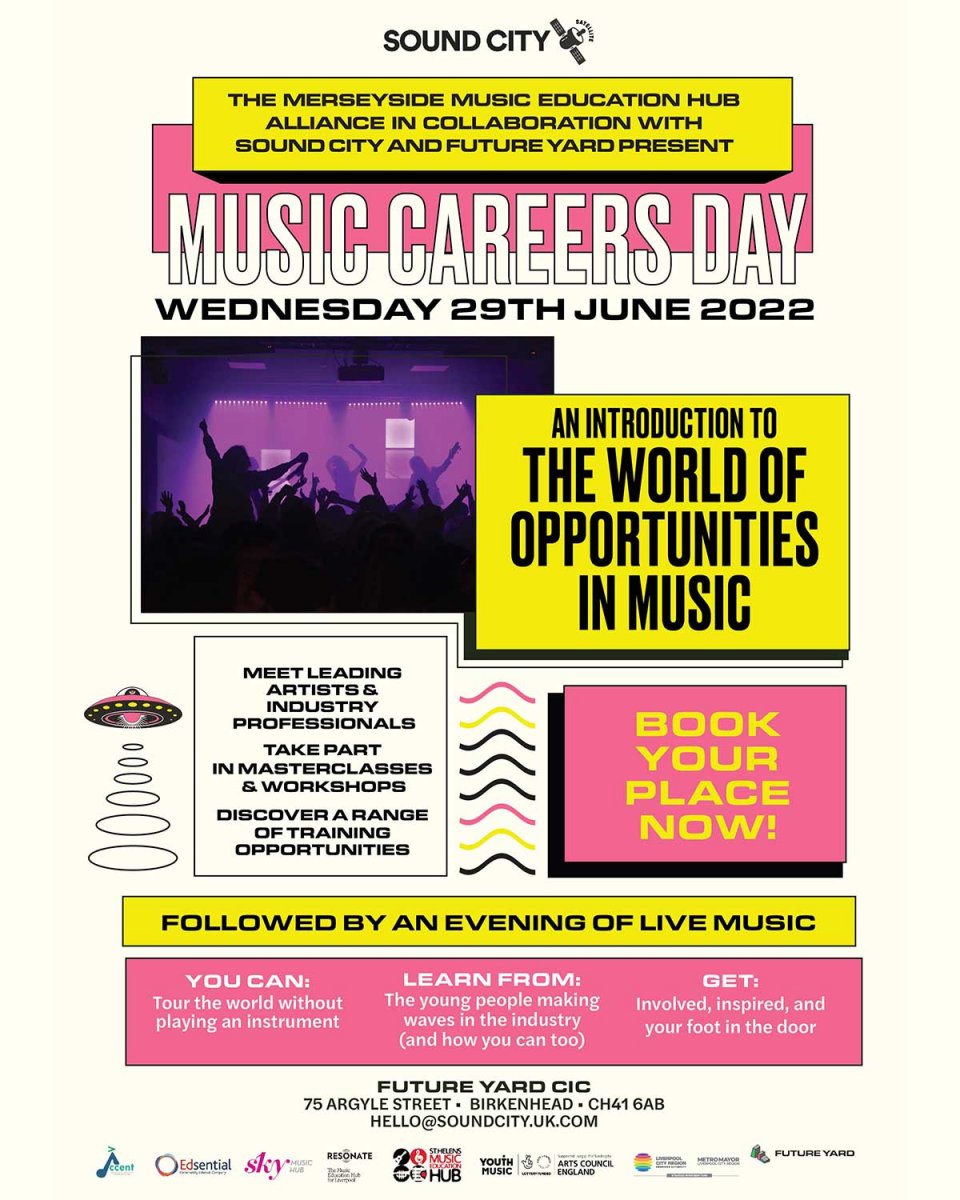 SOUND City Satellite takes the award winning Sound City model to each area of the Liverpool City Region to deliver a focussed conference, live programme of activity and training for young people aged 14 to 16, as part of the Merseyside Music Education Hub Alliance(MMEHA).

From June 2022, Sound City and Merseyside Music education hubs alliance will run via6 events across the Liverpool Boroughs including:- Wirral, Sefton, Halton, St Helens, Knowsley and Liverpool.

Through these events the focus will be to provide a programme of activity that is relevant for senior School age, with an ethos to inspire young people to discover the opportunities out there to pursue a career within the Music Industry, and provide a clear vision on what those various roles would look like.

The 1st event:- 'Music Careers Day' kicks off on Wednesday 29 June at Future Yard in Birkenhead.

The day will include a host of activities with various panels including:- 'Pathways into Music,' which explores the educational paths in music, and:- 'A Day In The Life Of,' which will be a series of interviews exploring 3 different music industry figures, and their careers in music. The interviewees for this will include Kane Dunn (Eyes On The Pies MGMT), singer/producer Eve Horne, and Gemma Farrington (Sync Manager), all moderated by Shell Zenner (presenter- Amazing Radio). Alongside this there will be a multitude of other activities including:- DJ/audio workshops, and a songwriting masterclass hosted by Eve Horne.

As per the day's theme, attendees will also be welcomed to a Careers Fair, showcasing some of the most renowned education providers and music companies based in the North West Region, including:- Sentric Music, Ditto, SAE Institute, and Wirral Met College.

The event will conclude with live music from seamless singer/songwriter Rosie Charles, having been a massive internet sensation of late and had extensive BBC support, she's also been invited to record her next project at the famous Abbey Road studios!

Following this will be a performance from incredible local lads The Lottery Winners. Alongside their endless collaborations in the past including:- Frank Turner, Sleeper, and KT Tunstall the overwhelming love and support for this band shines through every live show they perform. The band are forever going from strength to strength, and there couldn't be a better candidate to close off the day!

Following each event there will be an opportunity to apply for the Sound City launch training, which is a 10 week course taking students on a journey of development and discovery about the Music Business as a whole, and how it works. Featuring experienced guest speakers each week from all sectors of the industry.

Speaking about Sound City Satellite's collaboration with MMEHA, Sound City Managing Director Becky Ayres said:- "We are so proud to be hosting Sound City Satellite in collaboration with Merseyside Music Education Hub Alliance. The music industry is1 of the fastest growing creative industries and contributes £5.2 billion to the UK economy annually (UK Music). Liverpool City Region is home to many world leading music companies. It is vital that young people are provided access to learn about the range of educational and career paths that are available to them on their doorsteps. We want to instil the self belief and confidence in young people that they do not need to leave their Region to pursue a career in music. Sound City is excited to begin on this journey and pave the way for the next generation of music industry artists and professionals."

if you do not already know... The Merseyside Music Education Hub Alliance (MMEHA) was set up in order to showcase the educational and career opportunities that are available within the music industry. It's easy for people to think they have to move to London in order to become successful within the Music Business, but this is all about instilling the self belief and confidence in young people that they actually have so many opportunities to pursue on their doorstep. In turn, this also helps to develop a thriving infrastructure within their Region. The organisation is also working with the Music Services and Music Hub leads to help run the events for School students from each Region. The aim of the events are to showcase the educational and career opportunities that are available in the music industry.