Hugh Baird College launches:- 'Employer Stakeholder Pledge'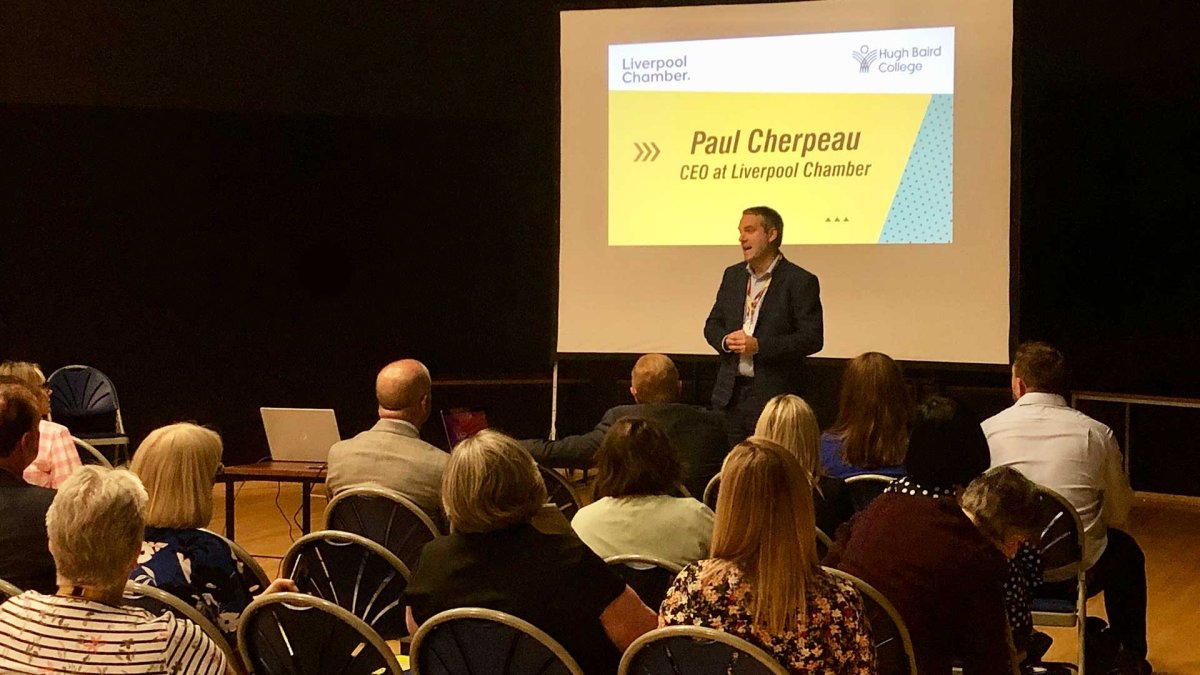 HUGH Baird College has launched its exciting:- 'Employer Stakeholder Pledge,' aimed at strengthening industry links and engaging with employers to help meet Regional skills priorities and support student progression.

The Employer Stakeholder Pledge will place employers at the heart of the College by providing its students with opportunities to develop the right skills, knowledge and behaviours in their chosen sector.

The Pledge aims to support employers in the Liverpool City Region with access to a broader range of talent, help close skills gaps in their industry and bring fresh perspectives to their business.

Rachael Hennigan, Principal at Hugh Baird College, explained:- "Hugh Baird College recognises the importance of actively engaging and working with businesses. Through this pledge, we aim to further build on our industry partnerships by placing employers at the heart of everything we do and exciting our students about the world of work. Our Employer Stakeholder Pledge initiative is an integral pillar to a number of our strategic priorities; to deliver an employer driven curriculum, seize opportunities that benefit our people and place and provide the highest quality of experience for our students."

Several employers from across the Region attended the launch event, supported by Liverpool Chamber, on Tuesday, 14 June 2022, and signed up to join the start of the Employer Stakeholder Pledge. These included:- MSP Global, Enceladus Consulting and Open Awards. The College is also looking to expand its reach further, creating an employer led network of pledge partnerships across various industry sectors.

Rachael continued:- "Over the past 18 months, we have been holding meetings with a host of leaders from the business community. A key issue continually raised is the gap between the talent pool of prospective employees and the industries' skills needs. Our Employer Stakeholder Pledge aims to reduce and eliminate that gap. There are no one size fits all approaches when it comes to working with us, and there is no:- 'contract' to sign. We are open to new partnerships and ways of working together for mutual benefit."

Paul Cherpeau, CEO of Liverpool Chamber, said:- "Liverpool Chamber is delighted to support and endorse Hugh Baird College's Employer Pledge. The College is determined to ensure the learning experience of students is fully influenced, directed and led by the requirements of business. Employers should embrace all opportunities to connect and support our Colleges and Universities and the employer pledge is a perfect opportunity for reciprocal benefit for both employers and Hugh Baird College."

To learn more about and join Hugh Baird College's Employer Stakeholder Pledge, visit:- HughBaird.AC.UK/Pledge.
---
New research reveals wedding invites are now a source of anxiety rather than excitement
BEING invited to a wedding is traditionally a happy moment; a chance to share in a joyful day. However, because of the cost of living crisis and the increasing expense of attending someone's special day, 23% of young people now say a wedding, hen or stag invitation causes them more anxiety than excitement.

That's according to new research from the UK's leading flatshare site, SpareRoom, which also reveals that 27% Gen Zs and millennials would rather not be invited to a wedding, hen or stag do due to the financial worries that going would cause them. And with 36% of young people falling into debt or encountering financial difficulties as a result of attending wedding/hen stag, their reluctance amid a cost-of-living crisis is not surprising.

The research also revealed 29% of people would not attend their cousins' weddings due to costs, whilst 12% would not attend their siblings' weddings for the same reasons. Meanwhile, 51% of people would turn down their colleagues and acquaintances (57%) due to money worries.

24% of young people admit that the increased cost of living will impact whether they are able to attend a wedding and/or hen/stag both this year and next year. What's more, for 20% of people their anxiety is being compounded by the prospect of falling out with a friend if they decline the invitation.

For Gen Zs and millennials, attending weddings, hens or stags causes additional pressures, with 43% claiming that this has impacted their ability to save to get onto the property ladder.

SpareRoom spokesperson, Miriam Tierney, comments:- "As people enter their 20s and 30s, wedding invites become more common with many attending several in a year. And with the Pandemic having delayed so many weddings, for some people the invites are coming thick and fast this year. When you factor in the added cost of going to the hen or stag do, travel to and from the wedding and accommodation, the costs soon add up. The fact that receiving an invitation to someone's wedding has actually become a source of anxiety rather than joy for many is such a shame."
---
Family friendly wildlife cruise on the Mersey with bird spotting bingo, crafts and snacks

PERFECT for families looking for a little something different to entertain the kids, the Bird Watching and Wildlife Cruise returns hosted by Mersey Ferries and the RSPB. Taking place on Saturday, 16 July 2022, and Sunday, 11 September 2022, the cruises will set sail along the River Mersey and out into Liverpool Bay giving passengers the opportunity to witness some incredible wildlife up close. Set to make the experience interactive and fun, there are children's craft activities on board, wildlife bingo, and a raffle hosted by RSPB. Sightings have previously included:- long tailed skuas, peregrine falcons, osprey, and Atlantic grey seals. There are also experts on hand to answer questions and live commentary from the RSPB. A limited number of binoculars will be available to use during the cruise from RSPB. Drinks and snacks will be available for purchase on board. Tickets are:- £20 for adults, £10 for children (3 to 15) and infants aged 2 below go free. Find out more and purchase your tickets here:- MerseyFerries.Co.UK.