GOVE LEAVES SCHOOLS AND LOCAL AUTHORITIES IN LURCH
GOVE is wrong to say now that the SSSNB isn't needed and he's wrong to abolish it before it's even had a chance to put forward recommendations

GMB commented on the written ministerial statement by secretary of State for Education Micheal Gove announcing that he will abolish the School Support Staff Negotiating Body (SSSNB). "at the earliest opportunity". He said this was because it "does not fit well with the Government's priorities for greater deregulation of the pay and conditions arrangements for the school workforce". The Teachers' Pay Review Body and all other Pay Review Bodies have been retained by the new Government.

The SSSNB was created only last year to make recommendations for a new national pay and conditions framework for 450,000 school support staff in maintained schools in England. It covers staff such as teaching assistants, cover supervisors, pupil welfare and support staff, bursers and school business managers, technicians and site managers. The SSSNB is a statutory body similar to the Teachers' Pay Review Body.

Brian Strutton, GMB National Secretary for Public Services, said:- "The Education Secretary who robbed communities of new school buildings now steals fair pay from staff as Government abolishes the School Support Staff Negotiating Body (SSSNB). Gove is once again creating chaos in our schools system. This is another careless and shambolic decision, following hard on the heels of the Building Schools for the Future debacle. The disaster-prone Education Secretary recently had to apologise to MPs and council leaders for issuing error-ridden lists of schools affected by his cancellation of the Building Schools for Future programme which is now the subject of a legal challenge. It leaves schools and local authorities exposed to £200m worth of future equal pay claims. Gove doesn't realise that it's more expensive and more difficult for most schools to develop robust and equal-pay-proofed terms and conditions on their own. Everyone except the Education Secretary acknowledges the contribution of professional support staff like Higher Level Teaching Assistants and cover supervisors to raising standards in the classroom. The Tories and Lib Dems supported the SSSNB when they were in Opposition. Gove is wrong to say now that the SSSNB isn't needed, and he's wrong to abolish it before it's even had a chance to put forward recommendations. These serial policy mistakes will cost him before too long."
TAKE THAT - ONE MILLION TICKETS LATER…
Report by Kara McCabe & Photograph by Hamish Brown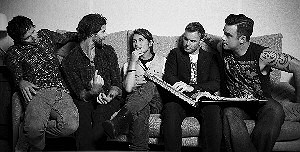 TAKE THAT fever swept the nation after tickets for the bands Progress Live 2011 UK Summer Stadium tour went on sale on 29 October 2010. A record breaking one million tickets were snapped, meaning the band have smashed their own previous box office record set in 2008 with The Circus Live Tour.

Massive demand for the tickets this morning caused phone lines and websites across the country to jam as ticket agents struggled to cope with the unprecedented number of people trying to buy tickets. Thousands of fans also camped out overnight outside the stadium box offices to ensure they were amongst the first to secure tickets for the band's highly anticipated tour next year.

The band commented:- "We are speechless, truly and utterly shocked. This is the most amazing news for all of us. To sell one million tickets in a day is mind blowing and we think we'll be in shock for a few days! We want to thank everyone who has bought tickets today and look forward to seeing them next year."

The bands promoter Simon Moran commented:- "The excitement of the on sale and the demand for the tickets today was at another level to the Circus tour which at the time was itself record breaking. There literally has never been anything like it in the history of live music in the UK. Selling a million tickets in day is an absolutely amazing achievement."

We wish the all the best with their tour!
MURDER IN SHELLEY STREET, BOOTLE, MERSEYSIDE
MERSEYSIDE Police are investigating the circumstances surrounding the death of a man in Bootle on Thursday, 28 October 2010. Following information, officers attended a house on Shelley Street at around 7.30pm where they discovered the body of a 35 year old man. A 31 year old from the Seaforth area has been arrested on suspicion of murder. The house in Shelley Street was cordoned off as it was examined by crime scene investigators. The motive for the murder has yet to be established and detectives are appealing for anyone with information to come forward. Detective Inspector Dave Keegan from Copy Lane CID, said:- "Following our initial enquiries we believe the victim and the man we have arrested knew each other. We are now trying to establish the movements of both men prior to this incident in order to determine the circumstances leading up to the victim's death." Call Merseyside Police on:- 0151 777 3165, or Crimestoppers, anonymously, on:- 0800 555 111.
Southport Hesketh Round Table Family Bonfire & Fireworks Display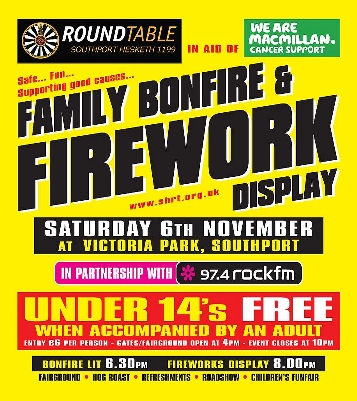 ON Saturday, 6 October 2010, The Southport Hesketh Round Table Family Bonfire & Firework Display will be at Victoria Park, Southport. There will be plenty of entertainment, including a fantastic firework display by award winning Reaction Fireworks, fairground, hog roast, refreshments, roadshow and Children's Funfair. Entry is £6 per person. Under 14's are FREE when accompanied by an adult. No advanced ticket sales this year. For more information visit:- shrt.org.uk.
Join the Scouse Roadshow at Toxteth Community Library
SCOUSE will be in the spotlight during a series of events taking place in Liverpool until 14 November 2010. Hosted by the recently refurbished Toxteth Community Library on Windsor Street in the heart of one of the city's most diverse communities, the free events explore and celebrate how the Scouse dialect, pronunciation and regional accents impact on individual and cultural identity in Liverpool.

Highlights so far included:-
► A Taste of Scouse from on Monday, 1 November 2010

► Liverpool Ghost Stories on Tuesday, 2 November 2010

► Evolving English: the dialect of Merseyside on Wednesday, 3 November 2010.

The events coincided with the British Library's new exhibition Evolving English - One Language, Many Voices (bl.uk/evolvingenglish). This is the first ever exhibition exploring the English language from Anglo-Saxon runes to modern day rap. Driven by developments in religion, politics, technology, economics and culture, English today is spoken by a third of the world's population. Highlights in the free British Library exhibition, which runs from 12 November 2010 to 3 April 2011, include the earliest surviving copy of Beowulf, the King James Bible and Victorian TXT poetry.

Visitors to the Scouse Roadshow at Toxteth Library will also get the chance to record their voice for future research into accents and dialects. Using phone booths inside the Toxteth Community Library (Adioboo), people will be asked to read Mr Tickle (the Mr Men story) which has been adapted to capture how different people pronounce the same words and phrases. People will be able to record their own words and phrases. Do you say sofa or settee, mum or mam, or something else? The British Library would like to know.

Councillor Wendy Simon, Liverpool city council's cabinet member for culture, said:- "We have one of the most distinctive accents in the world thanks to the melting pot of different cultures which have settled in the area over many generations. This is an exciting project which brings language to life and looks at why we pronounce words the way we do."

For more information about the events at Toxteth Library visit the Liverpool Council's website.
MISSING MEDICATION
POLICE are asking that anyone who finds a bag containing diabetes medication in Liverpool to hand it in to their nearest police station, surgery or hospital. The missing insulin was in a red and white Home Bargains carrier bag lost in the Breck Road area of Everton at around 10.30am on 1 November 2010. The drug was contained within a pen-style self-injecting needle and with it were cartridges containing a total of eight doses of a drug called 'Levenir' and two doses of 'Novarapid'. The medication is potentially fatal if anyone takes it that is not diabetic. Inspector Susan Stribling from St Anne Street police station, said:- "I would appeal for anyone who has come across any medication like this to hand it in to their nearest police station immediately. It is of absolutely no financial worth whatsoever to sell on but it is important that we get it back to the owner and off the streets. The owner is diabetic and the medication was in a red and white carrier bag from Home Bargains, along with a couple of personal items. The medication is potentially extremely dangerous to anyone who takes it who it is not meant for. I would urge anyone who finds it not to use it but instead hand it in. People can hand it in at any police station, including those in north Liverpool, which are: Walton Lane, Stanley Road, Eaton Road, Lower Lane, Tuebrook, St Anne Street and Wavertree. Alternatively, they can take them to any pharmacy, doctor's surgery or hospital where the professionals there will take them in. It is imperative that we get this medication back and that no-one uses it who shouldn't." Call Merseyside Police on the non-emergency number:- 0151 709 6010 or Crimestoppers on:- 0800 555 111.