LIVERPOOL NURSES SAY:- "DON'T LEAVE PATIENTS IN THE LURCH – RETURN THAT CRUTCH!"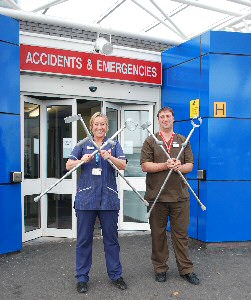 NURSES at a Liverpool hospital are holding a 'crutch amnesty' in a bid to get patients back on their feet more quickly.

An estimated 2,000 crutches went missing in the last four years after being given to patients who were treated at the Accident and Emergency Department at University Hospital Aintree.

Laura Des Landes, Nurse Practitioner in Aintree's A&E Department said:- "The crutches cost around £10 each, so the last four years have cost us an estimated £20,000. The NHS needs to make best use of every pound invested in it, so that's why we're holding this amnesty for the return of crutches."

In addition to draining NHS finances, not having enough crutches can mean patients due to be discharged after treatment at the Accident and Emergency Department having delays while staff match up crutches.

Laura added:- "It's not usually the case that someone deliberately holds on to a crutch. Patients just tend to forget to return it when they're back on their feet – they're so pleased to be walking again that they forget to let us have the crutches back. Then, later on, if they remember about the crutch then they might think that it's too late. Actually, it doesn't matter how long ago someone received the crutches from us. If they let us have them back then we'll make sure that they get used by patients who need them. We're accepting crutches as an official 'amnesty', so we won't be bothering anyone with questions – we just want our crutches back so that we can give patients the best care."

Anyone who has any crutches can drop them off at the Accident and Emergency Department on Lower Lane or call:- 0151 525 5980 and report them via the Hospital switchboard.
Letters to editor:- "FREE COURSES IN MERSEYSIDE?"
"THIS afternoon I read that 'Course costs unfair to OAPS (old Age Pensioner)'. Now the other week my wife and I heard on a car radio that there were free beginner courses on how to use the computer for elderly people and others. So she set out to see where they were. Horror, all the local libraries, and adult learning centres, actually charge. Then another fact came to light, the charges for all courses have a £10 signing on charge, but only in Formby the charge is £37.50. If an OAP therefore lives in the so called where there are a few very rich people, then the OAP has to pay £27.50 more than if she/he lived in Crosby, or Southport, or Bootle! Sefton Council seems to single out Formby OAPs as an area deemed to be, not economically deprived. However, at least Sefton Council do not charge anyone on benefit in any area. That at least is fair, but it makes the other very unfair." J Byrne Editors note:- Email us your views on this to our news room via:- news24@southportreporter.com.
Stamp and Swap for disability rights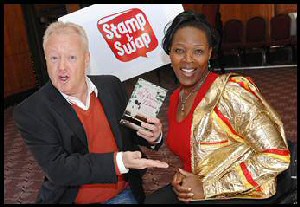 THREE out of four people (75%) would swap something in their life if they could, according to a new survey undertaken by ADD International, the UK based charity that works with disabled people in Africa and Asia to promote their human rights.

The survey has been commissioned to test the nation's willingness to get behind the UK's first-ever mass charity 'swapathon', called Stamp and Swap, on Friday, 3 December 2010 in support of disabled people's rights.

Judging from the survey results, it appears the British people definitely have the appetite for some fun and engagement to help a serious cause.

► At least half (52%) would swap their bank balance.

► One in five (21%) would swap their job.

► More than one in six (15%) would swap their home.

► Even a small number (4%) would swap their partner.

Not surprisingly, David Beckham and Cheryl Cole were the most famous figures for whom people would swap their lives with for a day. In swapping homes, a third (33%) opted for Australia and New Zealand; nearly a third (27%) chose Europe and for the other third (31%) it was home sweet home in the UK.

Stamp and Swap invites individuals and organisations to get involved by donating £5 to swap experiences or skills online, called LifeSwap, or physical items, called SwapIt, at an organised event. The aim is to create a fun, interactive day to support the rights of disabled people.

All people have to do is to go to:- stampandswap.org make a small donation of just £5 for an official "stamp of support": their passport to play.

Stamp and Swap has the support of celebrities including Kenyan-born British paralympian Anne Wafula-Strike and former BBC TV Swap Shop presenter Keith Chegwin.

Anne, who swapped a copy of her autobiography 'In my dreams I dance' for a jacket Keith wore on Swap Shop, says:- "Everyone should join this campaign and support the rights of disabled people all over the world. I understand from personal experience how important it is to get everyone talking about and supporting issues about disability."

ADD International is working on the campaign with UK disability partners, notably RADAR and the National Centre for Independent Living.

ADD International research also shows that a single £5 donation can make a real difference, especially to disabled people in the poorest countries. Amazingly, many disabled people living in remote areas of Africa and Asia believe they are the only disabled people in the world and that they have no rights at all. ADD-funded training gives them the knowledge and confidence they need to ask for the rights they are routinely denied. These include basic rights that most people take for granted such as family life, basic healthcare, respect and the chance to go to school and earn a living.

Stamp and Swap Day is on 3 December 2010, and it is the United Nations designated International Day of Disabled People.

For more information, contact ADD International on:- 01373 473064, visit:- stampandswap.org or follow Stamp and Swap on Twitter and Facebook.