North West MEP to address world leader!
THE Euro-MP Chris Davies travels to China on to speak at a conference that could play a key role in shaping global policy on climate change. The Liberal Democrat MEP will address the opening session of the Legislators' Forum in Tianjin on behalf of the European Parliament, together with Wu Bangguo, the chairman of China's National Peoples' Congress, regarded as the second most powerful man in China. Prime Minister David Cameron will also make a live contribution by video link. China is the world's largest emitter of greenhouse gases and is building two new power stations each week. The meeting is expected to help shape the country's future policy and could affect future international agreements on fighting climate change. Chris Davies said:- "Global warming is affecting the entire planet, and the Chinese can see the changes in their own country. Europe is China's largest trading partner and we need to act together if we are to make a difference that counts."
Brunswick Battle of the Blues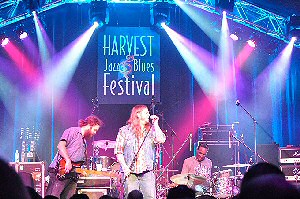 A brand new search for Britain's best emerging Blues talent launches on 12 October 2010 and Lancashire, Manchester and the surrounding areas have been chosen as a potential hotbed of fresh, unsigned, musical talent. But this is no ordinary search – it's being led by the Canadian province of New Brunswick, and the winning band or artist will have the fantastic opportunity of flying to New Brunswick and performing at the world-renowned Harvest Jazz and Blues Festival in Fredericton in September 2011. Heats will be held throughout the country and Merseyside and Lancashire's heat will be held at BJ's Blues Club at The Hop Pocket in Chorley.

'New Brunswick Battle of the Blues' invites bands or singer/songwriters to enter the first stage of the competition via YouTube from now until 17 December 2010 and successful musicians will be selected to perform at an exciting one night Battle of the Bands-style heat on 29 January 2011. The regional winners will travel to London for the final to be held on 29 March 2011 and judged by a panel of blues greats. Regional runners up will be put to a public vote and the public choices will also get to perform on the London stage.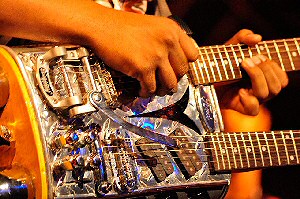 But there can only be one outright UK winner and they must prove they can produce new and original work and they must be unsigned. Says Lisa Gagnon, who's organising the competition in the UK for New Brunswick:- "The Harvest Jazz and Blues Festival is looking for new international talent to add to their line-up for 2011 and we feel the UK has a lot to offer in the way of exceptional blues musicians. We want to tap into the blues scene and find some real gems."

Entries will be accepted from 12 October 2010 up until the 17 December 2010.
First stage entry is via YouTube and details will be available at:- tourismnewbrunswick.co.uk from 12 October 2010. So if you think you or your band can rise to the challenge, visit the website to find out more.
Rugby League Recruitment places its first player into work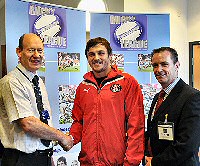 THE end of summer saw the launch of GPW Recruitments newest division, Rugby League Recruitment. The new division is focussed on organising training and work experience for current players in rugby league to give them a head start in their career after professional rugby.

Many professional rugby players have struggled to find suitable work when they retire from the sport. Rugby League Recruitment is set to combat this problem by organising work placements for the players around their training, to give them industry experience, and college courses tailored to their needs.

The initiative has had huge coverage in the press including a feature on Sky Sports which was aired before the recent Saints match against Huddersfield.

This week Rugby League Recruitment has placed its first player into work. Saints centre Jon Wilkin has started an eight week placement at Carmel College in St Helens where he will be getting a taste of everything from teaching and lesson planning to HR and finance. Of course it would be a crime to have a Saint star like Wilkin at the College without him giving the Rugby team a pointer or two. So, Wilkin will also be involved in coaching and skills training in the sports department.

Nick Burnham, Vice Principal of Carmel College made the following comment:- "We are really delighted to be involved in a scheme providing players with such a valuable experience whilst at the same time giving our students inspirational input from elite sportsmen. Jon has already made a big impact on students and staff and we hope that his time with us will be equally rewarding for him."

Wilkin began his placement on Tuesday morning and stated:- "I'm excited to get stuck in. The placement will allow me to gain skills and experience that I can put on my CV to help me stand out from other candidates when applying for work outside of rugby. I'm also hoping that my involvement in different departments will give we a well rounded view of how the college functions, and will give me an idea of where I could potentially take my career after rugby."

With more placements in the pipeline Rugby League Recruitment is set to make a huge impact on player welfare throughout rugby league. Mark Parish, Managing Director of GPW Recruitment, and former student at Carmel College had the following to say:- "It's great to be involved with Carmel College again after so many years. There have been some fantastic developments there since I was a student. I'm confident that this placement will be mutually beneficial for Wilkin and the College and I am delighted that we were able to arrange this for them."
Pioneering sight loss service set for St Helens
ACTION for Blind People's pioneering mobile Sight Loss Information Service packed with the latest aids, equipment and specialist advice for blind and partially sighted people will be visiting St Helens at the kind invitation of St Helens Council.

The mobile Sight Loss Information Service, run by national charity Action for Blind People, will open its doors to people interested in or affected by visual impairment. Staffed by a friendly and knowledgeable team, the mobile carries the latest technology and gadgets to improve daily life. From vibrating bank note detectors to talking microwaves and tin lids, staff on the unit offer impartial, practical advice and support.

Rob Harris from Action for Blind People's Sight Loss Information Service said:- "Everybody is welcome to come along to visit us on the mobile. Whether you are visually impaired or know somebody who may be having problems with their sight, please pay us a visit and pick up information or ask us questions. Visitors can try out a wide range of daily living aids or the latest computer and magnification technology."

The service on Wednesday, 17 November 2010, will be in St Helens Town Centre, Church Square between 10am and 4pm.

If you are unable to visit the Sight Loss Information Service but have a query please ring RNIBs Helpline on:- 0303 123 9999 and they will be pleased to help.

For more information on Action for Blind People's mobile units, please visit their website.