Dogs & Drink Controls Considered
A CRACKDOWN on anti-social behaviour involving dogs is being planned in North Liverpool. And an Order to ban drinking alcohol in public could be introduced after a rise in alcohol-related crime and anti-social behaviour.

Consultation about a Control of Dogs Order and a ban on drinking in public in the Anfield, County and Kirkdale wards will start if the moves are agreed at a meeting of Liverpool City Council's cabinet on 12 November 2010.

"There has been a lot of concern in recent months about the number of incidents in these areas over alcohol-related crimes, attacks involving dogs and owners allowing their dogs to foul in public places. If these orders are agreed it would send out a clear message that we will not tolerate anti-social behaviour and will use all means we have to combat it. As far as the Dog Order is concerned, I am confident this will have the backing of responsible owners who believe their pets should be kept under control and who clean up after their pets. This is not an anti-dog move – it is encouraging responsible dog ownership. And if we implement the orders as a pilot scheme we can look at how we apply this to other areas of the city which have similar problems. We want to make sure these are developed in way that they are effective and can be properly enforced." said Councillor Ann O'Byrne, cabinet member for community safety.

The proposed Dog Control Order specifies five offences - failing to remove dog dirt; not keeping a dog on a lead; not keeping a dog on a lead when ordered to so by an authorised officer; allowing a dog to enter land from which they are excluded and taking more than a specified number of dogs onto land. Breaches of the order would result in a fixed penalty or prosecution.

This move comes after there were 180 incidents recorded incidents last year involving dogs in parks and open spaces in the three wards – a 37% increase on the previous year.

The banning order on alcohol would allow police and other accredited officers to stop people who are drinking in public or who they believe are intending to drink, and confiscate alcohol whether the bottles and cans are open or not.

Crime statistics show an increase in the number of alcohol-related crime offences in the three wards over the last year with the most common offence being assaults. This is in contrast to the rest of the city which has seen great reductions in violent crime.

Before the orders are introduced there will be extensive consultation with all members of the community including businesses, community organisations and public agencies in the areas affected.
MERSEY REPORTER SHOP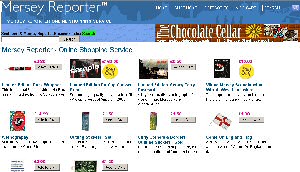 OUR new online shop is being updated with many products and items and we hope quite a few will be on line in time for Christmas. Sadly, at this point, we can only do UK delivery. What we want to know from you, our readers, is what product you think we should sell which typifies our area. The site is taking longer to update than we anticipated, but we have chosen to capitalise on this by offering you this chance to contribute. If you have any suggestions, please email us to:- news24@southportreporter.com so that we can try and get them included. Also, if you make any items you would like us to sell, again let us know. We are, however, focusing more on Merseyside produced or related items. As well as offering you a chance to buy books which we review. More information soon, but also keep your eyes on Mersey Reporter.
WORLD GYMNASTICS STAR IS THE FACE OF LIVERPOOL'S NEW BT PHONE BOOK
LIVERPOOL residents and businesses are being greeted by a familiar sporting face as they receive their new BT phone book. World Gymnastics Championships bronze medallist, Dan Purvis, from Merseyside, is on the front cover to celebrate less than 2 years to the start of the London 2012 Olympic and Paralympic Games. He is among a host of the UK's leading athletes who will take pole position on the cover of BT's new phone books to mark the occasion.

The first books will be distributed in the coming weeks and feature Dan, who won bronze in the floor event at last month's World Gymnastics Championships. He was also part of the silver medal-winning men's team in the European Gymnastics Championships in Birmingham earlier this year, where he also won an individual bronze medal in the men's floor event.

BT is the official communications services partner for the London 2012 Olympic and Paralympic Games. The Phone Book will include London 2012 information specific to each region as the Games move closer. The Liverpool book is one of the first of new size compact edition to be delivered in the UK. Narrow enough to fit into standard-sized letter boxes, it is now being delivered to residents and local businesses in Liverpool. The rest of the UK will receive the new-look book as it is rolled out over the next 12 months.

Other sports personalities who will feature on the Phone Book front cover include Chris Tomlinson, World Indoor long-jump silver medallist; wheelchair basketball Paralympic bronze medallist, Ade Adepitan; Lee Pearson, the multi-gold medal winning Paralympic equestrian, Lee McConnell, Olympic 4x400m relay runner; Dame Mary Peters, Olympic gold medallist in pentathlon; Leon Taylor, Olympic diving silver medallist who also invented the world's most difficult dive; Anne Bochmann, European Junior swimming gold medallist; Nathan Stephens, Paralympic field athlete; Alistair Brownlee, 2009 World Triathlon Champion, and his younger brother Jonathan Brownlee, World Under-23 Triathlon Champion.

Dan said:- "Featuring sporting personalities on the cover of the Phone Book is a great idea and will help raise the profile of the London 2012 Olympic and Paralympic Games across the UK."

The shape of the new BT Phone Book is 15% smaller and small enough to fit into standard size household and business letterboxes though the height remains the same. Despite its compact size, it contains several additional features, including a section with cut out vouchers so consumers can save money with advertisers in The Phone Book, menu guides in the classified restaurant section as well as guides for hair and beauty, leisure, sport and tourism.

David Grossman, CEO, BT Directories, said:- "The Phone Book is still very much the quickest way to locate a friend, an essential service or a local business and gracing it with inspiring sporting personalities celebrates BT's involvement with the London 2012 Games. We hope everyone gets behind the athlete that features on the front cover of their own Phone Book – it would be great if this inspires young hopefuls in the world of sport. Dan is a super enthusiastic gymnast whose accomplishments make him a role model and an important ambassador for London 2012. And who knows? Maybe the new Phone Books will become a collector's item!"

The BT Phone Book continues to be the only 3-in-1 directory in the UK with a Classified Business Section and Business and Residential A to Z listings. BT produces 168 geographic editions of the book every year, reaching 27 million homes across the UK.