U-Boat Story reaches new record
MERSEYTRAVEL'S popular U-Boat Story attraction reached a new record when its 75,000th visitor passed through the turnstile recently. The 75,000th visitor Mrs Doreen Thompson of Blackpool was met by Merseytravel committee members and Wirral Councillors, Ron Abbey, Dave Mitchell and Chris Blakeley, who presented Mrs Thompson with a commemorative certificate.

The U-Boat Story based at Woodside is a resounding success with visitors and has captured the imagination of people of all ages, attracting visitors from all over the world as well as from around the region.

Neil Scales, chief executive of Merseytravel which owns and operates The U-Boat Story said:- "We're absolutely delighted to reach the 75,000 mark, well ahead of schedule. U-534 is 1 of only 4 u-boats left in the world, it is unique in the UK, and I think its popularity is down to people recognising its importance in the history of maritime warfare. We are committed to developing this attraction and have got some exciting additions planned – we will be installing a replica conning tower next year, giving visitors the unique experience and perspective of being on board a U-boat."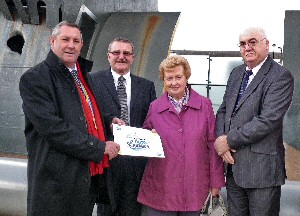 Since opening in February 2009 The U-Boat Story has exceeded all visitor number expectations and has achieved several prestigious awards. The U-Boat Story has been shortlisted in the inaugural North West Awards for Coastal Excellence, received VisitEngland's prestigious Visitor Attraction Quality Marque, and earlier this year it was highly commended in the Royal Institute of Chartered Surveyors North West Awards.

The U-Boat Story is open every day 10.30am to 5.30pm, with last admission at 5pm. For further details Visit:- u-boatstory.co.uk or telephone:- 0151 330 1000.
Sefton Park Restoration Celebrated
LIVERPOOL people are being invited to a family fun day to celebrate the completion of the £7m restoration of Sefton Park. The event, which includes a variety of games and activities, is being held at the park on Saturday 6 November and there will be an opportunity to go on a guided walk of the park with the Ranger service.

Work on the park's restoration started in 2008. It was funded by a £4.7m grant from the Heritage Lottery Fund with the City Council providing the remainder of the funding. The work included the complete refurbishment of the park's watercourses, renovation of rockeries, a new play area, extensive planting, some clearing of shrubs, improvements to paths and bridges and restoration of monuments.

The final stages of the restoration has been a new boathouse kiosk by the lake and the refurbishment of the café building to increase its size with improved facilities , a community room and a new Ranger base for education and events.

Councillor Tim Moore, cabinet member for the environment, said:- "Sefton Park is our biggest and most popular park and it has now been restored to its former glory. As well as new facilities, the spectacular views, which were part of the original vision for the park, have been restored and the lake and watercourses massively improved The popularity of Sefton Park was shown in recent photographic competition, run by the Liverpool Park Friends Forum in which more views of this park than any other were submitted. And, as the works has been completed with an improved café and new Rangers base I am sure more people will be visiting the park and taking advantage of this magnificent green space starting with the events at the week-end."

The restoration work was carried out by Birse CIvils and the other partners involved were 2020 Liverpool -project management; Anelays Ltd – specialist masonry and structural restoration; Glendale Liverpool – grounds maintenance; Arup – consultant engineers; LDA Design – landscape architects and designers; Lloyd Evans Prichard – building conservation architects; Mansell – construction company; National Museums Liverpool Conservation Technologies -specialist restoration.