FIGURES SHOW UNSTEADY AND UNEVEN RECOVERY IN ALCOHOL VOLUMES RELEASED FOR UK CONSUMPTION
BEER sales fell again in the year to August with beer sales in the "on trade" falling off cliff – down 37.5% - as pubs price themselves out of the market and close says GMB

Total alcohol volumes released for UK consumption in the year to August 2010 are up 2.3% on the levels for the year to November 09, the lowest point in the recession, but down 0.56% on the figure for the year to July 2010.

Official HMRC figures show that the volume of wine released for UK consumption in the year to August 2010 was down by 0.8% on the volume for the year to July 2010 and was 2.3% up on the volume for the year to August 2009.

In the year to August 2010 the volume of cider released for UK consumption was down by 1.6% on the volume for the year to July 2010 and was 8.6% up on the volume for the year to August 2009.

In the year to August 2010 the volume of spirits released for UK consumption was down by 1.5% on the volume for the year to July 2010 and was down 1.5% on the volume for the year to August 2009.

In the year to August 2010 the total volume of beer released for UK consumption was down by 0.26% on the volume for the year to July 2010 and was 5% down on the volume for the year to August 2009.

In the year to August 2010 the volume of beer released for UK consumption in the "on trade" was down by 0.32% on the volume for the year to July 2010 and was 8.2% down on the figure for the year to August 2009. Sales of beer in the "on trade" are down 37.5% on the levels in 2002.

In the year to August 2010 the volume of beer released for UK consumption in the "off trade" was down by 0.37% on the volume for the year to July 2010 and was 1.3% down on the volume for the year to August 2009.

These figures are from a GMB analysis of the latest official figures for alcohol released for UK consumption up to August 2010, the latest figure available which were released by HMRC.

The analysis by GMB, the union for tied pub tenants, shows an unsteady and uneven recovery underway in the seasonally adjusted monthly volumes of some type of alcoholic drinks released for consumption in the UK while volumes are still well below pre-recession levels for all types of alcoholic drinks except cider.

The idices for the seasonally adjusted monthly volumes of wine, beer, cider and spirits released for UK consumption from August 2007 to August 2010 are set out in the Table below with the figures indexed from June 2002.

In value terms alcohol consumption is still well down on the peak level of £43.4 billion sold in the UK in 2007. Beer had a market share of 41.6% of all sales in 2009 and volumes are still declining. Spirits had a market share of 20.2 % of sales in 2009. Volumes of wines and ciders, with a market share of 38.2% of sales in 2009, are growing. In 2009 total alcohol sales in the UK had fallen in value by 4.6% to £41.4 billion

Alcohol: GMB analysis of seasonally adjusted monthly quantities released for UK consumption- Source HM Revenue and Customs

Hayley Brennan, GMB lead organizer for pub tenants, said:- "These latest figures from HMRC show a continuing if unsteady a recovery in alcohol volumes in the UK since the recession hit sales in 2008. Beer sales fell again in the year to August. Beer sales in the "on trade" are falling off cliff as pubs price themselves out of the market and close. Overcharging for wet and dry rents by the pubcos is rapidly killing the pub trade with beer sales in pubs down 37.5% on 2002 levels. Customers are simply refusing to pay the additional pound per drink to pay these inflated rents. They are deserting pubs in droves. The recent OFT report concluded that this was not a consumer issue and that pubcos were free "to go to hell on a hand cart" if that is what they wanted to do. Pubs that survived the blitz and the slump in the 1930s are going under. It is no exaggeration to say that the British pub is on life support and will not survive unless the poison of high rents and high prices injected by the pubcos is removed. There is no sign of this. Tenants are desperate and many fear that their pubs will not survive the rate of VAT increasing to 20% in January unless there is action by Government to end the market abuse by pubcos. There is no sign of this either. The government proposals for the on trade in the imminent licensing overhaul takes no account of this massive decline in alcohol sold in pubs since 2002. The proposals are predominantly unjust & misdirected and will make matters worse for tenants. The proposals will have a minimal impact on binge drinking unless they robustly address the off trade who are responsible for the largest proportion of alcohol sold in the UK."
TOWERING PLANS FOR BLACKPOOL, AS MERLIN TAKES OVER THE TOWER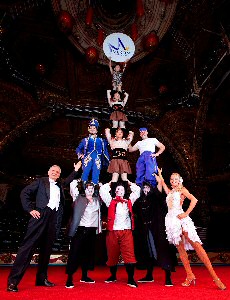 ON Tuesday, 9 November 2010, to mark Europe's No 1 visitor attraction operator, Merlin Entertainments, officially taking over responsibility for the management and development of the Blackpool Tower complex - grisly Dungeon actors, ballroom dancers and circus artists joined hands to create a human tower, symbolising not just the iconic Tower itself, but also the partnership between Tower owners Blackpool Council and Merlin. Merlin and the Council will be working closely together over the coming months to breathe new life into the historic Blackpool Tower and that part of the Promenade – and work on its transformation, including major refurbishments, have already begun. From early 2012 there will be eight exciting attractions in the area including three of Merlin's high profile global brands – Madame Tussauds Blackpool, The Blackpool Tower Dungeon, and the 'Eye' at the Tower Top – complete with an exciting new 4D pre-show. All of which will join Merlin's much-loved SEA LIFE Centre that has been a popular visitor attraction on the Prom for over 20 years; the new Comedy Carpet taking shape opposite the Tower; and of course the ever popular Jungle Jims children's play area; Tower Circus; and the stunning Tower Ballroom.
Southport eatery to celebrate anniversary with dishes of the past
TRADITIONAL Southport eatery Pudding and Pie is celebrating its 1st anniversary by commemorating customers' favourite dishes of old.

The restaurant, in Wayfarers Shopping Arcade, Lord Street, will be asking food-lovers to submit their favourite homemade dish from years gone by to be in with a chance of seeing it recreated on the menu, alongside the name of the person who suggested it.

Suggestion forms will be available from Pudding and Pie's anniversary weekend of 21 November and 22 November 2010, when there will also be prize draws, face painting and staff will be dressed to impress.

Andrea Malcolm, head chef and owner of Pudding and Pie, said:- "We are all really looking forward to the weekend. It's a chance to have a bit of fun as well as collect some classic recipes and give them the attention they deserve. Our menu already contains many traditional favourites, such as Nan's Recipe Bacon Bone Soup and Lancashire Hot Pot, inspired by my memories of cooking with my Nan when I was a child. We wanted to give our customers the same chance to put forward dishes that bring back happy memories from their childhood. We know there will be some great suggestions from the Southport community, as it's a town that really appreciates good food so we can't wait to start celebrating them by putting them on the menu."

Wayfarers Shopping Arcade manager, Yvonne Burns, said:- "Pudding and Pie is a fantastic addition to the arcade and we are looking forward to seeing some of the dishes suggested at their weekend of celebrations."

To submit your suggestion, fill in a form at Pudding and Pie and place it in the suggestion box, from 21 November 2010.
GUN CRIME PLAY EXTENDED TO PRIMARY AUDIENCE
A play designed to show the stark reality of becoming involved with gangs and guns, which has been successfully used as part of the Key Stage 3 English curriculum in secondary schools across Merseyside is to be introduced to Year 6 children in local primary schools.

The play and supporting educational resource, which was commissioned by Merseyside Police in 2008, shows the consequences of becoming involved with guns and gangs and the difficult decisions that young people can face. The play was written by local playwright Maurice Bessman and has been produced by Miriam Mussa. Ariel Trust created and developed the educational support packages. To date over 20,000 secondary school children in Liverpool and Knowsley and have seen the play and studied it as part of the national curriculum. And thanks to support and funding secured by Matrix from Knowsley Metropolitan Borough Council, Liverpool DISARM, Cobalt Housing, Liverpool Mutual Homes, Merseytravel, Rhys Jones Memorial Cup Trust, Merseyside Police and Liverpool Football Club the play is now being offered to primary schools across Liverpool, Knowsley and Sefton.

The key stage 3 educational resource includes an interactive CD-ROM (featuring scenes from the play) the script and 10 lesson plans. This means students can examine the play in detail and also gives them the opportunity to explore the moral dilemma that some young people could find themselves faced with. For the primary sector we again commissioned Ariel Trust to develop a bespoke educational resource pack based on the key stage 2 national curriculum, and this too is very creative, interactive and incorporates lesson plans for teachers to explore with pupils the issues raised in the play.

Chief Superintendent Tony Doherty, who heads up the specialist Matrix team, explained:- "Terriers was commissioned by Merseyside Police in 2008 using partnership funding, and since March 2009 it has been shown to 20,000 secondary school children across Merseyside. The play comes with an educational CD-Rom and the idea is that the pupils see the play and study it in the classroom, as they would with Shakespeare or any other playwright. Following its introduction into secondary schools "The Terriers" project has been fully evaluated. This evaluation showed an improvement in attitude and behaviour in respect of guns and gangs, an improved effort in the classroom whilst studying Terriers, and a marked improvement in attainment at Key Stage 3 English as a direct result of studying the play and educational resource. Locally and nationally we have seen an increasing number of young people becoming involved in gangs with access to guns and we want to work with young people to warn them of the potential consequences and help them to make the right decisions in the future. We originally put the play in to secondary schools, but we know that some children as young as nine and 10 have older siblings who are involved in gangs with access to firearms and there is potential for them to align themselves to these gangs when they get older. We, alongside our partners, want to break this cycle and show young people there are choices they can make and there are people and organisations available who can help them make the right decisions. Children need to be warned of the dangers. We have seen first hand how teenagers involved with gun crime tend to live for today, with no thought of tomorrow, their families, or the communities they live in. To address this we sought partnership funding to create a bespoke educational resource based on Key Stage 2 national curriculum for use within the primary sector. The Terriers brings home the stark reality that people do die when guns are used and shows the devastating impact that guns can have on individuals and their families. It's not a video game where you fire and people get up and walk away. If you use a firearm the potential is that somebody won't walk away; injuries from a gun can affect you for the rest of your life, and you could end up behind bars for a long time. It should be remembered that the overwhelming majority of our teenagers are not involved in criminality, nor guns and gangs. The wider the audience we get this across to the more likely we are to prevent some vulnerable young people from becoming involved in events they can't control."

Damian Allen, Executive Director of Knowsley's Children & Family Services, said:- "I welcome this creative way of teaching the dangers of gangs and guns to children and young people in our communities. This play and education package will go a long way to helping them understand the impact that guns can have on their lives."

Councillor Ann O'Byrne, Liverpool City Council cabinet member for community safety, said;- "It is very important that children are warned about the consequences of becoming involved with guns and gangs at an early age. By showing Terriers to primary school pupils we are showing them in a way which they will readily understand the dangers involved. The play has been a success at secondary school level and we want to replicate that with younger children."