Britain's Next Top Model Wants You!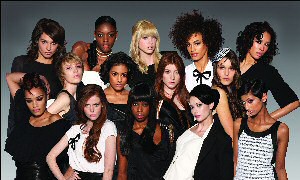 AFTER a hugely successful series seeing international supermodel and businesswoman Elle 'the body' Macpherson take over judging duties, the 'Britain's Next Top Model' team are back on the hunt for the girls who will take part in series 7. Last month, in a climactic live final, 18 year old Tiffany Pisani was crowned series 6 winner, landing a contract with Models 1, a campaign with Revlon cosmetics, and appearing on the December cover of best selling fashion glossy, 'Company' magazine. This time it's even easier for you to take part, with the first ever televised open auditions all over the UK - All you have to do is turn up and show why you should be Britain's Next Top Model! London - Chelsea Football Club 22 November 2010 Manchester - Museum of Science and Industry 24 November 2010 Glasgow - Scottish Exhibition and Conference Centre 26 November 2010 Dublin – Royal Dublin Society - 30 November 2010 Cardiff – Cardiff International Arena - 2 December 2010 Birmingham – NEC - 3 December 2010 All applicants must be 5ft 8 and aged between 18 & 23 (applicants may apply if they are under 18 but must be 18 by 20 February 2011). For further details, go to:- bntm.tvn.
LIVERPOOL MUSIC TEACHER HONOURED BY CLASSIC FM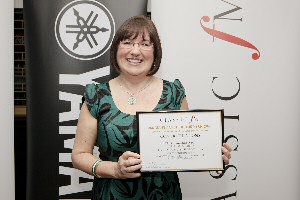 A teacher from Liverpool has been honoured by Classic FM, the UK's largest national commercial radio station, at its 12th annual Music Teacher of the Year Awards.

Jean Tremarco of Liverpool Music Support Service was presented with the Peripatetic Music Teacher of the Year Award on stage at the Music for Youth School Prom Concerts in front of thousands of people at the Royal Albert Hall last night. Jean was given the Award by Tim Loughton MP, Education Minister.

The Classic FM Music Teacher of the Year Awards seek to recognise and reward those teachers who have made a real difference to the musical life of their school and community. As part of the Award, Jean will receive musical equipment from Yamaha and Avid Sibelius for her music service.

Jean Tremarco has been teaching music for 25 years and started at St John Bosco Arts College where she ran 5 ensembles. Jean started teaching at Liverpool Music Support Service 5 years ago. Last year Jean was instrumental in preparing and putting on an event called Supersing at Liverpool's Echo Arena with over 3000 participating children.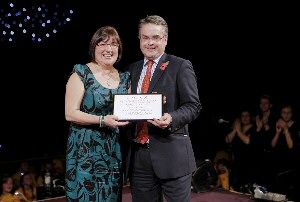 Jean commented:- "When I heard of my win I was shocked, overwhelmed but absolutely thrilled! I love my work and get so much pleasure working with the children helping to develop their musical skills. I also work with some amazing teachers and have learned from the best. Music is a subject which touches many and I'm privileged to share in that. Thank you to those who nominated me and to all staff and pupils I work with!"

The judges added that:- "In the judges' opinion Jean epitomises the whole idea of the Peripatetic Music teacher. All schools in Liverpool have signed up to the SingUp initiative as a result of her work and as with all music teachers, she works long hours, spending time with Extended Services (after and before school) to encourage Parents and Carers to get involved."

Classic FM's Managing Director Darren Henley said:- "There can be a tendency for music teachers to be the unsung heroes of the music world, yet without them, many young people would not have music introduced into their childhoods in a structured way. Our Awards have been created to reward those music teachers for their work in instilling a passion for their subject into a new generation of music lovers – and none more so than Jean."
Transport Minister backs Merseytravel Art Strategy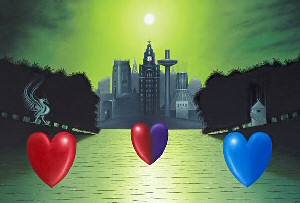 THERESA Villiers, Minister of State for Transport, surveys a stunning new piece of art which she unveiled at Liverpool's James Street Station, the first in a series to be sited across the network's five underground stations

The piece, by local artist Grant Searl is entitled 'One Love One Life One Liverpool' and heralds the start of a project to 'Animate the Underground'.

Ms Villiers said:- "This is a wonderful piece of art, I would like to congratulate everyone involved"

Neil Scales, chief executive of Merseytravel added:- "Our intention with the public art strategy is to make the journey more enjoyable for passengers, Animate the Underground will do just that by enhancing what is already one of the best rail networks in the country."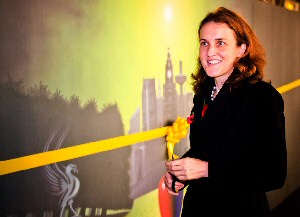 'One Love One Life One Liverpool' is an oil on canvas reproduction image bearing references to local landmarks and the intense loyalty that Merseyside people feel for their area and their football clubs.

The finished installation stands approximately 7 feet tall by 23 feet wide (2.1M x7.1M) and like many significant pieces of work there may be more to it than first meets the eye…

The five themed pieces will be unveiled across the coming months, with the final piece due for installation at Liverpool Central Station in August 2011.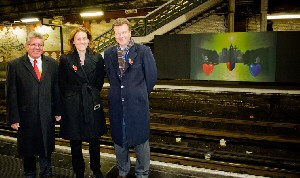 Grant Searl first came to Merseytravel's attention when he entered the Public Art competition in 2009, although he was unsuccessful at the time, his work made an impression with the judges and the commission for this exciting project followed.

Merseytravel launched its Public Art Strategy five years ago to engage with local communities and businesses, providing public art that is accessible to all, helping to build stronger communities and instil a sense of pride and ownership.

'Art on the Network' aims to deliver a dynamic, creative and unique programme of commissions and projects which reflect the character and creativity of Merseyside onto the transport network, appealing to passengers, residents and visitors as well as providing inspiration and enhancement to Merseytravel's facilities and infrastructure on the network.
Mounting care home fees could wipe out wills says Law Society
THE increasing care home fees could mean elderly people have nothing to leave in their wills. This warning follows a report that more than 20,000 pensioners had to sell their homes last year to pay for residential care home fees, that is an increase of 17% in the past 5 years. In 2009 Age Concern/Help the Aged estimates put average care home fees at £470 per week, prompting the Law Society to warn that many wills could need reviewing as care residents' assets continue to deplete, and urge people to seek legal advice before it's too late. Law Society president Linda Lee says:- "It does seem very unfair that people who have saved and lived carefully for years can see their assets wiped out because of care home fees, but it does not have to be the case. Many people have ended up in this situation because they have not received legal advice from a solicitor. We advise people who are worried to seek advice from their solicitor as they can inform you of what options you have." The figures are based on research by health care analysts Laing & Buisson and the House of Commons Library.