Peter Brown Craven Minor JFL
Results Week Ending 7 November 2010
Under 9
Birkdale DR 2-4 Formby JSC Black
Crosby Stuart 2-2 Redgate Yellow
Town Green Pumas 2-2 Formby FC Juniors
Formby JSC White 6-1 Ormskirk FC
Redgate Green 2-6 Birkdale Falcons
Top Five
Town Green Jags 28
Formby White 25
Birkdale Falcons 21
Trinity Blue 20
Southport FC 20
Under 10 – Wilf Jenkinson Cup
Burscough FC Juniors 5-0 Holbank
Hesketh Colts 6-3 Ormskirk FC
Birkdale Eagles 0-3 Town Green Pumas
Redgate Yellow 0-1 Town Green Jaguars
Under 10 – Charity Shield
Birkdale Falcons 1-0 Birkdale Hawks
Ainsdale Juniors 2-1 Formby JSC Black
Under 11
Formby JSC Black 4-4 Redgate Rovers
Tarleton Corinthians 2-2 Birkdale United R
Great Crosby 9-0 Ormskirk FC B
Southport Trinity 8-1 Edge Hill
Birkdale United S 6-2 Southport FC Juniors
Top Three
Formby White 21
Great Crosby 21
Trinity 19
Under 12A
Birkdale United 4-2 Town Green
Kirkby Woodpecker 3-1 Formby FC Juniors
Top Two
Woodpecker 18
Formby FC 16
Under 12B
Redgate Black 3-8 Ormskirk West End
Tarleton Corinthians 3-2 Southport FC Yellow
Jaguars 1-7 Great Crosby
Top Three
Great Crosby 24
Redgate Green 24
Corinthians 22
Under 13
Southport FC Juniors 3-1 Redgate Rovers
Formby JSC 2-3 Birkdale Black
Top Three
Southport FC 27
Birkdale 25
Trinity 22
Under 14
Formby JSC Black 0-1 Redgate Yellow
Redgate Green 1-9 Formby FC Juniors
Southport Trinity 0-5 Southport FC Juniors
Billinge 1-4 Birkdale United
Crosby Stuart 2-7 Formby JSC White
Top Three
Formby White 27
Birkdale 25
Formby FC 17
Under 15
Jaguars 3-2 Ormskirk West End
Ormskirk West End Blue 5-3 Southport FC Juniors
Hesketh Colts 2-3 Formby Dons
Town Green 4-1 Southport Trinity
Formby FC Juniors 6-0 Formby JSC
Top Five
Birkdale 21
Formby FC 19
Ormskirk WE 18
Town Green 17
Jaguars 17
Under 16
Redgate Rovers 3-1 AFC Liverpool
Southport FC Juniors 8-3 West Lancs Colts
Top Three
Town Green 24
Jaguars 21
Breeze 21
Under 17
Southport Trinity 4-3 Formby JSC Black
Formby JSC White 1-1 Town Green
West Lancs Colts 9-0 Waterloo Park
Top Five
Formby Black 12
Town Green 11
Formby White 10
West Lancs 10
Trinity 10
Accolades for Climate Change Work
WORK by Liverpool City Council in dealing with climate change issues has been recognised in a prestigious award event. The council won 1 category and was shortlisted in 3 others – the most by any local authority – in the North West Climate Leaders Awards.

It won the category for Increasing Local Resilience for its work in partnership to raise awareness of the climate change agenda and implement a number of actions, including the Let's Get Ready Liverpool campaign to prepare for extreme weather.

The council was shortlisted in the categories for Supporting Business for innovative work with the Chamber of Commerce and local businesses; Supporting Communities for supporting local community groups to develop renewable energy generation and the third sector and the Special Recognition category.

The awards recognise services which mitigate the potential of climate change and help their local area to unavoidable impacts while delivering efficiency savings.

They were made by CLASP, the North West's Climate Change Local Area Support Programme, which is funded by the North West Improvement and Efficiency Patroness and the NWDA. CLASP provides advice, funding, training and support to North West local authorities and supports them in sharing best practice with each other.

Councillor Tim Moore, cabinet member for the environment, said:- "Climate change is one of the biggest issues facing us so it is very pleasing that the work we are doing in this area has been recognised by these awards."
Free IT Courses in North Meols area
IF you live in the North Meols and Northern Parishes area and don t know your USB from your MP3, or want to know more about Digital Photography then new course's to help residents get more savvy could prove a big help.

South West Lancashire I.C.A.N is starting up new computer and IT courses for residents in the Bank's area at the Bank's Community Centre, they are also providing access to an Employment Law/Welfare Rights Adviser. "Special help and support is is now available for people who live in the North Meols and Northern Parishes area who are looking for basic and introductory courses in IT. We will also be providing Digital Photography lessons and a specialist Employment Law/Welfare Rights Adviser and all ages are welcome. We are really pleased to be expanding the range of facilities we provide to the residents of West Lancashire, and all our services are free as we are funded by the National Lottery." said Paul McConnell Chairman of South West Lancashire I.C.A.N.

These Lessons and access to the Adviser will take place initially on the third Tuesday of every month, starting from Tuesday, 16 November 2010 from 10.30am to 1.30pm, but for further information please contact Dawn at Bank's Community Centre 1704212446 or Dave at South West Lancashire Independent Community Advice Network:- 01695 726269 or by email.
London to Brighton Veteran Car Rally
Photographs by Craig Boon - Octane Photographic Ltd.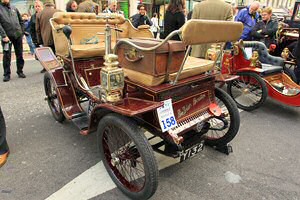 RUNNING in this year's (and 114th running of the) world famous London to Brighton Veteran Car Rally was local couple Bernard and Carol Williamson in their 4.5hp single cylinder burgundy 1902 De Dion Bouton. This is the second car that they have entered, the 1st, a later model was a little quicker but colder (with hardly any body work these cars get get a little chilly especially when your passenger travels facing backwards), I think they are more than happy with this new entry. Amongst the 569 entries were 44 vehicles dated from before 1900 and 140 from overseas giving this event a really exotic feel.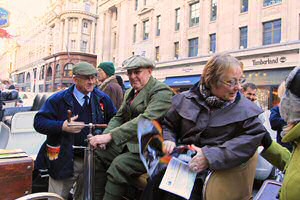 We asked for a rundown of the controls that are centrally mounted on a chrome pedestal in the open cockpit. The upper lever is essentially a tiller used to steer the car, the side mounted lever selects the gears (no reverse, that is Carol's job if it the need to change direction!!), and the lower lever advances and retard the ignition; apart from the single floor mounted pedal (brakes) - that's it. Quite a challenger to master...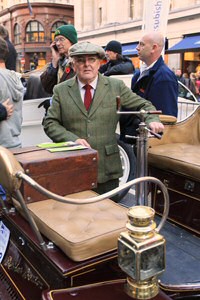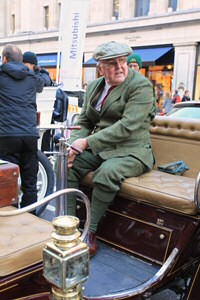 In contrast, parked directly behind the 1902 machine was a car from the future of motoring. This year is the inaugural running of the Bright to London Future Car Challenge; run the day before the veterans and in the opposite direction along the route, these cars had just completed their runs from Brighton to London's Regent Street (which was closed especially for the occasion), to meet up with their older relatives. The De Dion's parking partner was in fact a 2011 Vauxhall Astra a 13.CDTi ecoFlex Diesel driver by Andrew Miller MP (Ellesmere Port - Labour). These cars are constructed at Vauxhall's plant at Ellesmere port, now the only remaining UK based factory for the firm and home to the Astra model.

I hope these two events continue to run back to back as they did this weekend, it was a real; treat to see how the "common" car has evolved over the past century, we can wonder what it will look like in 100 years time.

A huge thanks you to the RAC who run the LBVCR.