Stalls in the City – Liverpool ONE Art & Craft Fairs Return for Summer 2013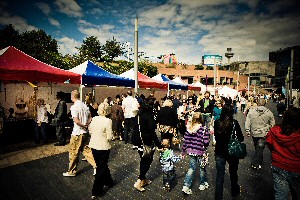 THIS summer Liverpool ONE hosts some of the North West's finest artists and designers in a series of arts and craft fairs. The fairs will take place in the heart of Liverpool City centre on the second full weekend of the month running May through to September.

At each event shoppers can discover the work of over 20 artists and makers; A vibrant mix of art and craft creations including unique homewares, original prints and photography, handmade beauty products, glassware, upcycled accessories, textiles, candles, jewellery, stationary and much more.

Situated on Thomas Steers Way, the event offers an open-air bazaar full of local creative entrepreneurs and artists, nestled in Liverpool ONE and opposite the picturesque Albert Dock and Liverpool Waterfront.
Featured exhibitors in May
Geekcycled:- make homeware and accessories that appeal to the geeky part of your personality! With cufflinks, plates, coasters and more adorned with everyone's favourite superheroes.

Not Yet Discovered Photography:- Charles and Alina Tait's high quality photographs make the perfect gift for anyone who loves Liverpool and special events in the City. You can find mounted and framed prints at excellent prices. Ginger Island Arts and Crafts will be on hand offering exciting facepainting combining the use of up to date designs, vibrant colours and glitter for children.

Katherine Caldwell:- Illustrated Collections is your one stop destination for a feel-good, eco-friendly, illustrated design lifestyle. From greetings cards to luxurious cotton tees, Katherine's characters are happily featured, each complete with a little story of their own.
Event information:-

Stalls in the City
Liverpool ONE Arts & Craft Fairs

10.30am – 5.30pm on the second full weekend of every month

11 & 12 May 2013
8 & 9 June 2013
13 & 14 July 2013
10 & 11 August 2013
14 & 15 September 2013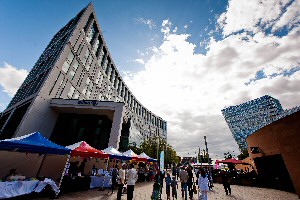 The events have been organised by Liverpool ONE in partnership with Open Culture, a community interest company that aims to increase engagement with arts and culture on Merseyside.

Brazilica offers host of exciting volunteer roles – be part of a samba spectacular!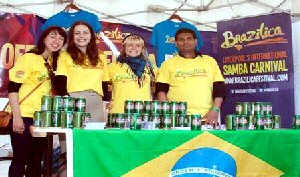 SAMBA fever is set to hit the streets of Liverpool again this summer with Brazilica 2013, and members of the public are invited to be a part of the action by volunteering.

Brazilica; now in its 3rd year and it is now the extravagant celebration of Brazilian culture. Attracting crowds of more than 80,000 in 2012, this year's festivities will be spread over a full week leading up to the main carnival event on Saturday, 20 July 2013, and once again organisers Liverpool Carnival Company and Orb Events are giving the public an exciting and unmissable opportunity to get involved in all the action.

Now with more chances than ever to participate, volunteers will be treated to an inside look at one of the country's most exotic and vibrant festivals, a chance to indulge in new experiences whilst gaining invaluable work experience.

Those wishing to volunteer will be spoilt for choice with a wide array of fun and exciting roles available. Artistic skills can be put to the test by helping to build and decorate parade floats, or if costume design is your passion, work alongside chief costumière Maeve Morris who has created hundreds of costumes for the festival. For the first time, Brazilica will be partnering with Merseyside Waste and Recycling Authority to create colourful and flamboyant 'green' costumes made from recycled materials through a series of open-session workshops.

Get dressed up and get down to the Samba beat and be one of the 500-strong parade walkers, or there are opportunities for stage production volunteers, runners, parade stewards and much more.

Brazilica is fast becoming renowned for being an exotic and vibrant spectacle, one of the highlight events in the festival calendar; a lively and colourful celebration of Brazilian music, dance, culture food and more.

Joanne Jackson, a volunteer from last year's festival said:- "Volunteering at Brazilica was an amazing experience. It was the first time I had volunteered and I will definitely be doing it again. I met some brilliant people and gained lots of confidence for dealing with new situations. The parade was a highlight and I got to see some fantastic samba bands, one of which I since joined as a result of Brazilica. I am really excited for this year's festival."

Maeve Morris of Liverpool Carnival Company said:- "Every year we have a great mix of people who volunteer for Brazilica. They are an essential part in making sure our carnival is a huge success every year – we couldn't do it without their help!"

So, if like Joanne, you want to take part in this amazing experience and help create one of the City's most spectacular summer events then don't delay and contact the organisers.

Those wishing to volunteer for Brazilica 2013 can get further information by going to the Brazilica website or visiting their Facebook or Twitter pages. There will be a series of City centre drop-in sessions for volunteers in the run up to the festival period, meaning volunteers can learn more about Brazilica and get to know each other before the fun starts. The first of these is due to take place at the festival's new home, the old Edge Hill Library on Lodge Lane from 6.30pm on Thursday, 9 May 2013.

Brazilica promises to wow crowds bringing Samba to the streets of Liverpool; a Rio-style Brazilian carnival with a full-packed week of events in music, sport, costumes and heritage all bursting with colour and fun will be exploding on to the streets of Liverpool between 12 July to 20 July 2013. With something for every member of the family, it is truly not to be missed.