RANGE HIGH SCHOOL CELEBRATE THEIR SUCCESS IN THE 2013 FIELDFARE KIELDER CHALLENGE
TEAMS from Range High School, Formby, have recently finished in 1st, 2nd and 3rd places, in this years national, inclusive outdoor adventure competition previously known as the Kielder Challenge. The Sefton school has maintained their superb unbeaten record of success by again becoming Champions of Merseyside, a title they have effectively held for well over 10 years!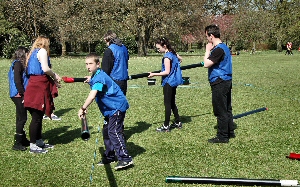 Range High school has a long standing successful relationship with this competition, in which teams of 8 young people with and without physical, sensory or learning disabilities, work as a team to solve complex problems, testing their communication, planning and evaluation skills. All the activities are designed so that every member of the team plays an active part in contributing to the overall performance. It is a unique learning experience.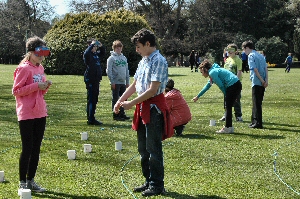 This year the school entered 4 teams and, as ever, their conduct was excellent, a credit to themselves and Range High School. In fact they were complimented for their behaviour and good manners by visitors to Croxteth Park who, whilst enjoying the unexpected sunshine, witnessed some excellent team and individual performances. The judges also praised all of the teams for their enthusiasm, sportsmanship and exemplary conduct.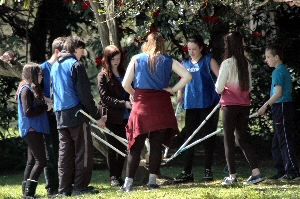 The winning team are now eagerly awaiting all of the heats to be completed to see if they have qualified, as 1 of the top 6 scorers in the country, for the national finals.
New Lord Mayor sworn in
CouncilLOR Gary Millar will be sworn in as the new Lord Mayor of Liverpool on Wednesday, 22 May 2013. Leith born businessman, Gary, has made Liverpool his home for the past 30 years and is proud of the City's diverse heritage, along with its undeniable spirit and humour.

Councillor Millar said:- "Growing up, I never once imagined that I would be asked to be Lord Mayor of such a fantastic City. I am humbled and honoured to be chosen as Liverpool's First Citizen and I hope to work with as many people, communities, organisations and businesses as possible in order to further promote this wonderful City. A passionate entrepreneur, Gary firmly believes in doing your best in order to help others, his personal motto being, Pay it Forward."

Along with his consort and Civil Partner, Steve Macfarlane, Gary is hoping to reach out to as many people as possible during his time as Lord Mayor and is looking forward to representing the City locally, nationally and internationally.

Gary has chosen to back charities tackling cancer and homelessness; to support vulnerable children and those with special educational needs and disabilities. He also wants to help create a safe haven in the City for LGBT youth.

His nominated charities include The Linda McCartney Centre, The Whitechapel Centre, Variety; The Children's Charity and the Michael Causer Foundation, although he is keen to support all Liverpool based charities.

Every Southport bounce counts
SOUTHPORT residents are being asked to join in with a charity initiative to get one million people bouncing on the same day next in June 2013. Individuals from the Town are being called upon to take part in National Get Britain Bouncing Day on 27 June 2013 to help raise funds for the Cystic Fibrosis Trust.

Martin Schofield, Chief Executive Officer of Super Tramp, which is sponsoring the safe trampolining campaign, explained:- "We are hoping to get one million people bouncing during National Get Britain Bouncing Day so every person counts. We need as many people from Southport as possible to sign up to help us reach our target. We've asked schools and trampolining clubs to sign up for the event but in order to reach our target of getting one million people bouncing we need people with trampolines in their back gardens or individuals with spacehoppers to get involved too. All people need to do is register for the event by visiting:- getbritainbouncing.org.uk and then bounce at some point during the day, so it's really easy for individuals to get involved at home. Following the event we will be counting up how many people took part and we really hope to reach the one million mark."

Get Britain Bouncing is a campaign designed to promote the many benefits of trampolining.

The initiative is supported by the national trampoline manufacturer, supplier and retailer, Super Tramp, which is committed to helping the nation enjoy bouncing safely. The company helped found the organisation by bringing various bodies together and is sponsoring it.

The Cystic Fibrosis Trust will be involved with the initiative too and will highlight the health benefits of bouncing to cystic fibrosis sufferers. Get Britain Bouncing will also help to raise funds for the charity.

Martin added:- "The aim of National Get Britain Bouncing Day is to get as many people as possible bouncing during the day in order to promote the benefits of trampolining. It is an awareness day but we have organised the event during the Cystic Fibrosis Trust's fundraising and awareness week, Cystic Fibrosis Week, which runs from 24 June 2013, until 30 June 2013. We are encouraging people to raise money on the day through a £1 donation from everyone taking part."

The Cystic Fibrosis Trust makes a daily difference to the lives of those with cystic fibrosis and the people who care for them. Most people don't understand what cystic fibrosis is, or what it does, until someone close to them is affected by it. They soon discover it's a life-shortening genetic condition; only half live to celebrate their 40th birthday.

Since 1964, the Cystic Fibrosis Trust has supported excellence in research and clinical care, as well as providing practical support and advice to people and their families.

Trampolinist, Laura Gallagher, who is a world and European medallist, is helping with the campaign.

National Get Britain Bouncing Day takes place on Thursday, 27 June 2013. For further information on how to get involved, please visit:- getbritainbouncing.org.uk.

Alternatively, please follow the organisation on Twitter by visiting:- Twitter or logging on to:- Facebook.
Leading high street entrepreneur slams 2 year Business Rate Holiday as ineffectual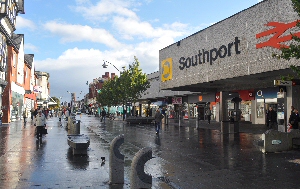 THE new proposals from the right wing think tank, The Policy Exchange, argue that a the year freeze on business rates could help lift the ailing fortunes of many high street retailers. The think tank said that a fourfold increase in internet retailing since 2006 is the primary reason for the number of boarded-up shops. But leading High street serial entrepreneur Dan Wagner, CEO of Powa Technologies, who has founded powerful eCommerce technology solutions which now power high street names such as Tesco, Superdrug, Laura Ashley and Heal's, argued that:- "The Government must introduce a package of measures and support which have a greater chance of having a positive and sustainable recovery for the high street. A business rate holiday is not going to deal with the deeper and more fundamental issues facing retailers in the UK today. The environment companies are operating in is changing faster now than ever before. Rapid advances in technology are making it possible for consumers to purchase goods across a wide cross section of multi channel platforms. The availability of remote devices means that consumers will purchase around the clock. Companies need radical reinvention that acknowledges the pressures they face and delivers benefits that are more convincing and wide-reaching. The changes on the high street are the biggest since the arrival of the industrial revolution. If jobs are to be saved, then the Government must make it easy for companies to invest in the new platforms where their fast moving market is going. Failure to do so will result in an escalation of the turmoil we have seen which has led to the collapse of many high street brands in recent months."
Let us know if you agree with this or not by emailing our newsroom at:- news24@southportreporter.com.