Battle of the Atlantic Commemoration
MERSEY Ferries will be joining in the 70th Anniversary of the Battle of the Atlantic commemorations by operating some very special cruises throughout the event.

Frequent sightseeing cruises will operate from Friday, 24 May 2013 to Tuesday, 28 May 2013, maximising views of the visiting vessels, from Liverpool Pier Head, Seacombe and Woodside. Each 'round trip' will last approximately 40 minutes.

On Friday, 24 May 2013, usual commuter sailings will operate morning and evening, followed by the special sightseeing cruises between 10am to 3.50pm before commuter services resume.

On Saturday, 25 May 2013 and Monday, 27 May 2013, 3 will be NO COMMUTER SERVICES, with regular sightseeing cruises operating throughout the day between 9am to 5pm.

On Tuesday, 28 May 2013, morning commuter services will operate as normal, followed by sightseeing cruises between 10am to 12 noon with NO COMMUTER SERVICE scheduled for Tuesday evening.

On Tuesday afternoon, 28 May 2013, Mersey Ferries will be operating 2 very special cruises. The pre bookable cruises will offer passengers a unique opportunity to join the flotilla and experience the view from the river as the visiting vessels set sail from Liverpool. With live commentary from on board Blue Badge Guides and unique views, these cruises offer the chance to be at the heart of the action.

For further information or to book tickets priced £25 (no concessions) visit:- merseyferries.co.uk or call:- 0151 330 1444.

Range, litter and the environment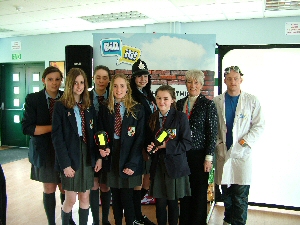 ON Tuesday, 14 May 2013, Year 7 and 8 pupils at Range watched a very entertaining and informative performance about litter and the environment. The performance was also attended by Councillor Denise Dutton (see photo) who said:- "I am very keen on increasing the levels of recycling in our area. Educating young people on littering and recycling can only lead to improvements to the environment in which we live."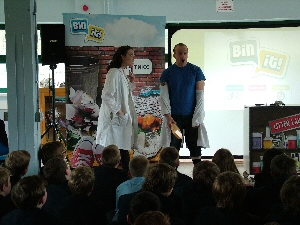 The show was a great success and the students said it has made them think about what they do with litter. We hope this will have a positive impact on the environment.