Patients asked for help as 20,000 appointments missed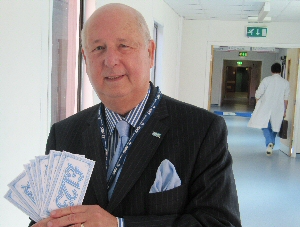 SOUTHPORT and Ormskirk Hospital NHS Trust is urging patients to let staff know if they are unable to attend an outpatient appointment.

In the past year, the Trust has missed out on over £2 million worth of income because patients failed to attend appointments and did not let inform the hospital beforehand. That's over 20,000 appointment slots across all specialities that could have been given to other patients.

To raise awareness of the impact of missed appointments, leaflets are being sent out with appointment letters highlighting the average cost of an outpatient appointment (£123) even if the patient does not attend.

Sir Ron Watson, Chairman at Southport and Ormskirk Hospital NHS Trust, said:- "We know there are many reasons why people cannot attend appointments. All we ask is that patients let us know if they unable to attend their appointment and I hope these leaflets will act as reminder. Another appointment can then be scheduled for a more appropriate date and time. We have a service for our patients that allows them to receive a text message reminder for their appointments. I hope this service will help go some way towards cutting down on the number of missed appointments at the Trust."

If you are unable to attend your appointment please let us know by phoning:- 01695 656 680 or by sending them an email via:- soh-tr.appointments@nhs.net
Foster carers to get salary for skills
FOSTER carers in Liverpool looking after children in the Council's care are to be paid a skills allowance of up to £20,000 per year. Payment for Skills will see the City Council's team of 300 foster carers paid a professional fee of up to £370 per week in recognition of the knowledge and expertise they bring to the care of looked after children. It is part of changes designed to increase the recruitment and retention of foster carers, and recognise the high degree of professionalism needed to do the job. The scheme is being launched on Monday, 20 May 2013, at an event at Croxteth Hall attended by foster carers and the Chief Executive of the Fostering Network, Robert Tapsfield.

Councillor Jane Corbett, Cabinet member for children's services, said:- "Our team of foster carers do an amazing job providing a loving home for our children. They deserve the very best support that we can offer, and that is why we are making changes to the system to better reflect the skills that they possess. It will also allow us to better match the abilities of foster carers to the needs of our children."

There will be 5 fee levels linked to skills, knowledge, experience and professional development. Prior experience and relevant training will also be taken into account. A steering group of foster carers and social work managers have drawn up and consulted on the new policy. People interested in fostering can visit:- fosteringforliverpool.co.uk to find out more, or call the recruitment line on:- 0151 515 0000. Foster carers need to be aged over 21, but there is no upper age limit. They can be single, married or co-habiting, straight or gay.
Come dine with me at hospital
SOUTHPORT and Ormskirk Hospital NHS Trust is recruiting volunteers to take part in a new project called Come Dine with Me. These volunteers will be known as dining companions.

The role of a dining companion will be to sit with a patient on a one-to-one basis and provide assistance to help them eat. The volunteers will help to enhance patients' eating and drinking experience and will have more time to spend with patients than the nursing staff, without interruptions. The volunteers are not meant to undertake the duties of a trained member of staff, but simply donate their time to sit and provide companionship for those patients who need it.

Angela Kelly, Deputy Director of Nursing and Quality, said:- "As well as helping patients with eating, the dining companion can chat, encourage them to eat and help alleviate the boredom and loneliness that can be experienced while staying in hospital. This is vital to some patients who do not receive any visitors and could be lonely or anxious or may be suffering from a form of dementia or Alzheimer's."

If you are interested in finding out more please contact Chris Pilkington on:- 01704 704955 or by sending an email.
Davies puts the squeeze on olive oil madness
NORTH West England, Lib-Dem MEP Chris Davies is calling for a rethink on EU plans to ban refillable olive oil containers in hotels and restaurants.
The European Commission plan is intended to protect consumers from inferior olive oil and boost Europe's olive growers. It would require oil to be served in labelled bottles. Chris said:- "This is nanny state stuff that the EU would do well to avoid. With MEPs from other countries I've written to the Commission president calling for it to be dropped. Restaurants should be able to serve olive oil in the same way they serve pepper and salt. If it's especially good they should boast about it. I know that officials are responding to complaints about poor quality olive oil being served, but it's a bureaucratic over-reaction to a very small problem. This sort of thing makes the EU look silly. We should concentrate instead on measures to build a stronger economy, a fairer society and a better environment."

Pregnant women flying abroad must check airline time limits before take-off, says Holidaysafe.co.uk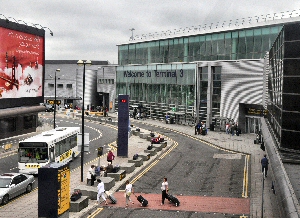 PREGNANT women flying for a quick break abroad before the big day are unaware of the strict limits airlines place on travelling in the later stages of pregnancy, and frequently reserve the right to deny boarding on grounds of health and safety, says travel insurance specialist Holidaysafe.co.uk

Most airlines will allow women to fly upto 35 to 36 weeks, but some will not let pregnant passengers fly over 28 weeks without a 'fit to fly' letter from a registered doctor.

Holidaysafe.co.uk brand manager Amber Howard said:- "Many women are unaware of the small print in the airline safety regulations. Airlines reserve the right to deny boarding if they think a pregnant woman exceeds their limit of weeks and they can leave you behind at the gate. They can also deny boarding under health and safety rules if they feel that a pregnant woman may not be mobile enough to leave the aircraft in an emergency. Another perfect illustration is Kate Middleton, who was showing only a tiny bump even when she was 6 months pregnant. Women with smaller bumps may not get stopped by the airline; despite the fact that they could be too advanced in their pregnancy to fly safely."

Holidaysafe.co.uk's emergency assistance service team advises this travel checklist:-

Do…

► Check the airline's limits on pregnancy - provided you and your baby are healthy, most airlines will allow you to fly up to 35 to 36 weeks into your pregnancy. However, you should always check the airline's policy (and small print) on pregnancy, as every company differs.

► Check the airline's regulations on pregnancy; airlines may refuse boarding if you've had problems with a previous pregnancy, such as DVT or had a premature birth before.

► Consult your doctor; if you're planning to visit a foreign country which requires you to have vaccinations, always consult your doctor first.

► Think twice about your destination; always take into account the health care in the country you're planning to visit, would you feel safe if something went wrong and you needed medical treatment there?

► Invest in quality travel insurance; without travel insurance you could face enormous bills if something goes wrong abroad. Pregnancy is never considered 'an illness' it is a natural and wonderful thing, but every company has varying views on pregnancy and travel. Therefore it is important that you let your travel insurance provider know that you are pregnant, and check that they can cover your journey.

► Beware of medication; if you become ill abroad, even if it is simply diarrhoea or travel sickness, always be wary of taking medicines, some could be harmful to your baby. Always consult a doctor before taking any kind of drug.

► Drink plenty of water; It is especially important to stay hydrated when pregnant because your kidneys have to work harder when you are expecting a baby.

Don't…

► Overlook multiple pregnancies; twins are quite common these days, and airlines will usually have different rules for multiple pregnancies, usually limiting travel to 32 weeks.

► Get stranded; If you travel after the seventh month and experience problems while abroad, such as hypertension or a minor bleed then the airline may refuse to bring you on the return trip. Also if you do give birth prematurely be aware that you are likely to be refused boarding until 14 days after the birth, even if you and the baby are healthy. New borns are not permitted until 7 days old, even when full term.

► Worry about screening at the airport; the machines are not harmful to pregnant women or unborn babies.
CLA welcomes action on sweet chestnut import ban
THE Country Land and Business Association (CLA) in the North has welcomed Defra's decision to ban the import of sweet chestnut trees from areas affected by Sweet Chestnut Blight. The Association also backed the launch of a 6 week consultation on the total ban on imports of sweet chestnut trees before the next planting season. CLA North Regional Director Dorothy Fairburn said:- "The CLA flagged up the danger posed by Sweet Chestnut Blight and called for Defra to ban imports of this tree. We welcome Environment Secretary Owen Paterson's decision to act on tackling this devastating disease. The CLA will continue to work closely with Defra to ensure Mr Paterson delivers his commitment to devote more resources to tackling tree pests and diseases." The Defra announcement coincided with the publication of the independent taskforce report on tree health, which was launched after the discovery of Chalara fraxinea. Miss Fairburn added:- "As at least one new major tree pest or disease affects the UK every year, it is important we take time to study the detail in the Task Force's report and work with Defra to control future outbreaks of tree disease."