A Merseyside Cadet achieves top AWARD, Dacre Brooch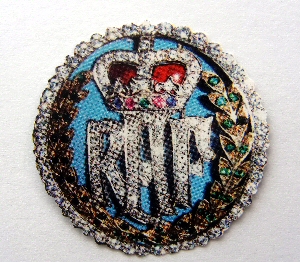 A Merseyside Air Cadet has been named the "2013 Dacre Brooch" winner. This coveted national award is presented to the best female cadet in the Air Training Corps, and this year it has been awarded to Flight Sergeant Natalie Fields of 2375 (Neston) Squadron. FS Fields receives the award after beating stiff competition from thousands of cadets throughout the Corps.
Her 5 years in the ATC has seen her heavily involved in sports, from squadron to Regional levels. After gaining her Community Sports Leaders Award, she now encourages and helps others to reach their potential. Other notable achievements are; Gold Duke of Edinburgh Award, Elementary Pilot (Paragliding), Basic Coaching (.22 Air Rifle) and BCU 2* in Paddlesport, to name, but a few.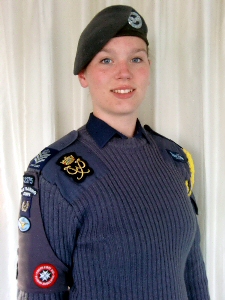 Natalie has regularly attended camps both within the UK and abroad, RAF Lossiemouth, RAF Coningsby, RAF Benson, Camp Troodos (Cyprus), RAF Ramstein (Germany), RAF Aldergrove, and loves nothing better than the annual camp, Nesscliffe, a "greens" camp.
Natalie has been an avid fund raiser, raising funds for squadron, local charities and national charities. Charities have included; Help for Heroes, Stick 'n' Step (local cerebral palsy charity), Neston Rotary Club, British Legion Poppy Appeal, Marie Curie Daffodil appeal and Northern Lights, to name but a few.

Her achievements don't stop there. After gaining her "silver wings" on a gliding scholarship, she has also been awarded a "flying scholarship" which she will undertake in September. She has been nominated to represent the Air Training Corps in July, when she will be travelling on the prestigious 2013 International Air Cadet Exchange (IACE) programme.

Although, very emotional on hearing of her award, FS Fields is very humbled, and says:- "Any cadet can achieve the things I have, if you put the time and effort in. I would like to say a big thank you to the staff from 2375 (Neston) Squadron and Merseyside Wing, because without their time and dedication, I wouldn't be where I am, or, the person I am today."

HRH THE PRINCESS ROYAL TO LAY WREATH AT LIVERPOOL NAVAL MEMORIAL
HER Royal Highness The Princess Royal, accompanied by her husband Vice Admiral Sir Tim Laurence, Commissioner of the Commonwealth War Graves Commission, will lay a wreath at the Liverpool Naval Memorial; a Commonwealth War Graves Commission site; to commemorate the 70th anniversary of the Battle of the Atlantic, on 26 May 2013.

The Princess Royal, along with Vice Admiral Sir Tim Laurence and other senior Royal Navy Officers, will pay tribute to all those who gave their lives in what Winston Churchill called the "longest, largest and most complex" naval battle in history.

At the outbreak of the Second World War, the Royal Navy recognised that it would not be able to man all the auxiliary vessels that would serve with it and enlisted thousands of officers and men of the Merchant Navy to serve with the Royal Navy under special terms. Liverpool was the manning port for registration and administration.

The Commission's Area Director for the UK, Chris McLean, said:- "The Liverpool Naval Memorial is at the centre of a series of commemorations during the 70th anniversary of the Battle of the Atlantic. 1,400 officers and men of the Merchant Navy died on active service aboard 120 naval ships and are commemorated by the Commission in Liverpool."
Liverpool ONE launch new campaign that stars icons of City
LIVERPOOL ONE has launched a new TV advertising campaign starring 2 of the City's most famous figures, the Liver Birds.

The iconic birds have been brought to life through animation and transformed into 2 stylish, fun-loving girls named Liv and Liz, whose love of shopping and fashion epitomises the spirit of Liverpool ONE and the City of Liverpool itself.

A recent survey conducted by Liverpool ONE found that the majority of ladies, like Liv and Liz, prefer to shop with friends, with many treating a day of shopping as an event in itself.

In a poll of 2,000 women, 62% said that they spent more money when shopping with girlfriends than alone, forking out an extra £37.25 on average. This is partly thanks to greater confidence and the encouragement to experiment with new looks, as well as the benefit of a trusted opinion.

A quarter of the women who responded to the survey revealed they are more daring when in a group, trying on styles they would normally not consider.

Unsurprisingly, women going out with friends are also likely to spend more time shopping than they would if alone, with a trip to Town taking up to 2½ hours longer.

These trends are personified by Liv and Liz, as they are caught in the middle of a girls-only day of retail therapy.

Set in the style of a vox-pop, viewers meet Liv and Liz as their day out in Liverpool ONE is interrupted by a TV crew seeking out their opinions on their love of shopping.

Donna Howitt, Liverpool ONE's Marketing Director commented:- "You only need to look around Liverpool ONE to see that people treat shopping as a social activity. It's not just about finding new clothes, people enjoy the whole experience - from getting ready to searching through the shops and getting a bite to eat. Liv and Liz are like most girls, making a day of it and having a great time with friends."