Get on the Smokefree Liverpool bus
A new service to encourage people in Liverpool to stop smoking is being launched. Smokefree Liverpool, commissioned by Public Health Liverpool, will see a series of events taking place across the City over the next month, including a specially commissioned community 'Smokefree bus' which will visit communities offering help and advice to people to quit. As well as the vast health benefits of quitting, people who give up save on average around £2,000 per year.
Smokefree Liverpool, which replaces the Roy Castle FagEnds service, offers a choice of free help and support including face to face support from friendly advisors, selected local pharmacies plus phone and text support. They also offer support for those wanting to quit e-cigarettes. Last year, 6,307 people in Liverpool signed up for stop smoking support, with almost 50% still successful after 4 weeks.

Councillor Paul Brant, Cabinet member for health, said:- "Stopping smoking is the biggest thing you can do to benefit your health, with 50% of smokers dying early. So whether you're looking to prevent future ill health, increase your energy and improve your breathing or would simply like more money in your pocket, I would urge people to sign up."

Dr Sandra Davies, Liverpool's Director of Public Health, said:- "We know that the vast majority of smokers in Liverpool are keen to quit and there is lots of support to help. If you have tried unsuccessfully to stop smoking before, it doesn't matter, sooner or later you will be successful if you are determined enough and have the right support."

Around 1 in 4 people in Liverpool still smoke, and figures compiled by ASH (Action on Smoking and Health) estimate the overall cost of smoking on the City is approximately £148.8m. This includes £22.3m costs to the NHS and £68.7m for smoking breaks and loss of productivity from sick days.

People wanting to give up smoking can get in touch with Smokefree Liverpool in the following ways:-
By calling:- 0800 061 4212.
Going online.
Via emailing:- info@smokefreeliverpool.co.uk.
Sending a text:- 'QUIT' to 66777.
The Smokefree Bus will be in the following locations each day during October:-

► Monday - 8.30am to 11.30am, at the Johnson Controls Speke, 25 Estuary Blvd, L24 8RF.

► Tuesday - 11.30am to 2pm, at the Tesco West Derby, Deysbrook Lane, L12 8RF.

► Thursday - 10am to 12 noon, at The Bridge Community Centre, 2 Daneville Rd, Walton, L4 9RG.

► Friday - 9.30 to 11.30am, at the West Speke Health Centre, Blacklock Hall Road, Speke, L24 3TY.
There will also be Smokefree Liverpool events from 9am to 4pm, on Church Street, on Saturday, 8 October 2016 and in Williamson Square, on Saturday, 15 October 2016, as well as on Saturday, 22 October 2016, with staff available to give advice and support.

Man who poured boiling water over dog is jailed for 16 weeks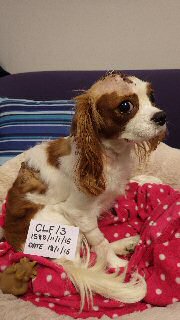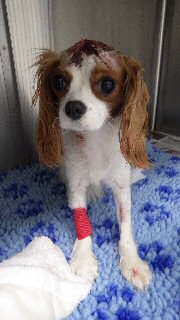 A man who subjected a dog to prolonged abuse, including pouring boiling water on her, has been jailed for 16 weeks. Mark Sharp (DOB 27/09/1982), from Liverpool, also admitted beating the dog and breaking nine of her ribs and fracturing her pelvis over a period of 4 months, from August 2015 until January 2016. On 9 September 2016, Mark Sharp pleaded guilty to causing unnecessary suffering to the dog.

On Monday, 3 October 2016, at Liverpool Magistrates' Court, Mark Sharp was sentenced to the prison sentence and was banned from keeping all animals for 15 years. The dog, a 3 year old King Charles spaniel named Daisy, was owned by Sharp's then partner, who did not realise that Sharp was abusing her dog. The owner took Daisy to the vets with various injuries which were thought at the time to have been caused by accidents.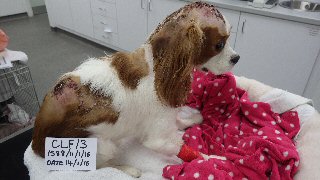 The incidents came to light after Daisy was taken to the vet in January this year with severe burns all over her back and her head, caused by having boiling water poured over her.
RSPCA inspector Claire Fisher said:- "Her owner, who is no longer with Sharp, was absolutely horrified when she learnt of the full extent of the horrors inflicted on her beloved dog. This prolonged period of cruelty appalled me, especially when I learned of the extent of poor Daisy's injuries, broken pelvic bones, broken ribs and 3rd degree burns, all sustained over a period of 4 months. By Sharp's own admission, Daisy would cower and urinate around him. Since Daisy was subjected to this vile behaviour, it is a miracle she is still so trusting of people. People can rest assured that Daisy remains in the most loving home and has always had every need, and more, met by her owner."