Education experts to work on Liverpool Challenge
2 nationally respected educational experts are to work with schools in Liverpool to further drive up attainment in the City. Sir Tim Brighouse, a former Schools Commissioner of London widely credited with transforming education standards in the capital, will be visiting every secondary school in Liverpool over the next 2 years in a project designed to highlight and share the best teaching and learning in the City. Steve Munby, Chief Executive of Education Development Trust, who has worked in the City region and for national government, will offer independent advice, guidance and support to schools. Their work will form part of the Liverpool Challenge, launched earlier this year by Mayor Joe Anderson to drive up standards, Chaired by former education minister for school standards, shadow secretary of state for education and West Derby MP Stephen Twigg.

Assistant Mayor and Cabinet member for education, employment and skills, Councillor Nick Small, said:- "Liverpool schools have lots to be proud of and this year's provisional GCSE results showed a seven percent rise in pupils getting good grades including English and maths, in contrast to a national dip. That is down to a huge amount of hard work from pupils, teachers, our school improvement team and the focus we are all putting on driving up standards. But in a changing world we can't stand still and we must keep relentlessly challenging ourselves to do even better so that we are giving our children the skills to enable them to get into the jobs in sectors where we know there will be growth in the future. We want to concentrate very much on making sure that we have an education system in Liverpool that meets the city's needs and delivers the skills that employers want and need."

Sir Tim Brighouse said:- "I am looking forward to learning from each and every school in Liverpool and then sharing the outcomes amongst all the Schools. It is by sharing interesting and successful practice and of respecting the difference teachers and support staff make to youngsters' life chances that Liverpool will become even better. I am in no doubt that the City has schools energetically committed to improving on their already impressive previous best."

Steve Munby, Chief Executive Officer of Education Development Trust, said:- "I feel privileged to be working on this important initiative, along with Sir Tim Brighouse. Liverpool is a City I know well and I am convinced that by working in a focused way across schools, building on the great practice in each School, we can achieve significant success for the young people of the City."

Stephen Twigg MP said:- "As a local MP, I know about the amazing work that goes on in our schools and the difference that the teaching and support staff make to the lives of pupils. I know that Sir Tim and Steve will bring fresh eyes and a new perspective to the work of the Liverpool Challenge."

Elaine Rees, CEO of Liverpool Learning Partnership; which represents all education sectors and learners in the City - said:- "There are so many great things going on across all schools in our City. In the Liverpool Learning Partnership, we look forward to working with colleagues in Liverpool Challenge on key issues like attendance and ensuring the city's rich cultural offer makes a difference to every child and young person."
Shots fired at house in Bootle
MERSEYSIDE Police have confirmed that an investigation has been launched following reports that a house in Bootle was shot at, on Tuesday, 4 October 2016. Residents in Eden Vale reported hearing a loud bang at around 10.10pm and when Police arrived, Officers found damage to a ground floor window of the property. The house was empty at the time and no one was reported to has been injured. Officers from Sefton have since traced the occupant and believe the shooting was a targeted attack, directed at someone linked to the house. At the time, the street was been cordoned off and crime scene investigators conducted a forensic examination of the area, as Detectives made house to house enquiries. Merseyside Police said that they have increased the Police presence in the area, to reassure the community. Gun crime needs to stop and it can only be stopped with your help. Anyone with any information that could help the investigation are being urged to call the gun crime hotline on:- 0800 230 0600 or leave information anonymously with Crimestoppers on:- 0800 555 111.

Winter Arts Market moves to Liverpool Cathedral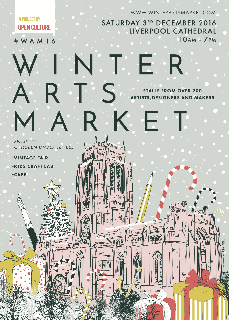 Over 200 contemporary artists, designers and makers selling work at Liverpool Cathedral, on 3 December 2016
MERSEYSIDE'S largest arts and crafts market, the Winter Arts Market will return for an 8th year, on Saturday, 3 December 2016. Staged this year in the breathtaking surroundings of Grade 1 listed Liverpool Cathedral the market will see this awe inspiring space, 1 of the most beautiful in the City, transformed into a bustling independent shopping experience that's the perfect place to pick up unique Christmas gifts.

The Winter Arts Market will feature work from more than 200 of the region's best artists, designers and makers with everything you can imagine for sale, from paintings and jewellery to screen prints, Christmas decorations, cards, photography, homewares, glassware, textiles and handmade beauty products. There will also be a vintage fair downstairs in the Cathedral's Concert Room offering shoppers a range of vintage clothing, bags, jewellery and homewares along with a food fair offering everything from homemade jams and chutneys to handcrafted chocolates and unique blended teas.

Visitors will be able to take a break from shopping to enjoy delicious homemade food and drinks in the Cathedral's Welsford Café and KECS Creative's Super Silly Scientists will be on hand to keep little ones and the young at heart alike busy with a festive crafting workshop from 11am to 4pm.

The Winter Arts Market is organised by Liverpool social enterprise Open Culture, who have staged the event annually since 2009. The market aims to provide the public with a chance to purchase affordable, unique work directly from artists and makers; helping to support independent businesses in the creative economy and keeping money local.

Charlotte Corrie, Open Culture Director said:- "We've been astounded by the record number of applications we've had from brilliant designers and makers who want to be part of the Winter Arts Market this year. We can't wait to share their work with the public. The selection process has been really tough, but we're really excited to present work by some wonderful new artists alongside favourites from past events. We know our audiences really appreciate quality handmade work that is affordable and we're looking forward to inviting the public back to what will be an amazing shopping experience in an awesome building."

The Very Revd Dr Pete Wilcox, Dean of Liverpool said:- "December is the busiest month of the year in our diary, as we build towards the celebration of Christmas. In all that we do we aim to add that special touch to people's preparations for the Nativity, and this new partnership with the Winter Arts Market promises to do just that. We look forward to what will be a memorable event."

For more details and a preview of some of the exhibitors visit:- WinterArtsMarket.Com.
To recap, Winter Arts Market will be at Liverpool Cathedral on Saturday, 3 December 2016. The event runs from 10am to 7pm. Entry £2 with under 16's going FREE!