1st Landlord Licensing prosecution brought
THE 1st prosecution against a landlord who has refused to sign up to Liverpool's Landlord Licensing scheme has been brought. Brendan Vance, of The Orchard in Huyton, pleaded guilty at Liverpool Magistrates Court, on Thursday, 20 October 2016, to failing to commit to the scheme under Part 3 of the Housing Act 2004. He had ignored numerous letters from the City Council about his property, located on Onslow Road, in L6. He was fined £1,500, reduced to £1,000 due to his guilty plea, ordered to pay the Council's legal costs of £734.56 and a victim surcharge of £100. Liverpool's Landlord Licensing Scheme came into force in 2015, with the aim of driving up standards in the private rented sector, and action is now being taken against those who are still refusing to sign up. Landlords have to meet a variety of conditions around fire, electric and gas safety rectifying disrepair issues, tackling pest infestations, keeping the exterior in a good state of repair and dealing with complaints about anti social behaviour caused by tenants. Deputy Mayor, Councillor Ann O'Byrne, said:- "We have given landlords ample time to sign up to the scheme and we are now taking action against those who are ignoring the law. We are serious and determined about improving housing and housing management standards in the City, and the vast majority of the landlords in the City are complying. Unfortunately, we have some who have refused to engage with us and think they are above complying with the scheme. The level of this fine shows that the Courts take this issue extremely seriously and are willing to hit landlords hard, in the pocket. Mr Vance is facing a bill of more than £1,800 instead of the £400 it would've cost him for a licence! This is just the 1st of dozens of cases that we are bringing to Court, and our message to landlords is that if you don't engage with us you will face a big bill, in Court."

Almost 8,000 landlords responsible for more than 44,000 properties are already engaged with the Landlord Licensing scheme. Current and prospective tenants can access a database at:- Liverpool.Gov.UK/LandlordLicensing to see if their landlord is on the database.
Did you know that:- Landlord Licensing has the backing of campaign groups including:- Shelter and Generation Rent?
Have you seen the 'Mersey Shore - Coast' exhibition yet?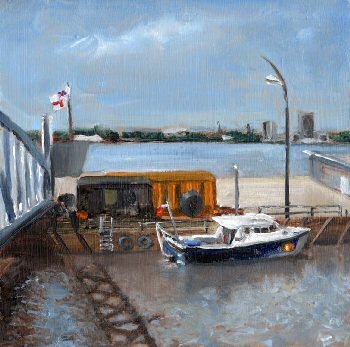 LIVERPOOL artist launches 'Mersey shore' exhibition of Liverpool's coastal region as report shows Liverpool businesses disconnected from regions value as a world heritage site. Liverpool is the 5th most visited City in the UK, with over half a million international visitors coming to the region each year. The impressive statistics place Liverpool, behind only:- London, Edinburgh, Manchester and Birmingham.

The Annual England Attractions Survey recently found that growth in tourism across England has been strongest in visits to Gardens and Historic Houses. Reports have suggested that it is possible that the rise is connected to the rise of TV shows showcasing England's natural beauty and historic buildings such as "Downton Abbey."

Despite this, a survey of Liverpool businesses highlighted that the City may not be appreciating the world heritage site filled coastal region in the same way that international visitors are. It found that just 7.5% of Liverpool businesses think that the City's brand as a World Heritage Site is important to the Liverpool City Region.

Liverpool artist Steve Strode used to travel all the way down to Cornwall to paint the landscape, but recently realised how much natural beauty he was missing out on closer to home. This week, he launched his new:- 'Mersey Shore - Coast' exhibition at Editions gallery in Liverpool's Cook Street.

Steve said:- "I think I'd taken my home town for granted, you don't always have to go away to appreciate beautiful landscape. We're really lucky in Liverpool as the coastal walk is supported by a good rail network that runs alongside it, so by hopping on and off I've walked and painted on site at various locations along the shore over the last few months. I still paint the urban sprawl, but it's great to get out along the Mersey and Sefton coastlines with their beaches, woods and dunes. I hope that more people will take advantage of the great walks, landscapes and world heritage sites right on our doorstep."

Steve Strode's free exhibition:- 'Mersey Shore - Coast' will be showing at Editions Gallery, on Liverpool's Cook Street, until Saturday, 5 November 2016. It is well worth a visit!

Award winning NHS team scoops 4th award in a row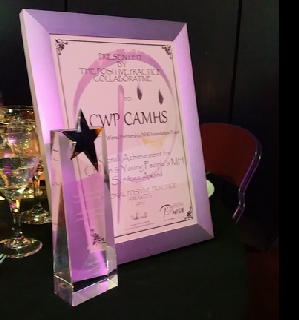 LOCAL services for child and adolescent mental health have been again recognised for their positive practice in mental health, at a national ceremony, making it 4 years in a row. Child and Adolescent Mental Health Services (CAMHS) from Cheshire and Wirral Partnership NHS Foundation Trust (CWP) scooped 'Overall Achievement in Children and Young People's Mental Health Services' at this year's 'Breakthrough Positive Practice in Mental Health Awards' that was held in Woking. 2016 has been busy for CWP's CAMHS services. Ancora House, the new state of the art inpatient centre opened in September and 'World Mental Health Day' marked the official launch of the 'Next Step' goal based outcome resource. The 4D Toolkit has also taken off, a therapy resource that helps young people vocalise and manage their feelings, and work continues to develop the existing involvement of young people with lived experience.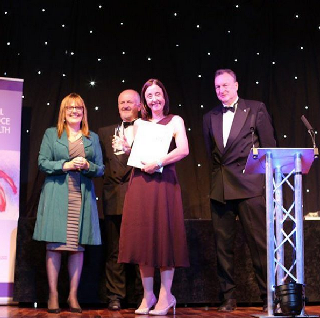 The award winning website for CAMHS, MyMind.Org.UK has now been live for five years and provides useful information for young people and their families using the service. You can now also like @CWPmymind on Instagram, as well as @mymindfeed on Twitter. On the night, the award was presented by Kathryn Pugh, programme manager for children and young people's mental health at NHS England. Ian Roberts, clinical team manager for West Cheshire and Winsford CAMHS says:- "It was an honour to attend the awards evening on behalf of CWP CAMHS. It was fantastic to witness so many stories of innovative, committed and inspiring practice. The award 'shouts out' that CWP CAMHS continues to develop and motivate so many ideas and plans amongst its staff; and has the backing of CWP and commissioners to continue the excellent work with our young people, to develop our services and interventions even further."

Sheena Cumiskey, CWP's Chief Executive added:- "It is fantastic that the work of CWP is acknowledged in this way. I see staff working tirelessly to deliver high quality care for the people who access our services and it is their energy and dedication that makes a positive difference to their recovery."

For more information about services in your area visit:- CWP.NHS.UK.
Merseyside Police Welcome Sentencing of Formby Man for Indecent Assault
STEPHEN Crosby, 63, Formby, was sentenced to 5 years in prison after being found guilty following a trial of 1 count of indecent assault which took place in February 2000 when he was working as a doctor. Crosby denied the offence and was convicted at Liverpool Crown Court and sentenced, on Tuesday, 18 October 2016. Detective Constable Tracy O'Hara said:- "Merseyside Police takes every report of sexual offences extremely seriously, whether or not they are recent, and has dedicated officers within the force's Unity Team who are specially trained to both thoroughly investigate allegations and make sure that those reporting them are properly supported. I would like to take this opportunity to reassure anyone who has suffered a sexual offence that if you can find the courage to come forward and speak to us, we will deal with you sensitively and make sure that reports are properly and thoroughly investigated. People can call Officers in the Force's specialist Unity Team on:- 0151 777 1382. Information can also be passed to Crimestoppers, anonymously, on:- 0800 555 111."