Teatro Pomodoro gets a big thumbs up for:- 'From The Shadows'
Photographs below by Jo Forrest.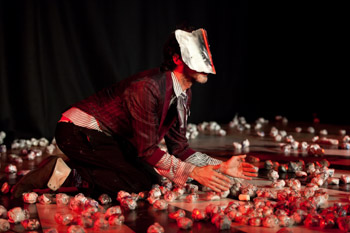 THE theatre company Teatro Pomodoro are international, with artists from Canada, Spain, Italy, Japan and the UK. The group is currently based in Liverpool, that specializes in Clown, Bouffon, Improv, and Mask. The group performances normally get huge attention and the latest Cabaret 'From The Shadows', that was preformed at the Invisible Wind Factory, in the Kazimier, Liverpool was a sell out as well. This unusual group who say:- "We catch flying tomatoes..." need not worry about the stray vegetables, as they deliver a fantastic show... These are a few photos taken by Jo Forrerst, at the Cabaret, on 13 October 2016. Keep an eye out for this group who are putting some very ambitious performances over the next few months...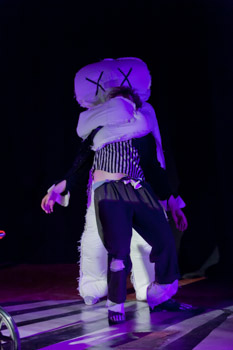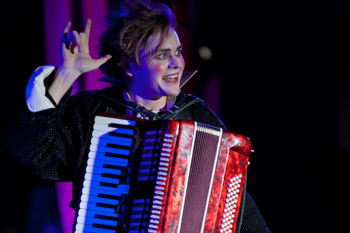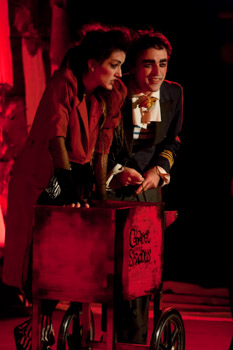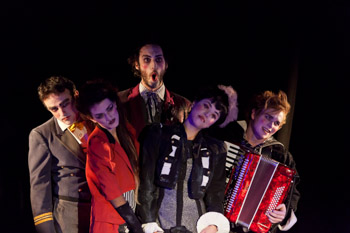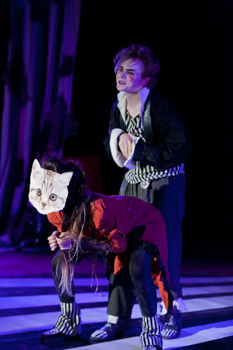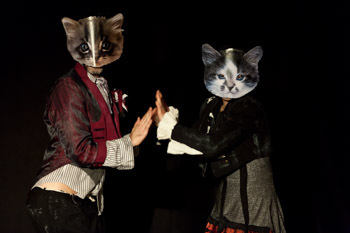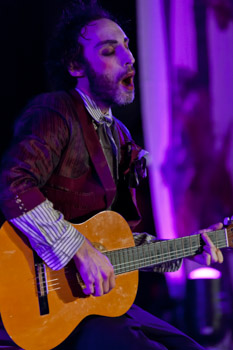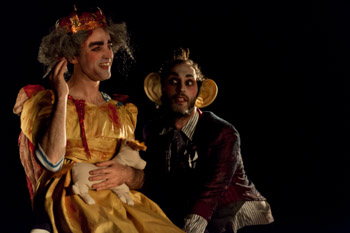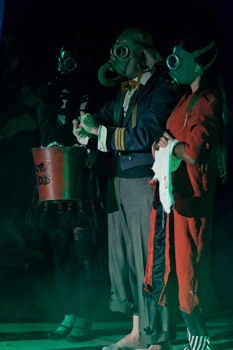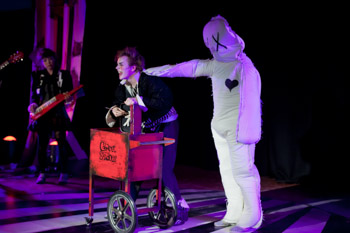 Exclusive interview with - Christian Lee (Britain's Got Talent) about:- 'An Evening of Burlesque 2016'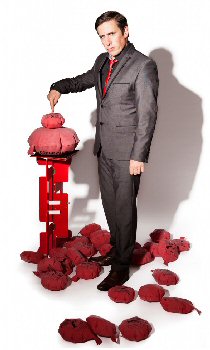 SOUTHPORT will be having hot flushes when 'An Evening of Burlesque 2016' hits Town, on 17 November 2016. This event is touring the UK and offers Caber lovers an amazing line up of acts. This soon to be sell out show mixes the traditional art form of Burlesque, with up to date performances in a variety show format. The sizzling spectacular is strictly over 18's, but often audiences are mostly female. This amazing night of performances offers audiences more of a 'Wild West' saloon show entertainment that what most with think of for a Burlesque show. It is packed full of literary, dramatic, musical work, that is intended and guaranteed to to cause laughter. Don't forget to take tissues! To read up about the show, please click on here... Or to play our interview with the show's Special Guest, Christian Lee who was recently a finalist on:- 'Britain's Got Talent 2016', please click the play icon below.
The full cast for 'An Evening of Burlesque 2016' is as follows:-

► NEW for 2016 L'Sheila Sisters - Technically tantalising, professionally provocative, a dynamic duo, the l'sheila sisters have it all, any desire, l'sheila sisters cater to all needs. The perfect blend, where demure meets darkness and seduction meets sass these twisted sisters are burlesques most exciting twin double act.

► Christian Lee – Magician, Comedian and Actor. Featured on Britain's Got talent 2016 and touring the world for years with his unique style.

► Bruce Airhead – It's sophisticated, Elegant, urbane….. Sometimes. It's Spectacular, surreal, sweaty…. Always. The metamorphosis of a Man and A Six Foot Balloon.

► The Folly Mixtures – a burlesque quartet choreographed to thrill, featuring a tasty assortment of lip-smacking routines with themes drawn from around the world

► Angie Sylvia - the Swedish siren trained in hip hop, waacking and vogue at the Broadway Dance Centre, New York, her red hot repertoire also includes Arabian Nights, complete with fire eating. . .

► Storm Hooper (Chloe) - her explosive, show-stealing hula-hoop performances defy both the laws of gravity and impossibility, leaving audiences in an old-school vaudeville spin

► Ella Boo – butter wouldn't melt in her mouth innocence, her balloon-popping act is steeped in her musical theatre roots. Trained at the London Studio Centre and a star of the famous Hurly Burly show. . .

► Miss Ooh La Lou (Sarah Lou) - described as Police Academy dream babe, a bit Britney, a bit Goldie Hawn. Trained at Italia Conti, she has appeared in numerous West End musicals

► Isabella Bliss – coming complete with her own giant martini glass, Isabella provides the most glamorous of garnishes. Guaranteed to leave you shaken, Isabella's defies you not to be stirred by her performance

Book your tickets online today!
CCTV Appeal – Disorder in Southport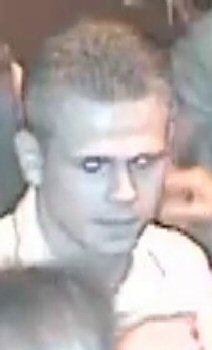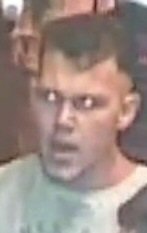 DETECTIVES have released CCTV images of 6 men who may be able to assist enquiries following an incident in Southport last month. Officers were called to a report of a fighting involving a number of men in the West Street and Waverley Street area of Southport, around the Kahiki Bar, at around 2.30am, on Sunday, 18 September 2016.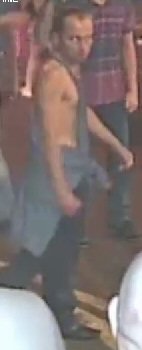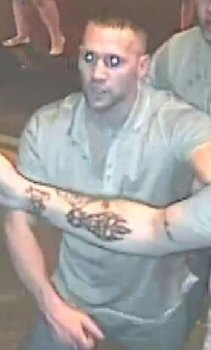 Police and the Ambulance Service attended the location and 4 people were found with minor injuries, some of whom were innocent bystanders. No person hurt required Hospital treatment.

Police Officers have viewed CCTV footage and are keen to speak to the men in the images or anyone who might recognise them as they believe they might have information that could help their enquiries.

Officers would like the men, or anyone who recognises them, to contact Sefton CID on:- 0151 777 3824, call:- 101, or Crimestoppers anonymously on:- 0800 555 111.
Did you see our hear shots being fired in Southport?
MERSEYSIDE Police Detectives are investigating following unconfirmed reports of shots being fired, on Thursday, 20 October 2016, in Southport. A 17 year old male has been arrested on suspicion of possession of a firearm with intent to cause fear of violence.

Police Officers were called to Janes Brook Road, Southport, after a member of the public reported that he had been shot at by another male, at about 10.40am. A full search of the area has been carried out by Officers from the specialist Matrix Team and at this point no evidence of a discharge has been found.
Merseyside Police have said that:- "House to house enquiries are being carried and Officers are particularly interested in talking to any members of the public who were in the area at the time to come forward with information to establish exactly what took place. Officers will also be viewing CCTV footage to establish what has occurred."

Police stress that:- "At this stage the incident is still being treated as an unconfirmed firearms discharge. Our Officers have found no evidence of a firearms discharge and enquiries are ongoing."

Anyone with information is asked to contact detectives at Sefton CID on:- 0151 777 3055, or Crimestoppers on:- 0800 555 111.
Chapterhouse Theatre Company is heading to The Atkinson with 'A Christmas Carol'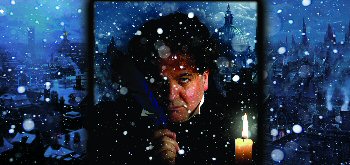 THE Chapterhouse Theatre Company is thrilled to be reviving its popular adaptation of Charles Dickens' classic festive tale, A Christmas Carol. Especially adapted for the stage by award winning writer Laura Turner, A Christmas Carol will tour theatres and stately homes throughout the 2016 Christmas season from Saturday, 19 November 2016 until Friday, 23 December 2016.

This magical stage show will be showing at The Atkinson, on Lord Street, Southport, on Wednesday, 30 November 2016. The shows will be at 1pm for the matinee and the evening show will be preformed open at 7.30pm. Other venues this show will stop at include:- Stirling Castle and The British Museum.

On Christmas Eve, the most magical night of the year, the miserly Ebenezer Scrooge is whisked away on a terrifying journey through the past and into the future, accompanied by 3 fearsome ghosts determined to make him realize the true meaning of Christmas. Charles Dickens' classic ghost story is brought alive in this most traditional of productions, complete with beautiful period costume, song, dance and a magnificent, original musical score. Join critically acclaimed theatre company Chapterhouse as Scrooge's frozen heart begins to melt and he finally embraces the festive spirit in this most Christmassy of Christmas tales.

Chapterhouse 1st toured A Christmas Carol over back to back years in 2010 and 2011. Now, the company best known for performing enchanting open air theatre productions, will once again be returning to the indoor stage with a glorious production of this ghostly Dickensian classic.

A Christmas Carol provides the perfect antidote to the hustle and bustle of the Christmas rush. From Dickens' irresistibly traditional world, audiences will be swept away on a magical journey with the miserly Scrooge as he is transformed into the epitome of the true Christmas spirit. More information and for tickets see:- TheAtkinson.Co.UK or ChapterHouse.Org.