North West eateries urged to enter the Food Porn Awards as expert judging line up announced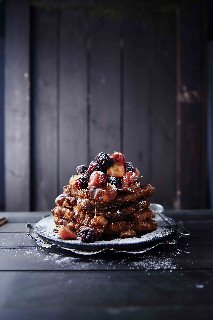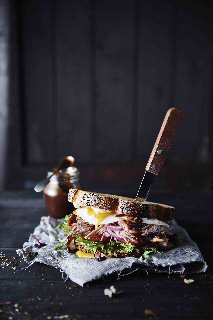 FOLLOWING its launch last month, eateries from across the North West have just a few weeks left to enter this year's Food Porn Awards.

Celebrating the region's best looking food, the awards close for entries, on 13 November 2016, with restaurants, bars, pubs and eateries encouraged to submit images of their most tantalising dishes to be in with a chance of winning the coveted 2017 award.

Online submissions have already started pouring in from across the region since entries opened and an expert judging panel has been appointed, which will have the challenging task of selecting 12 finalists, as well as the final winner.

The confirmed line up includes Maria Bracken, editor of leading industry publication, Eat Out, Jo Cooksey, editor of North West food and drink website, Taste Today, and acclaimed journalist, Renate Ruge. They will be joined by three of the judges involved in last year's hugely successful launch, Professor Stewart Morell from Manchester Metropolitan University, Robert Gong, Food Development Chef at All About Food, and Oliver Zebedee-Howard, Owner and Managing Director of specialist food creative agency, Shoot the Moon.

With decades of experience in the sector between them, the panel will come together to select an initial shortlist of 12 entries from restaurants, bars, pubs and eateries across the North West, which have been submitting images of their most mouth watering dishes over the past month with a hope of scooping the acclaimed award. The finalists will then move through to the live cook off round, working with the curators of the Food Porn Awards, STM Photography, to capture images of their dishes before the entries are revealed and the judges make their final decisions.

The inaugural Food Porn Awards took place last year and following on from its success, have returned in its search to find the region's finest culinary delights. This year, the awards are also welcoming entries from Yorkshire and Cumbria, with the final winner announced at the Northern Restaurant and Bar Show in March 2017.

Phil Marshall, STM managing director and curator of the Food Porn Awards, said:- "We are delighted to welcome back three of the judges from last year and very much looking forward to Maria, Jo and Renate joining the team. The quality of entries we received last year was outstanding and judging by the entries we've already received, this year is on course to be even better. I've no doubt that the panel of experts we have on board will be ideally placed to select a worthy winner."

Sponsors and partners for this year's awards include catering equipment supplier, Stephensons; specialist food photographers, STM Photography; social media agency, STM Social; PR agency, Refresh PR; and video production company, WhiteNoise Media. For more information on the awards and how to enter, including full terms and conditions, please visit:- FoodPornAwards.Co.UK.
Stolen Medication in Maghull
MERSEYSIDE Police are appealing for the public to be cautious following the theft of some medication from a car in Maghull. It is thought that the following was stolen from a car parked on South Meade, alongside an iPad, in a black and pink bag. The tablets are as follows:- Creon 2500MG 30 tablets; Loperamide 2MG 18 tablets; Cyclizine 10MG 6 tablets and Ondansatron 10 tablets. Taking medication that is not prescribed for you can be harmful and can even prove fatal. If you come across this medication, please contact:- 101 or hand it into your nearest Pharmacy or Police Station.

UK business confidence steady despite Brexit fears, finds major ACCA survey
GLOBAL business confidence is at its highest in 12 months, with OECD countries anticipating a rise in government spending, a 4 year confidence high in China leading to an uplift in emerging markets and the US continuing a stable recovery. With protectionist sentiments on the rise across many nations, the US presidential elections in November could have a significant impact on whether this improving confidence translates into genuine increases in employment and investment.

Faye Chua, head of business insights at ACCA, points out that despite the UK vote to leave the European Union, business confidence has so far held steady:- "In the UK, confidence has held up in the wake of gloomy predictions; this may be partly linked to greater willingness from the incoming administration to loosen the purse strings (despite a high budget deficit) and rate reductions from the Bank of England to pre-empt a slowdown. Yet we must remember that, despite perceptions, the process of Brexit has not begun yet and that overall the UK represents only 4% of global trade GDP. Nearly 60% of global respondents said that they had not been affected by the vote."

Faye Chua says that the survey highlights the importance of governments supporting growth and their increasing realisation of the limits of monetary policy, "Over 51% of global respondents expected government spending to rise, which has driven global business confidence to the highest point in over a year. After years of reduced investments in most Western economies, a combination of falling budget deficits and bond yields is encouraging governments to reach for their wallets. This is good news for business in a continued depressed climate for investment and hiring."

Yet Faye Chua says that despite improvements in confidence, the world is yet to see it translate into a meaningful boost to hiring and investment, "Only 19% of firms said they are considering hiring new staff, and only 14% said they are looking at opportunities to invest in new technology. In every region, there were more businesses planning to cut staff than those planning to hire more."

Faye Chua argues there could be bigger challenges ahead for the global economy in the next quarter, "The World Trade Organisation is reporting record levels of trade restrictions between nations, and there has been a pronounced protectionist turn in the US presidential elections with regard to trade. The outcome and response to that election, together with the prospect of Brexit negotiations drawing closer, will provide a test of this fragile confidence."

The Global Economic Conditions Survey (GECS), carried out jointly by ACCA (the Association of Chartered Certified Accountants) and IMA (the Institute of Management Accountants), is the largest regular economic survey of accountants around the world, in terms of both the number of respondents and the range of economic variables it monitors. Its main indices are good predictors of GDP growth in themed countries and its daily trend deviations correlate well with the VIX or 'fear' index, which measures expected stock price volatility.
Fieldwork for the Q3 2016 GECS took place over 2 September and 19 September 2016, and it attracted 1,512 responses from ACCA and IMA members around the world, including more than 150 CFO's. The report can be viewed online.
Action on Uninsured Driving
MERSEYSIDE Police are teaming up with MIB (Motor Insurers' Bureau) in a national week of action, running from 17 October to 23 October 2016, aimed at tackling uninsured driving.
Operation Drive Insured is the 1st national week of its kind and Police Officers across Merseyside will be engaged in the operation.

Ashton West, the MIB's Chief Executive said:- "We are pleased to be running the first Operation Drive Insured with the National Roads Policing Intelligence Forum and police forces to help raise awareness of the consequences of uninsured driving. The work of MIB and the Police is essential in dealing with uninsured driving. This week is a concerted effort to tackle an estimated one million uninsured drivers still driving illegally on our roads."

Sergeant Dave Yorke from Merseyside Police Roads Policing Department said:- "20% of the most serious collisions across Merseyside in the last year have involved a driver who either wasn't insured or licenced correctly and it is these risk taking drivers we intend to take off the road. Please take the time to check your driving licence and insurance is current, to avoid being targeted this week."

Anyone with information on persons driving without a licence or without insurance can call Crimestoppers on:- 0800 555 111 or report it online..