Council Tax exemption for care leavers
YOUNG people leaving care in Liverpool are set to be granted an exemption from paying Council Tax. The Council's Cabinet is being recommended to approve the proposal which would benefit young people up to the age of 21 who are leaving the care system and starting to lead independent lives. It follows a request from Liverpool's Children in Care Council, a group that represents young people in care in the city, and the move is also backed by the Children's Society. Evidence shows that care leavers often move in to their own house or flat earlier than their peers, and they are a particularly vulnerable group for getting into debt.

Mayor of Liverpool, Joe Anderson, said:- "Young people leaving care face a difficult transition in to adulthood and managing money for the 1st time leaves them at real risk. We all want the best for our children, and as their corporate parent it is right and proper that we do all we can to support them as much as we can, to help get their independence off to a good start."

Councillor Barry Kushner, Cabinet member for Children's Services, said:- "There are only 20 Councils that offer care leavers Council Tax exemption, and I am proud that Liverpool is joining this list. We help give care leavers a good start to their adult life and this decision will add to the support we offer in funding a tenancy with a social landlord as well as access to training and paid work placements."

Caitlin Ruddy from the Children in Care Council said:- "This exemption is going to help us transition from care to independence so much. Many of us give up on a property because we get into debt with Council Tax. It will also be a big incentive for our care leavers to gain employment and stay in work and we thank the Council for its help and support."

Currently, 87 of Liverpool's 393 care leavers are in independent accommodation and would be eligible for the exemption, which would be worth at lEast ₤875 a year (based on a young person living on their own in a Band A property). Those who live outside of the City boundary will receive a payment equivalent to the amount of Council Tax they have to pay. People that foster one or more child for the City Council already get free Council Tax, as part of a package of measures to support those helping look after the city's vulnerable young people. The Cabinet meets, on Friday, 21 July 2017, to consider the recommendation.
---
Majority of people rarely step outside their comfort zone and fear they could live to regret it
57% of people in the North West don't venture outside of their comfort zones and 41% fear that one day they might live to regret it. That's according to new statistics released by the British Heart Foundation (BHF)who are encouraging people in the region to do something out of their ordinary routines and organise a fundraiser to help make a difference to the millions of people living with cardiovascular disease.

A new survey by the BHF reveals that we are creatures of habit in the UK, tending to stick to our daily routines and playing it safe when it comes to trying new things. The BHF is encouraging the public to break out of their comfort zones and arrange a fundraiser to help raise vital funds for life saving heart research.

The poll showed that 56% of people in the region stick to the same routine day in, day out and 30% can't remember the last time they tried something new or stepped out of their comfort zone. 26% said it has been more than a year since they did.

32% said they never act impulsively and 42% said they wouldn't be described as an adventurous person. 22% said that their daily routine has left them feeling stuck in a rut.

For some, even leaving their own City or county, or trying a new style of clothes, was too far out of their comfort zones. Despite this, 60% of those polled could see the benefits of getting out of their comfort zones and 33% would consider doing something out of their comfort zone for charity.

An estimated 7 million people in the UK are living with heart and circulatory disease, but with the help of its generous supporters, the BHF is fighting back by funding ground breaking research to find new ways to treat these devastating conditions. By breaking out of your normal routine and planning a fundraiser of your choice, you can help them continue this vital work.

Donna Spriggs Elliott, Head of Community Fundraising at the British Heart Foundation, said:- "It's clear that we really are creatures of habit in the UK, tending to stick to the same tried and tested routines instead of trying new experiences. We could all do with shaking things up a bit. We're encouraging everyone to step outside of their comfort zone and do something to help us make a real difference to the millions of people living with cardiovascular disease. Even ₤100 can help one of our early career researchers carry out a day's worth of research. People do wonderful and truly extraordinary things to support our life saving research, so why not have fun, get creative and mix things up for a good cause."

From zumbathons and treasure hunts to pet shows and cake sales, or putting a twist on a hobby, whichever way you choose to fundraise, why not gather together your friends and family and help us beat cardiovascular disease for good.

For more information and to get your free fundraising pack, visit:- BHF.Org.UK/DoYourThing.
---
Arrests in suspected ₤2.9m Tax fraud
2 people from Cheadle Hulme have been arrested during morning raids as part of a HM Revenue and Customs (HMRC) investigation into a suspected Tax fraud estimated to be in excess of ₤2.9 million. On Tuesday, 11 July 2017, Officers from HMRC searched a residential address in Cheadle Hulme and a business premises in Manchester. Cash, computers, business and personal records were seized during the operation. The arrests were made as a result of an investigation into the Tax arrangements for a couple who are suspected of under declaring their true personal income and business affairs. Paul Maybury, Assistant Director, Fraud Investigation Service, HMRC, said:- "The vast majority of Taxpayers pay the Tax they owe, but where we suspect people aren't doing that we will not hesitate to use the full range of our powers to investigate and recover any revenue losses quickly and effectively. Individuals who attempt to hide their true income should know they face prosecution. If anyone has information about Tax fraud, we encourage them to contact us on:- 0800 788 887." 1 man and 1 woman were arrested and have been interviewed and released pending further enquiries.

Green fingered retirees inspire children in Southport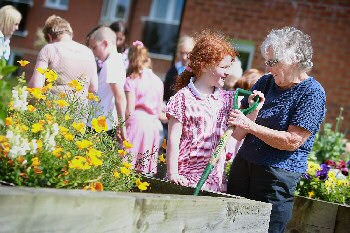 CHILDREN from Marshide Primary School in Southport visited McCarthy and Stone's Brunlees Court Retirement Living Plus development on Cambridge Road this week, to brush up on their gardening skills with the help of some of the development's green fingered homeowners.

As part of its 40th Anniversary celebrations, the UK's leading retirement housebuilder, McCarthy and Stone, has pledged its support for Royal Voluntary Service. Inspired by the charity's annual 'GrandFest' event, which puts the spotlight on the heritage skills older people have, McCarthy and Stone invited homeowners from Brunlees Court, Southport, to lead a master class on gardening with the pupils from the School Council, at Marshide Primary School.

Anna Sawyer, Year 6 Class Teacher from Marshide Primary School, said:- "The children thoroughly enjoyed their morning of gardening at Brunlees Court and it was great to see homeowners Steph, Mary and Elizabeth helping the children plant the beautiful flowers in the gardens. We are grateful to McCarthy and Stone for inviting us to the development, and we hope everyone at Brunlees Court enjoys their lovely garden in the coming months."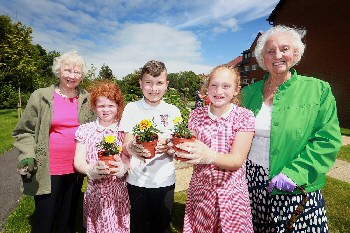 Fiona Brooks, Regional Sales and Marketing Director for McCarthy and Stone, said:- "We would like to extend our thanks to the children from Marshide Primary School who displayed some excellent gardening skills during their visit to Brunlees Court. The day proved to be a fitting celebration of the older generation and the skills they are able to pass on to young people. A tight knit community and companionship are among the many benefits of living at a McCarthy and Stone development. Local children planting flowers with the help of homeowners Steph, Mary and Elizabeth, is a fantastic example of the sense of community spirit here at Brunlees Court and we look forward to continuing to build on our relationship with Marshide Primary School."

Steph Ball, homeowner at Brunlees Court, said:- "It was my pleasure to help children from Marshide Primary School plant flowers in the ground of Brunlees Court. I have always got so much pleasure from gardening and it is wonderful to be in the position of passing this on to others."

Brunlees Court comprises a stunning collection of 62, 1 and 2 bedroom apartments designed exclusively for the over 65's. Prices currently start from ₤144,999, for a 1 bedroom apartment and from ₤224,999, for a 2 bedroom apartment.

Facilities at Brunlees Court include a Homeowners' Lounge, ideal for socialising with friends; beautifully landscaped gardens in which to relax; and a convenient guest suite, should homeowners have friends or relatives to stay. The development also features its very own restaurant which prepares freshly cooked meals, as well as domestic support and assistance packages to help homeowners manage their day to day lives. An Estates Manager takes care of the smooth running of the development; while security entrance systems and 24 hour emergency call points provide added peace of mind for homeowners and their families.

To find out more about Brunlees Court, please go online or call:- 0800 310 0385. For more general information about McCarthy and Stone, including plans for its 40th Anniversary celebrations, please go to:- McCarthyAndStone.Co.UK.
---
Walton Festival taking place this weekend
THE popular Walton Festival is back! The free event, which returned in 2016 for the 1st time since the 1990s, is taking place from 11am until 6pm, on Saturday 15 July 2017 and Sunday, 16 July 2017, at Walton Hall Park, Merseyside. Highlights include:-

► A farmers market and a local makers market featuring local traders.
► Pets Corner including falconry displays and donkey/pony rides.
► A funfair with a ferris wheel, waltzers, carousel and other old time attractions.
► Live music stage.
► Dance and sport.
► Physical activity displays and taster sessions.
► Free children's entertainment and play areas.
► A military zone featuring vehicle and displays of equipment.

There is also a classic car and bike display on Saturday organised by Aintree Circuit Club, and a 5k fun run on Sunday, 16 July 2017, at 10am. Walton Festival is being organised with support from Liverpool City Council and local housing associations LHT and LMH. Councillor Roy Gladden, Chair of the Walton Festival organising committee said:- "Walton Festival proved hugely popular when it returned last year. We have consulted with schools, community organisations, local businesses and residents about what else they would like to see at the festival as it's very much their event. There is already a buzz in the local community and all we need is for the sun to come out and we'll be set for a great weekend."
For the latest about the event search Walton Festival on Facebook.