WW1 letters and diaries of Liverpool 'Pal' published by grandson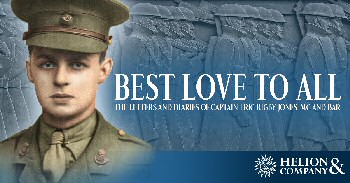 THE Great War diaries of a Liverpool 'Pal' who was raised in Ormskirk and attended Ormskirk Grammar School have been published by his grandson. Eric Rigby Jones was just 16 years old when the war broke out. The privately educated son of the owner of Ormskirk's rope works, he later signed up to join the army and became a 2nd Lieutenant with the Liverpool Rifles, in 1915, which was a month before he turned 18. He was transferred to the Liverpool Pals when he arrived in France, at the beginning of 1917 and, that April, went into battle with them for the 1st time, at Arras. Now a captain, Eric was the only Officer in his battalion to fight throughout the 6 weeks of the German Spring Offensive, in 1918, before being invalided home. He was presented with the Military Cross and Bar for his bravery by the King at Buckingham Palace, a week after his 21st birthday.

"After my father died, I found my grandfather's letters and diaries in the old cigar box where they had always been kept..." recalls John Rigby Jones, author of: 'Best Love To All.' The Letter and Diaries of Captain Eric Rigby Jones Military Cross and Bar and his Experiences as a Young Officer with the Liverpool Pals on the Western Front in 1917 and 1918. "Reading them helped me to connect with my grandfather, who died before I was born. He signed many of his letters 'best love to all...' hence the title of the book. It helped me understand what he was like in his youth. I'm told he never spoke of his experiences after the war and that in later life he could often appear remote. 1 particular account of being sent on what he thought was a suicide mission in March 1918 always makes me cry. I am just amazed that he managed to survive. To have been through all that by the time he reached his 21st birthday… I find it staggering."

John realised his grandfather's papers were worth sharing with a wider audience, and secured a book deal with Helion and Company Ltd. 1 of the world's largest military history publishers. He has visited the battlefields where Eric Rigby Jones fought and read battalion diaries as part of his painstaking research.

"Lord Derby's younger brother, Brigadier Stanley, was the Commanding Officer of the Pals. He wrote in an appendix to his history of the Liverpool Pals that only 4 of those who served with the Pals were awarded the Military Cross and Bar. I feel proud that my grandfather was 1 of those people; he was an exceptional man," says John, who plans to bequeath his grandfather's medals to the Museum of Liverpool.

Oxford graduate John, who retired in 2015 and lives in Surrey, is now writing a 2nd book that explores what happened to his grandfather after the war. He added:- "It's another extraordinary story that again deserves to be told," "He became a leading industrialist in Ireland and founded his company, Irish Ropes, in the disused British cavalry barracks in Newbridge, Co Kildare in 1933."

'Best Love To All' was published this week and is available to purchase at:- Helion.Co.UK and on Amazon.
---
Liverpool pupils win overall anti smoking film awards at Curzon Soho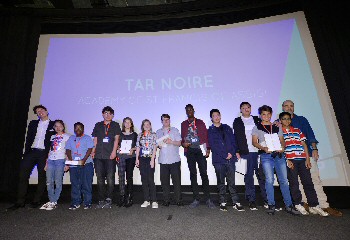 12 students from Academy of St Francis of Assisi won the overall National Cut Films Award 2017 for their film:- 'Tar Noire'. The awards took place at the Curzon Soho on Friday, 7 July 2017. The Overall Judges' Choice Award was presented by BAFTA and Golden Globe nominated director, Oliver Parker. The students also won the 12 to 15 Age Category Award, which was presented to them by Liverpool actor, Kieron Bimpson. 4music presenter Jimmy Hill hosted the award ceremony at the Curzon Soho.

The competition run by Cut Films (the education and prevention arm of Roy Castle Lung Cancer Foundation) asks young people across the UK to research smoking and tobacco. They then make a 2 minute advert to persuade their friends not to smoke, upload it to the Cut Films competition website and share it on their social media. It is their take on the issues associated with smoking.

Films made for the competition include issues like lung cancer, peer pressure, death, health impacts, child labour, shisha and tobacco marketing.

Academy of St Francis of Assisi's film 'Tar Noire', won the judges' choice in the National Cut Films competition after an impressive 162 films were submitted from schools, youth projects and individuals from across the UK. The prize was the latest brand new iPads. The film is a satirical take on an anti smoking advert. A very original idea which stood out to judges.

Young filmmaker, Guan Hong Zhao (aged 15) from Academy of St Francis of Assisi said:- "It's been a great day and we are feeling proud but really it doesn't matter who wins, it matters that we stop people from smoking"

Nicola Ousey, Drama teacher at Academy of St Francis of Assisi said:- "Cut Films is a really worthwhile project for any School to get involved in. Students learn a lot about smoking and filmmaking. The students are made up with the win!"

Jimmy Hill, 4music presenter and Cut Films Awards host said:- "I was genuinely blown away by the quality of the films and the passion. It's exciting to see so many young people really engaged with such an important cause. It's a pleasure to be involved"

In total 3 Schools from Liverpool won awards at the National Cut Films Awards 2017:-
Academy of St Francis of Assisi
Overall National Cut Films Judges' Choice Winners 2017
12 to 15 Age Category - Winners

Greenbank College
20 to 25 Age Category - Finalist

Enterprise South Liverpool Academy
16 to 19 Age Category - Finalist
---
Family present ₤2,000 donation in mum's memory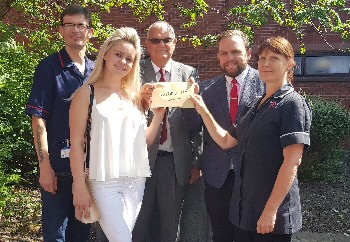 FRIENDS and family raised ₤2,000 for Southport Hospital, in memory of Julie Tivey, who was a patient on Ward 11b. The 58 year old former Housing Officer, from Aughton, near Ormskirk, was admitted to Hospital, in March 2017 and died after a short illness. Her husband Colin, a programme director for an engineering firm, said:- "The care Julie had from the Hospital was outstanding. We wanted to raise a donation in her memory to provide support for patients being treated on 11b in the future." The donation was raised using a Just Giving page on the internet. Sheena Walker, Matron for 11b, and ward manager Mark Soffe received the donation on behalf of the Trust from Mr Tivey and Julie's children, Andrew and Hayley, who all worked hard to raise the money. Sheena said:- "We are planning a refurbishment of the ward and will put Julie's donation to something extra for patients when it's completed." There is more information about how to make donations to the Trust's charitable fund on the Trust website.

LCB Boys Under 17s narrowly miss out on National Title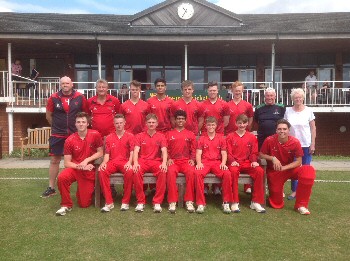 THE LCB Boys Under 17s narrowly lost to Middlesex in the final of the Royal London County Cup at Kibworth CC, on Sunday, 9 July 2017.
Lancashire having won the toss elected to bat 1st, however lost 2 early wickets of Crawley and Southworth. This brought captain Udwadia to the crease with Heaton at the other end putting on a partnership of 94 when Udwadia was out for 44. Heaton continued impressively with new batsman Fielding and they posted a partnership of 58, when Fielding was caught for 15. Dorsey and Heaton continued well until Heaton was stumped for 118 (from 139 balls, 12 4), leaving Dorsey and Dove to conclude Lancashire's innings at 259 for 5 off the allotted 50 overs. In reply Middlesex batted well with most of their batsmen contributing to the total, despite an early wicket taken by Udwadia of their opener Shukla for 5. With just 10 overs left Middlesex were only 3 wickets down and whilst spinners Jack Morley took 3 wickets for 52 runs and Lewis Dove 2 wickets for 38 runs, the Lancashire bowlers couldn't quite break down the Middlesex innings and Middlesex passed Lancashire's total in the final over of the match to finish 265 for 7 (49.5 overs).

Gary Yates, LCB Boys U17s Head Coach and LCCC Academy Director, said:- "It was a great game of cricket on an excellent wicket. The match followed a similar pattern throughout both innings and concluded in a very tense and exciting finish. Our players can be very proud of their performances throughout this 1 day competition. To reach a National Final is an excellent achievement. Furthermore, our players will have gained a lot of learning and understanding from this experience. We can now confidently look forward to the Specsavers U17 County Championship which is a three day competition starting this week against Yorkshire, on Tuesday, 11 July 2017, at Northern CC."

Bob Dearden, Manager for the LCB Boys U17s, added:- "It was a superb performance by our team of 16 and 17 year olds against a Middlesex team that fielded 3 strong 18 year old players, which the new regulations allow. The team, well led by Rehan Udwadia, have been a great credit to the Red Rose throughout the competition."
---
Sunshine and teddies came out in force for Hospice Garden Party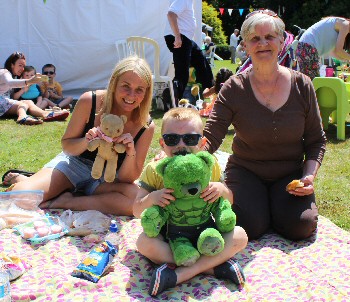 HUNDREDS of families from across the area flocked to the St. Joseph's Hospice Garden party, on Saturday, 8 July 2017, and enjoyed an afternoon in the sunshine celebrating the Hospice's 55th Anniversary.
The Hospice gardens were full of families picnicking and having fun in the sun while being entertained by a range of games, stalls and performances.
Over 100 children took part in the Hospice's annual Teddy Bears Parade, which was judged by the Mayor of Sefton, Cllr Dave Robinson; Annette Hughes, President of the Crosby Soroptimists; and Mike Parr, Chief Executive of St. Joseph's Hospice.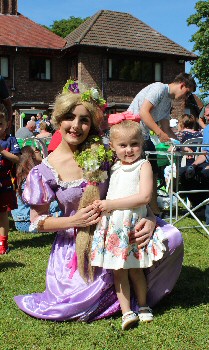 Princess Rapunzel dropped by to sing and tell stories to the children and the Irish Guard Singers performed for the crowd, while the BBQ, ice cream van and Prosecco Tent kept everyone well catered for during the afternoon.
Towards the end of the day, a short reflection service took place to remember former Hospice patients and loved ones, followed by a visit to the Hospice's brand new Stations of the Cross Garden.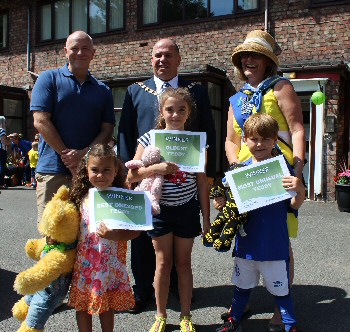 Julie McAdam, Senior Community Fundraiser at St Joseph's Hospice, said:- "This year's Garden Party and Teddy Bears Picnic has been a tremendous success and we'd like to thank everyone who came along to support us, from those who came along on the day to our amazing volunteers who worked so hard in the run up to the event. Also, those who donated bottles and gifts for our tombolas and stalls. We couldn't have done it without you all. We'd also like to thank KK Butchers for providing all the burgers and sausages for the BBQ and Sainsburys on Great Howard Street for providing the bread rolls. Thanks also go to staff and customers of Ronnie and Rita's Hairdressers in Litherland for all the prosecco and bottles they donated. Without the support of our local community, we simply could not continue to provide the vital services and care our patients and their families so desperately need."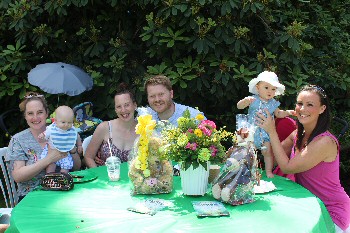 To support the Hospice, please contact the fundraising team on:- 0151 932 6044 or via email.