Absentee landlord ordered to pay over ₤15,500 for unlicensed fire trap property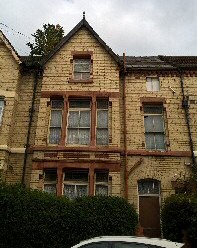 A landlord who rented out unlicensed properties in Liverpool and breached an Emergency Prohibition Order has been fined. Mr Mustafa Taghdi, who lives in Libya, but also resides in Portsmouth, was sentenced at Liverpool Magistrates Court, on Monday, 18 September 2017, after pleading guilty to 17 charges including operating unlicensed properties and breaching an Emergency Prohibition Order, on 2 separate occasions.
The property on Princes Road in Toxteth came to the Council's attention in October 2016, after intelligence was received that a house converted into flats was unlicensed.
Officers from the City Council's Landlord Licensing team visited the property, but were so concerned about the lack of fire precautions that a referral was made to Environmental Health Officers from the Housing Enforcement Team. When they attended on the 3 November 2016 and found that the means of escape was obstructed with domestic waste and furniture which would hinder swift exit in the event of a fire. The property had no fire alarm system in place which meant there was no early warning in the event of a blaze, and fire escape signs led tenants up to a 3rd floor fire escape which was locked, giving a false sense of safety, leading to potentially devastating consequences. This, coupled with the absence of any property management, meant that the officers had little choice, but to shut it down immediately due to the imminent risk of serious harm to residents.

Mr Taghdi was contacted straight away and was advised that it was his responsibility to ensure that the building was vacated.
Formal visits were made to the property on 28 November 2016, 22 March 2017 and again on 22 August 2017 when Officers assessed remedial works undertaken and found on each occasion residents were present and the property was occupied in breach of the Emergency Prohibition Order.
Although some remedial work had started, it was not enough to revoke the Emergency Prohibition Order.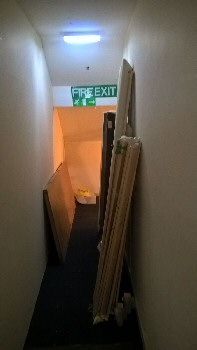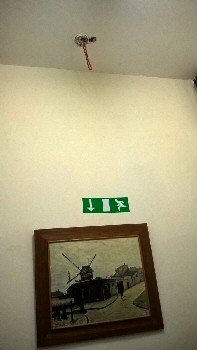 Sitting at Liverpool Magistrates, District Judge Wendy Lloyd criticised Mr Taghdi and described the lack of fire precautions as "shocking."
In her summing up she stated:- "Distant landlords are not all bad but they must be vigilant and must not exploit tenants for profit, but in reality although Mr Taghdi co-operated with the investigation, he did put his tenants at risk. The 1st breach of the Emergency Prohibition Order was bad enough, but the 2nd breach was greatly aggravated as there was no real fire protection and even though some work had been done, it was mere lip service and was in effect window dressing a dangerous situation. Mr Taghdi has chosen to take the risks he did as he was putting profit first, he doesn't have to buy and rent out property in Liverpool."

District Judge Lloyd concluded:- "The Emergency Prohibition Breaches are the most important because of the safety issues, but that this reveals the importance of licensing in a large area like Liverpool."

Liverpool's Cabinet Member for Housing, Cllr Frank Hont, said:- "This property posed a serious danger to the tenants and the fines here reflect this. The absentee landlord committed these very serious offences putting the tenants in a position they should never had been in and we will robustly enforce against those non compliant landlords who refuse to licence their properties comply with the legislation."

Mr Taghidi was fined ₤6,500 for operating the unlicensed properties which were required to be licensed under the Landlord Licensing scheme, ₤2,000 for the first Breach of the Emergency Prohibition Order and ₤4,000 for the second breach. He was also ordered to pay a victim surcharge of ₤120 and the City Council's full costs of ₤3,034.04, meaning a total bill of ₤15,654.04.

Housebuilder brews up charity fundraisers in Liverpool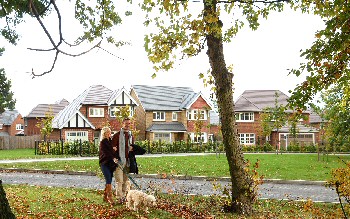 COFFEE, tea and cakes on the house are being served at 2 Redrow developments in Liverpool, on Friday, 29 September 2017, as part of the World's Biggest Coffee Morning, in aid of cancer support charity Macmillan. The events take place from 10am to 12noon, on Friday, at Summerhill Park, off Thomas Lane, and at Redbridge Park, off Sherwoods Lane, Fazakerley. Everyone is welcome and Redrow has invited homeowners who live on the developments to bring along their own cakes for a "Bake Off" style competition with a prize for the winner. Visitors will be asked for a small donation for their cuppa and, in a bid to raise more funds, Redrow will host a "guess the height of the cake" sweepstake.

Claire Jarvis, sales director for Redrow Homes (Lancashire), said:- "The World's Biggest Coffee Morning is Macmillan's biggest fundraising event for people facing cancer. It's a charity that's close to our hearts as many Redrow employees have personal experiences of dealing with cancer, either their own or that of their loved ones, and the support of MacMillan has been invaluable. We would encourage people to come along and donate what they can as every penny will make a difference."

The 1st Macmillan coffee morning was held in 1990 and since then it's raised ₤165.5 million including ₤29.5 million in 2016 alone. To find out more about the World Biggest Coffee Mornings visit:- Coffee.Macmillan.Org.UK.
---
Flood risk reduced and wildlife brimming over along the Ribble estuary
A new scheme that will improve flood protection, boost wildlife habitats and create 160 hectares of new saltmarsh, was opened Thursday, 21 September 2017. The new reserve not only creates new saltmarsh habitat, but strengthens sea defences. The ₤6 million scheme at Hesketh, in Lancashire, is a partnership project between the RSPB, Natural England and the Environment Agency. The RSPB's Hesketh Out Marsh Reserve and Natural England's Ribble Estuary National Nature Reserve (NNR) are a real world demonstration of the newly launched joint strategy for NNRs. The Environment Agency has breached the banks at Hesketh Out Marsh East. This important work has been made possible by almost ₤2million funding from Landfill Communities Fund monies, also from FCC Environment via a ₤3.7million Government fund to reduce flood risk.

Environment Minister Thérèse Coffey said:- "Hesketh is an inspiring project, creating fantastic new habitats for wildlife and providing increased flood protection for hundreds of people living around the Ribble Estuary. This ₤6 million scheme shows how embracing new ideas and working with partners can create tremendous benefits for the environment."

Natural England's Chairman, Andrew Sells, said:- "England's National Nature Reserves are the most special places for nature, which also help improve the wellbeing of people making more than 17 million visits every year. Uniting these two reserves on the Ribble will create wonderful new habitat, reduce the risk of flooding and enhance the area's appeal to wildlife. It is also an extremely symbolic moment, demonstrating how conservation will work in the future. Bringing together a number of important organisations and the local community, with the aim of providing a far greater home for nature, is at the heart of the new Joint NNR strategy. It will enable us all to deliver more public benefits, such as improved health and wellbeing, and allow wildlife to spill over and enrich the surrounding countryside."

On completion, the full RSPB Hesketh Out Marsh Reserve will include 340 hectares of saltmarsh, making it the largest site of its kind in the north of England. The Reserve will be designated as part of the existing Ribble Estuary National Nature Reserve later in 2017. The RSPB and Natural England will then jointly manage both sites as effectively one large reserve. Ribble Estuary NNR is already England's third largest National Nature Reserve. Robin Horner, RSPB Area Manager said:- "We're delighted to be celebrating this partnership work and all that has been achieved through this project. These improved coastal defences, fronted by saltmarsh, deliver much needed local climate change adaptation and provide invaluable new wildlife habitat close to Britain's most important single river estuary for birds."

Work at Hesketh Outmarsh East has involved strengthening and raising the height of 2km of flood banks. This has reduced the flood risk to more than 140 properties and 300 hectares of prime farmland nearby. This is known as:- 'managed realignment,' and is 1 of the largest schemes of its kind in the UK. Emma Howard Boyd, Chair of the Environment Agency, said:- "Hesketh is a win, win scenario; a fantastic scheme which not only works with nature to reduce flood risk, but also brings benefits to the wider environment and local communities. Through partnership working we can achieve more and Hesketh proves that."