Great Howard Street to be closed due to an unsafe building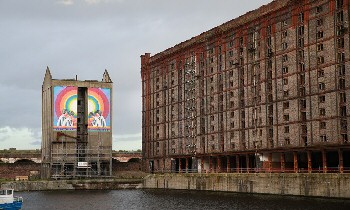 A major route in and out of Liverpool City Center has been closed due to fears a former grain silo, which is currently being demolished, may collapse. Demolition works is currently being undertaken on the building along Great Howard Street (A565) at Tobacco Warehouse Stanley Dock, for Harcourt Developments. Due to engineering difficulties experienced by the contractor, Liverpool City Council's Building Control Department has deemed the building unsafe and in the interest of public safety, Great Howard Street was closed between Walter Street and Saltney Street, for both vehicles and pedestrians.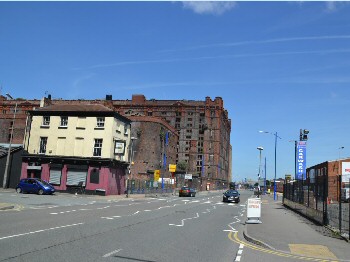 The diversion route for this closure is follows:-

► Inbound:- Blackstone Street (A5054), Regent Road and Dublin Street

► Outbound:- Great Howard Street, Paisley Street (at Costco), Regent Road and Blackstone Street (at Tai Pan).

This closure will be implemented on site this afternoon (by 4pm) and will be in place for up to one week.

Once the demolition works are complete and made safe, the road will be reopened to traffic.

These works are completely separate from the current highway improvement works to create a new dual carriageway for the A565.
---
Workers in Liverpool are putting in more than 13 extra days work a year!
THE average worker in Liverpool (44.4%) puts in over 13 extra working days a year, with 75% admitting that they often work more than their contracted hours. What's more, 22.2% could be working an extra 34 days! That's according to recent data from CV Library , the UK's leading independent job board. The study explored average working hours across the UK and whether the traditional 9 to 5 day still exists. The research revealed that 66.1% of workers in Liverpool believe that the traditional 9 to 5 is an outdated concept, with the majority (56.4%) agreeing that this is because mobile working options mean people can work from anywhere at any time. Other key findings include:

► Only 35% of professionals in Liverpool still work a traditional 9 to 5 day.

► Worryingly, 36.8% are working 6 days a week.

► And despite 90% believing that every business should offer flexible working, 67.8% said they still don't have the option to work from home.

Lee Biggins, founder and managing director of CV Library , comments:- "It's become clear from the data that workers in Liverpool are putting in too much overtime. It's concerning to learn that 1 in 3 are even working 6 days a week! Being overworked can lead to burnout, as well as having many other negative implications for the wellbeing of workers. Though technology may be great for enabling flexible working, it could also be disturbing the work life balance of the City's professionals as they continue to do work related tasks outside of office hours. For this reason it's vital that professionals are thinking about their own work life balance. Putting in the odd bit of overtime every now and then may be necessary, but as a general rule you should be able to leave your work behind you at the end of the day and take time out to re-charge. There are some simple ways you can get the balance right, not having work emails on your smartphone for example. Not only this, but when looking for a job, take into consideration companies and employers who actively encourage a good work-life balance."

The survey also explored the topic of other countries trialling out shorter working hours, for example, Sweden introducing 6 hour days to see if this would increase staff productivity. The survey from CV Library found that 75% of professionals in Liverpool think that a 4 day working week would be beneficial to them; with 42.2% agreeing it would make staff more productive. Not only this but 22.2% believe it will allow them more time to enjoy their private life, and 17.8% believe it will help working parents. That said, 25% didn't agree that a shorter working week would be more beneficial as businesses could suffer as a result of being closed an extra day. Not only this, but 40% said that fitting your workload into 4 days could be stressful. Biggins concludes:- "It's clear that many believe they would benefit from a 4 day week, despite there being mixed feelings around the subject. It's a very interesting concept, but the results are yet to be confirmed, with some believing that a shorter week could actually be more stressful for staff. One thing is for sure, workers in Liverpool are at risk of becoming overworked if they continue to put in so much overtime and it's time they found themselves a healthier work life balance."

New Merseyrail trains project moves forward as work starts on new depot

GROUND work has started on the new state of the art depot at Kirkdale where all maintenance work for the new Merseyrail trains, due to be introduced in 2020, will take place.

Warrington based BAM Nuttall are currently undertaking enabling works after being awarded the contract by Stadler Rail Services, who will be manufacturing and maintaining the new fleet.

Preliminary work is due to start in October 2017, with the depot build set to be complete by 2019, in time for the arrival of new trains for testing.

Features of the new depot will include:-

► The creation of a maintenance facility for the new state of the art Stadler trains.

► A driving cab simulator, including a full size mock up of a driver's cab, facilities for a link between the trainer and trainee and a lecture theatre for people to observe the training.

► A new train washing facility.

► Stabling capaCity for up to 30 trains.

► New offices and welfare facilities for the maintenance workforce.

► Meanwhile, the existing Birkenhead depot will remain essential to operations, with plans for a 2nd new train washing facility. Detailed plans are still being developed for this site.

Thomas Zweifel, Programme Director and Deputy CEO UK for Stadler said:- "Stadler will implement in the Kirkdale depot its state of the art technology and maintenance expertise. The significant local investment and up-skilling of local workforce are strengthening the Merseyside industrial sector and will overall result in a positive economic impact. Stadler is excited to be involved in this project that will see new trains on the Merseyrail network in 2020."

David Powell, Merseytravel's programme director for the new trains said:- "The new depot at Kirkdale and the refurbished depot at Birkenhead North will be essential in keeping our new trains reliable, clean and serving the Liverpool City Region well. The start of the ground works at Kirkdale is an exciting milestone; the 1st real visible sign that these new state of the art trains are coming."

Jan Chaudhry-van der Velde, Merseyrail's managing director, added:- "The start of the work to overhaul Kirkdale depot is another step along the way to transform the Merseyrail network, moving us a stage closer to the introduction of new trains. We welcome this much needed upgrade, which will take the depot into the 21st century, equipped to maintain the trains to a very high standard."

Added Paul Abraham, project manager for BAM Nuttall:- "'We have been working collaboratively with Stadler during the tender stage of this exciting programme. From our Warrington office we have been able to provide locally based staff to support the bid and develop the programme. We will continue with this locally based approach throughout the delivery phase and also provide opportunity for our northern based supply chain. We look forward to delivering this key piece of infrastructure for Stadler and Merseytravel and supporting the local economy"
---
Liverpool to create new shelter for rough sleepers
LIVERPOOL is to set up a new severe weather shelter for people sleeping rough in its City Center this winter. Liverpool City Council has submitted a planning application to establish the shelter on Camden Street, off London Road in what was a former dance studio. The previous shelter, located at St Stephen's Church, on Crown Street, has been sold for redevelopment. but the new site is deemed a better location as it is based closer to the a range of other support services. The new shelter will continue to be operated by The Whitechapel Centre and if planning is approved, following public consultation, it would be operational by mid October 2017. Last winter the Mayor of Liverpool changed the rules to increase the shelter's operations by allowing it to open on any given night where the temperature is forecast to drop below 2°c (instead of 3 consecutive nights at below 0°c), and that policy will continue this winter. That decision was made following a report that showed that despite the City Council funding 750 beds every night for people to take up, as part of a wider ₤10.8m annual programme to support the City's homeless, a core number of around 15 to 20 are remaining on the City's streets even in near to freezing conditions. Mayor of Liverpool, Joe Anderson, who is to publish an independent report into improving services for Rough Sleepers next week, said:- ''The relocation of Liverpool's Severe Weather Shelter has been on the cards for some time and this new location is a far better place as it is much closer to other support services in the City Center. The shelter plays a key role in helping us reach out to those who, for whatever their reasons, refuse to accept help. It was never open enough until I changed the weather trigger rule and this new location means our colleagues at The Whitechapel Centre will have a better connected platform to continue their excellent work."

As well as the Severe Weather Shelter and funding other services, Liverpool City Council also promotes a helpline to ensure those sleeping on the streets receive support. The 'No Second Night Out' initiative says that while there may be many reasons why somebody sleeps rough for 1 night there is no reason why they need to spend a 2nd night on the streets. By ringing:- 0300 123 2041 or via sending an email email to the outreach workers, from the Whitechapel Centre, will provide a rapid response to try and ensure no new rough sleeper spends more than a single night on the streets. Since No Second Night Out started in 2012, hundreds of people have been helped after people contacted the service, in the 1st 6 months of this year 175 calls were made to it.