John Pugh MP Talks Tax.
THE Lib Dem Conference in Brighton has committed their Party to do everything in its power to scrap Council Tax and replace it by a fairer and less bureaucratic way of funding local services.

John Pugh MP said:- "Council Tax is an awful and unfair creation of the Conservatives which has hit pensioners in particular extremely hard. Worse still, Tony Blair's governments have used this Tory tool to milk local residents for all they can get, so that Council Tax levels are now hitting families overall as hard as did the Poll Tax under Mrs Thatcher."

Next year, Labour-run 'joint boards' are alrerady forecasting levies upon the Sefton Council Tax payers which will force up Southport's Council Tax bills even before a single penny is paid for the inflation on costs for sefton Council. This is worrying Lib Dem leaders locally who feel that Pensioners in particular have suffered more than enough, yet vital services need to be protected. (Note:- Council Tax payments are mostly used to fund Education and Social Service provision by local councils. They make up about a quarter of Council's expenditure, whilegrants and fees contribute three quarters - and both Tory and Labour government have tried to increase this 'hit' on local residents over successive years.)

"It is totally wrong," says John Pugh MP, "that the NHS is funded by one system and these other important services by a system which makes those on moderate means pay almost as much as do millionaires."

Liberal Democrats are also looking at ways of levying business rates on those owners of derelict properties who allow their buildings to bring down neighbourhoods by leaving them to rot, crumble and stagnate while they are waiting for the 'big bucks' offer. Such systems are already in place in a number of countries throughout the world including Denmark, New Zealand and parts of the US.
LETTERS TO EDITOR
SOUTHPORT TOURISM SERVICE
"I originate from the area and visit regularly. Over the last couple of years I've tried using the Tourist Services; it and it's website are useless and they seem uninterested in feedback either. Southport probably loses allot of visitors because of this. The people in the town pay for it, but probably don't know what it's like. I have sent an email to the Chief Executive, but I have never had a reply. One example of the bad service is when I contacted Sefton about it's Sefton Coastal Walks guide. I had seen a copy before but never got one my self. I rang up for a copy and was told that it was not produced by Tourist Information and I should contact Sefton Rangers Service. I found out that the phone line I had been given was only manned for one day a week! If this happened to some one who was thinking of visiting and did not have time to keep ringing the number it would make you think of going to another town and it was not the first time. It is a shame and does put visitors off visiting the resort. Even the Sefton web page is no good for up to date information." PAUL CARTER (Oxton)
Thanks Paul for your mail, we will look into this and give you the response next week.

Roll out the Barrel
Southport Theatre, Thursday 23rd October 2003 at 2.30pm
THIS is a successful show which is aimed fairly and squarely at a more "mature" audience (hence the matinee performances). The show is performed by TERRY BRADFORD and myself SUSSIE ARVESEN. We both have a long musical history as performers, producers and songwriters. In fact Terry, who comes from Walthamstow, East London, has worked at the highest professional level for around 30 years, from singing "BAD OLD DAYS" in the 1978 Eurovision Song Contest as a member of CO-CO (if your memory is that good), to producing successful albums for artists such as THE FURIES, CHARLIE LANDSBOROUGH, DOMINIC KIRWAN and GARY WILMOT, and he has written songs for artistes as varied as JOHNNY MATHIS, TONY HADLEY (ex SPANDAU BALLET) and many more.

Terry has also sung many tv and radio commercials, (YOU CAN DO IT WHEN YOU B&Q IT! Being just one) was musical director/ vocal arranger for BUCKS FIZZ during their chart years and recently M,D'd the band for DANIEL O'DONNELL at the national indoor arean in Birmingham, where we also presented a short segment from "ROLL OUT THE BARREL".

As a complete contrast, I am Danish (from Copenhagen) and have a long career which started when singing in The Danish Radio Girl's Choir through writing songs for so many artists in the easy listening/ country field, eg. DOMINIC KIRWAN, BOB BROLLY, GEORGE FUREY, LOUISE MORRISSEY etc. as Terry, I have also sung many radio commercials, (GORDONS GIN, CUTICURA etc) - quite a mixture!
THEFT- BIKE, SOUTHPORT
MERSEYSIDE Police is appealing for witnesses to a theft in Southport.

At about 8.15pm on Sunday 7th September a 17 year old boy was cycling along the Promenade when he was stopped by a group of youths.

One of the youths asked for a ride on his bike, the boy agreed and the group left the area taking the bike with them, heading in the direction of the promenade.

The five youths are described as being between 16-19 years of age. The main offender is described as about 6ft tall, of slim build, 15-16 years old, with blonde short hair and a strong Liverpool accent.

The victim was not injured during the incident.

Police are keen to speak to anyone who may have witnessed the incident and are asking people in Sefton and Liverpool to keep an eye out for the bike which was one of only four of its type made. It is described as a silver mountain bike with a blue seat and is valued at £1,500.

Anyone with information is asked to contact Southport CID on 0151 777 3466 or Crimestoppers on 0800 555 111.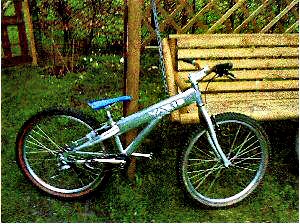 Photograph above of stolen bike, with thanks to Southport CID.