Black History Month in Liverpool to be biggest ever...........!
ST GEORGE'S HALL will be awash with sound, colour, dance and theatre, as Black History Month 2003 kicks off in style!

The famous Hall will be filled with carnival-style fashion shows, drama performances, 'freestyle' football and basketball demonstrations and huge exhibitions of the work of more than 60 black organisations, artists, photographers and sculptors.

The exciting four-day event beginning on October 1 will launch Liverpool's Black History Month celebrations. It will be the biggest ever seen in the North West and one of the largest in the country.

The huge, month-long celebration will give everyone the chance to enjoy the best in black culture, heritage, arts and sport.

A packed programme sees almost 40 events taking place in the city centre and Toxteth. They will celebrate the contribution of Liverpool's black community, which is the oldest in the UK, and showcase Liverpool as a diverse, vibrant and multicultural city.

Liverpool has celebrated Black History Month since 1978, but 2003 is the first time it is on such a large scale - with the city council working together with the community. A huge number of organisations and individuals have got involved, delivering one of the best programmes in the UK, and making 'the World in One City' a reality.

Liverpool City Council's Head of Equal Opportunities, Andrew Nembhard, said:- "This will be the biggest and best Black History Month the North West has ever seen, and I'm thrilled that so many people, from our youngest to our oldest citizens have got involved with such dedication and enthusiasm.

We have created a programme of events which is exciting, diverse, but most importantly, inclusive - and people of all races can enjoy the events. As well as being great fun, this month will highlight the important contributions black communities make to the cultural, economic and social life of Liverpool."

Local black historian Dr Ray Costello and Liverpool FC's first black player, Howard Gayle, will take part in the four-day launch, and Dr Costello will be signing copies of his book, 'Black History'. They will be joined by the Leader of the city council, Councillor Mike Storey, and Andrew Nembhard.

The launch will also include an education day, bringing schoolchildren together to learn all about Black History Month. They will receive resource packs, watch a drama performance about the slave trade by Unity Youth and Community group, and enjoy a break dancing session from local dance company 'Rock Steady Crew'.

And members of Liverpool's black community will talk about their experiences, including local activist and artist Sonia Bassey, and Irene Cole, a seventh generation African / Caribbean who was born in Liverpool.

A carnival fashion show put together by Brouhaha International's award-winning Ray Mahibir & Giles Agis who have worked on Notting Hill carnival, ends the launch on October 4th. It paves the way for a month of exciting events.

There will also be a mouth-watering cultural food feast at Sefton Park Palm House, with the opportunity to sample some of the finest and free Caribbean and African food. Local youngsters are to take part in a 'Kick Racism Out of Football' tournament.

Michelle Charters, a member of the Black History Month Steering Group, said:- "Black History Month 2003 has given the community an opportunity to promote local talent, celebrate our achievements, and recognise our history in a way that hasn't happened before. Everybody who has contributed, from the public, private and voluntary sector - whether it was one idea, or continuous involvement throughout the last eight months - have made this happen.

I am so proud to be part of a community that has achieved this and moved forward with a vision for the future of inclusiveness and opportunities. We have created a calendar of events that will be enjoyed by all citizens of Merseyside and visitors to the city."

Executive Member for Community Equality and Values, Councillor Marilyn Fielding, said:- "I'm delighted we have such a massive programme of events to celebrate Black History Month, and I'm looking forward to it being our most successful ever."
CIRCUS... on October Friday 10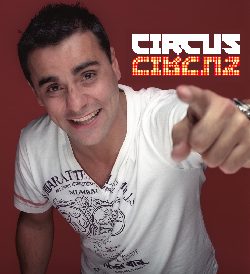 At The Masque, Seel Street, Liverpool, L1
DJs: Rocky and Diesel (X-Press 2), Yousef, Steve Mac (Drum Bums), Tyrant Sound System 6 hours (Craig Richards & Lee Burridge - Fabric), Lewis Boardman, Will Jazz.

THE night will be the official launch party for the Drum Bums' (Yousef and Steve Mac) second ever single release - "Circus Parade", out end October, released jointly on Carioca (Yousef's new label – where you can also exclusively get Yousef's own remix) and Variation (Steve Mac's new label where you can exclusively get Eric Prydz's remix). You can catch Yousef and Steve Mac back to back for the first time in Circus.

Also, keeping in with Circus's trait for booking only the best (and a lot!) of talent from house music - X-Press 2's Rocky and Diesel come to the Circus for the first time. The Masque was actually once home to Rocky and Diesel's first ever Liverpool residency, when the club was called Eden and run by infamous promoter Charlie Chester - and showing that they have a lot od love for Liverpool Rocky and Diesel also used to be residents at Liverpool's the Beat Bar (before Eden) and then went on to have an X-Press 2 residency at Cream later on. Yousef, a fan for years, has been following them for a long time is really excited to have them at the club.
Also in play will be a debut appearance from Fabric's Tyrant Sound System (Craig Richards and Lee Burridge) for a 6 hour special up in the loft, plus Circus residents Lewis Boardman and Will Jazz.

This is the line up for other CICUS events:-

Darren Emerson:- After a rocking Ibiza season with Underwater at Pacha every week (except for the week he didn't show because he broke his toe...). Where the night won 'Best Ibiza House Night' in Mixmag. Darren is taking a little break from DJing to finish off his artist album. You can still catch him at the End on the last Saturday of every month. On October 25 Darren will be playing alongside labelmates Wally Lopez and Sharam jey - who will both be debuting at The End for Underwater. On November 3 there will be an Underworld Best Of album released, entitled 'Anthology'. The album will be a 16 track compilation of all of Underworld's best bits. Darren left Underworld in 2000.

Paul Jackson:- After the critical acclaim for 'The Push', which gained fans from Tong to Lemacq and reached out to the Leftfield and Asian community as well as of course the house music fraternity. Jackson is following it up with another epic monster. 'Rock and Roll' has been huge at Pacha Ibiza this year and has gained fans of Timo Maas, Pete Tong, Ashley Beedle, Danny Rampling and Tom Stephan. It's out on October 20. Also, next year, expect a vocal version of 'The Push' courtesy of Steve Smith from Dirty Vegas...

Paul Woolford:- Woolford recently dropped his latest Underwater release under his Hip Therapist moniker 'Body Language', which debuted at number 9 in the DJ mag hype chart. He's also produced a new Bobby Peru single for 2020 Vision "Jack 2 The Future", it's doing the rounds now and has gained props from Tong, Craig Richards, Damian Lazarus (who's licensed it to his next City Rockers compilation), Mr G and Elliot Eastwick. The single features a sample of Marshall Jefferson's classic house track 'Move Your Body'. Plus, new on Hip Therapist Music (Woolford's label) is a double a side; side a is by Slater Hogan and John Larner: 'Caught Out' is a fierce and funky R&B style house track supported by Sneak, Yousef, Derrick Carter, Lottie and Nic Fanciulli, and on the flip David Duriez takes the first Hip Therapist track "Hustle and Survive" and turns out a solid sub-bass charged dancefloor bomb.

Sharam Jey:- After his debut Underwater release in August with his rump-moving 'Shake Your...' Sharam Jey is back with an eerie synth-spliced track complete with rolling tribal drums coasting on a (huge) dark space age groove - 'Rox City' has been massive for Emerson and the crowds at Pacha, Ibiza and will definitely go down here too. The perfect follow-up, out November 17. Also, catch Sharam for his debut DJing gig for Underwater on October 25, alongside Emerson and Wally Lopez.

Wally Lopez:- 'Tribute To Acid House' recently dropped on Underwater and a fine tribute it is/was. Wally's new track 'Santacana' , released on his label La Factoria gained Essential New Tune on 19 Sept. And not one to sit still, Wally remixed one of Ibiza's summer anthems - David Guetta's 'A Little More Love' on Virgin - this also gained Essential New Tune and was huge for Steve Lawler on the Space Terrace as well as many other DJs on the Island this summer. Plus Wally recently remixed Camel Riders 'Twisted' on Subliminal (one for the DC10 massive) and he's in the studio remixing 'Da Flava' by The Monkz, coming out on his label. There's also remixes in the pipeline for Underwater and Azuli, plus he's recently put out a compilation on his label entitled 'I'm coming to London'. DJing wise, expect to see more of Wally on the Underwater Tour calendar including Underwater at The End and for the Amsterdam Dance Event with Underwater in November.

Underwater General:- Underwater is starting a new series of CD releases to go with every vinyl release. Each CD will be exactly the same as the vinyl package (even down to the colour of the CD and the grooves), just smaller to make it the ultimate DJ accessory. Paul Jackson's 'Rock and Roll' - released October 20th, will be the first to have this format.

Nic Fanciulli/Club Class:- For those who aren't aware of him (yet) Nic Fanciulli is 23 , a producer and remixer and currently one of the hottest rising talents in the UK. Fanciulli started his career playing in local bars and worked in his local record shop in Maidstone from the age of 16. His first break came four years ago after slipping unmarked mix tapes into the pocket of the promoter of his local club-night 'Club Class'. After the 3rd tape and a 6-week hunt by the promoter Nic was given a weekly main room residency. Last month, Club Class, still Nic's main UK residency, went from a weekly to a monthly club-night after six and a half years. Tong launched the new format on September and parties until the end of the year include: October 11: Lottie and Nic Fanciulli + residents / November 8: Darren Emerson and Nic Fanciulli + residents / December 6: Sandy Rivera and Nic Fanciulli + residents. Elsewhere, in London, Nic has recently started up a new back-room party at Turnmills, 'Fandango', on the first Friday of every month is held in T2 at Turnmills (with The Gallery in T1). It's Nic's only London residency and is solely for Nic to bring down DJs he know and loves on his scale - Yousef, MYNC, Krysko and Paul Woolford are all forthcoming guests. Production wise, Nic has recently completed his first track under his Sky Lark pseudonym 'That's more like it" has already gained Essential New Tune Status with Tong and props from Deep Dish and X-Press 2. Plus he crafted one of the remixes of 2003 - 4Tune 500's 'Dancing in the dark' as well as Deep Dish's 'The Dream' and Ciapet's 'Westworld'. He's currently in the studio remixing for Yoshitoshi, Stealth and Pias.

Yousef/Circus/Drum Bums:- Yousef has just celebrated his little baby Circus turning one (and yep, he did it with the style only he can - along with The Cuban Brothers, Lottie, Jon Carter and Derrick Carter). His Liverpool based club-night has gone from strength to strength - in only a year it has gone from a 300 capacity to a 1100 capacity venue and has seen the world's best DJs every month. The parties lined up until the end of the year are: Oct 10:Rocky and Diesel (X-Press2), Yousef & Steve Mac (Drum Bums), Tyrant Sound System 6 hours (Craig Richards & Lee Burridge - Fabric) / Nov 8: Yousef, H-Foundation (Hipp-e & Halo), Danny Ramping, Paul Bleasdale, James Zabeilia /Dec 13: LIVE RADIO 1 ESSENTIAL MIX: Yousef & DJ Heather, Danny Howells, Nic Fanciulli / Boxing Day: Erick Morillo, Justin Robertson, Yousef, MYNC Project and Greg Vickers (tbc). In November, alongside Steve Mac, Yousef will release the second Drum Bums release "Circus Parade". Their first release 'The Darkness/I like That' was released on Mac's (now defunct) Dysfunktional label in 2001. "Circus Parade" will be released jointly on Yousef's new label Carioca and on Mac's new label Variation. It will be both labels first ever release. On Yousef's label you will be able to get the original and Yousef's remix and on Mac's label, the original and Eric Prydz remix. Forthcoming Yousef has remixed Moloko's 'Can't Contain This' on Echo and Boris Dlugosh 'Keep Pushing' on Peppermint Jam.