SOUTHPORT V SPENNYMOOR UTD
Sat 15th November 2003
Report and Photographs by our Football Correspondent Sally Devine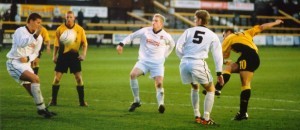 The match.
SOUTHPORT it difficult for themselves against Spennymoor, going behind after less than a minute. The defense was caught napping, when Jonathan Milroy for the visitors was given time & Space from 12 yards out to score. Worse was to follow, after 20 minutes, Spennymoor's number 9 Steven Preen turned with his back to goal and smashed in a crisp drive which beat Dickinson.

The Sandgrounders poor passing was becoming their downfall as they struggled to get to grips with the game. The scoreline was made more respectable on 25 mins when top scorer Peter Thomson received the ball from Steve Pickford on the left and drove the ball home from inside the penalty area to make it 1 to 2.

Steven Tierney, Spennymoor's goalkeeper, kept his side ahead when Southport were awarded a penalty. Peter Thomson strode up to hit a well struck shot, but Tierney dived to his right & pushed the ball onto the post denying the Sandgrounders.

Lee Mulvaney came on a substitute to start the 2nd half as a replacement for the injured Paul Byrne.

Spennymoor forced 2 brilliant saves from Steve Dickinson, one shot being tipped acrobatically over the bar.

Southport equalised after 49 minutes, Steve Daly racing on to Soley's pass to score at the visitors end.

New signing Neil Fitzhenry made his Haig Avenue debut coming on in the latter stages.

Spennymoor's goalkeeper was again kept busy as both Pickford & Thomson forced point blank saves from him, Tierney being injured in the process.

The decisive moment in the match came on 54 mins. Southport's Steve Pickford brought down Preen in the penalty area & Jon Cullen stepped up to make it 3 to 2 to Spennymoor.
Dickinson saved first time but there was judged to be an infringement & the penalty had to be retaken.

There was rumblings from the crowd at the end of the game directed to Southport's chairman Charlie Clapham, the visitors leap frogging their hosts in the Unibond table to push the yellows down to 9th position & promotion now looking out of the question.
Score:- 2 to 3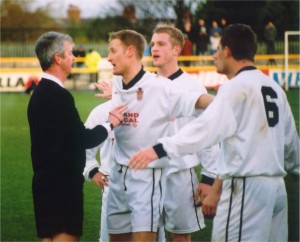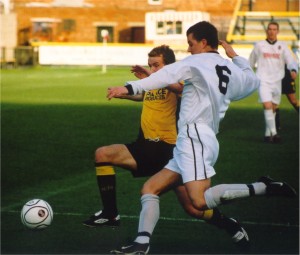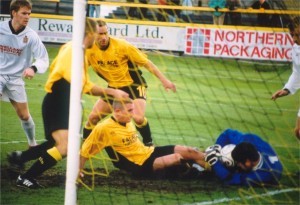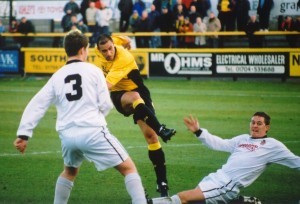 Southport team:-
Dickinson, Williams, Byrne, Whitworth, Hallam, Jones, Price, Soley, Daly, Thomson, Pickford

Spennymoor team:-
Tierney, Brumwell, Applegarth, Milroy, Bowes, Hansen, Cullen, Bishop, Preen, Brunskill, Brightwell