SWITCHED ON THIS WEEK

THE BEST BITS ON TV

Review by Katherine Hassell of TV and Satellite Week Magazine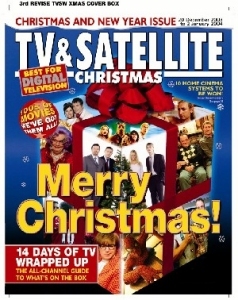 For the week Saturday 20 December to Friday 26 December
1. The Office BBC1 Boxing Day 10:15pm, I've got some good news and some bad news. The bad news is you'll be squirming with embarrassment once again this festive season. The good news is the cause:- TV's biggest berk. Yes, David Brent is back for a limited period only. Fact.

2. Only Fools and Horses BBC1 Christmas Day 9:20pm. Del-Boy (David Jason) and Rodney (Nicholas Lyndhurst) face eviction if they don't cough up the dough they owe the tax man in what's billed as probably the last episode of the comedy classic.

3. World Idol ITV1 Christmas Day 8:40pm. Will Young gets the chance to prove he's both the original Pop Idol and the best as he flies the flag for the UK in this global version of the television talent show.

4. Life Beyond the Box:- Porridge BBC2 Boxing Day 9pm. Ronnie Barker reprises his role as Norman Stanley Fletcher in this mockumentary revealing what's happened to the habitual criminal since we saw him go straight.

5. Posh and Becks' Big Impression BBC1 Christmas Day 10.35pm. Alistair McGowan and Ronni Ancona chart a year in the life of Victoria and David.

6. The Young Visiters BBC1 Boxing Day 6pm
Jim Broadbent is the bumbling dullard who falls for a pretty social climber in this comic tale of unrequited love adapted from the 1890 novel by nine-year-old Daisy Ashford. Hugh Laurie and Sophie Thompson co-star.

7. French and Saunders Christmas Special 2003 BBC1 Boxing Day 11pm. After Witless Silence, The House of Idiot and Harry Potter And The Secret Chamberpot Of Azerbaijan, Dawn and Jennifer return to lampoon the hit rom-com Love Actually, the sci-fi smash The Matrix and TV sleuths Rosemary and Thyme.

8. The 100 Greatest TV Treats of 2003 Channel 4 Christmas Eve 9pm. 100 Greatest Musicals Channel 4 Boxing Day 9pm. Following a repeat performance of the year's top television, Denise Van Outen makes a song and dance about the sound of music in the movies.

9. Absolutely Fabulous BBC1 Christmas Eve 9:05pm. Unable to tear herself away from this festive season's ultimate fashion accessory - her grand-daughter - Eddie declares she'll be home for the holidays.

10. Promoted to Glory ITV1 Sunday 9pm
Ken Stott is a homeless drunk besotted by Salvation Army captain Lesley Manville in this feelgood drama co-starring Kevin Whately.

VARIATIONS
The Young Visiters BBC1 Ulster Boxing Day 6:30pm
The 100 Greatest TV Treats of 2003 S4C Tuesday 30 December 10:55pm, 100 Greatest Musicals S4C Saturday 27 December 10.15pm
SPECIAL OFFER
Subscribe to TV &Satellite Week for only £9.99 every 3 months!
Call 0845 676 7778 quoting your special code of 27B or visit www.ipcsubs.co.uk/TVS/itsg

FESTIVE FEATURES FROM THE FOOD STANDARDS AGENCY
IN the count down to Christmas the FSA website will be releasing a new festive feature every day this week. So log on to www.food.gov.uk to ensure that when it comes to handling festive food you have every base covered.

Monday - Big Functions, Big Responsibilities
Mum, Dad, the kids and uncle Tom Cobbley and all - if you're catering on mass this Christmas our top tips on how to plan your cooking timetable and food storage can take the headache out of preparing for that big celebration.

Tuesday - A Nation Of Stressed Christmas Cooks
Cooking the Christmas dinner is second only to shopping hen it comes to piling on the pressure for Christmas cooks. Feeling stressed in the kitchen can lead to food hygiene errors, log on to discover Britain's typical Christmas cooking habits and the Agency's advice on how to avoid the most common food hygiene pitfalls.

Wednesday - Christmas Around The World
Sam Church our on-line nutrition expert hitches a ride on Santa's sleigh to look at traditional Christmas foods around the world. Find out exactly what Christmas cooks will be rustling up around the globe from Spain to Portugal, to Ethiopia, Latvia and Greenland.

Thursday - Talking Turkey. Are your turkey worries keeping you awake at night? Check out our Turkey Counselling Column and be soothed by our words of wisdom for stressed turkeys everywhere.

Friday - Eat, Drink and be Merry! And finally, the decorations are done, the presents are wrapped and it's time to start preparing for the biggest family meal of the year - we've cooked up some seasonal suggestions to show that Christmas goodies can be healthy as well as tasty.

We hope you enjoy our festive features - if last minute deadlines are getting to you why not log on to our interactive Turkey Berserky game for some light relief, or check out the world's corniest turkey jokes which we've scoured the internet and Christmas crackers for.

The FSA wishes all our readers a safe and delicious Christmas!
NDARDS AGENCY
CHRISTMAS AND New Year is a time for celebrating with family and friends - a time to get together and crack open a can or two. Instead of bulging rubbish bins Alcan Aluminium Can Recycling who's recycling plant is based here in the North West, are urging people to make recycling top of their New Year resolutions.

If all the aluminium cans recycled in the UK each year were laid end to end they would stretch from Warrington to Lapland around 102 times. And if all the aluminium cans sold in the UK every year were recycled there would be 14 million fewer dustbins needing to be emptied into landfill sites.

Recycling aluminium cans saves up to 95% of the energy needed to make aluminium from its raw materials. The energy saved by recycling one can is enough to run a set of Christmas tees lights for two hours.

The average household uses 3.2kg of aluminium cans every year - around 200 cans. If all of these were recycled the energy saved would be enough to cook a Christmas turkey dinner for a family of six!

Rick Hindley, National Manager of Alcan Aluminium Can Recycling said:- "Whilst these statistics are a bit of fun and ideal for a quiz following the Queen's speech there is a serious side to our festive message. Recycling aluminium cans may not be top of your list of New Year's resolutions but start the year as you mean to go on and get into the recycling habit".

Your local cash for cans centre is Podmores Metal Merchants. Based in Warrington, they operate a mobile Can Van, which visits supermarket sites around the North West, paying cash for every can recycled. As an added Christmas incentive there is also a chance to win £50 in High Street Vouchers if you recycle aluminium drink cans at any of the participating centres during December and up until 17 January 2004.

For details of your nearest cash for cans site, or to start a collection call Podmores Metal Merchants on 01925 932 068. For more information on aluminium can recycling in general, log on to www.cashforcans.co.uk.