Farther Christmas Spotted in Formby and in Southport.
FATHER Christmas has had a very hectic week this week, getting ready for his Christmas run, but he took time to visit Southport. He was pictured with the Churchtown bras band in the Cambridge Arcade on Saturday 13 December. We then court up with him on Monday in Formby on the Formby Rotary Club's Milk-float Slay, helping to raise cash for local charities.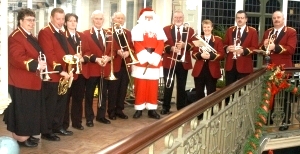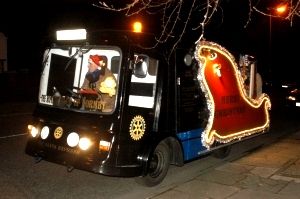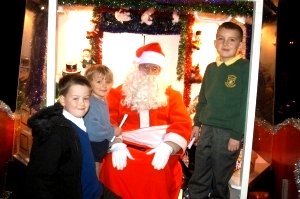 On the Street.
WE are out and about on New Years Eve, so keep and Eye out for us and give us a wave. You might be photographed for the first edition of Southport Reporter in 2004.... We will be in Southport at Midnight! These are a few people we got on our walk around Southport on Thursday Night.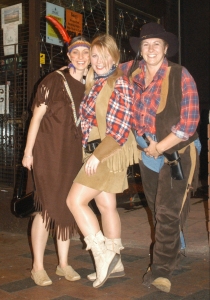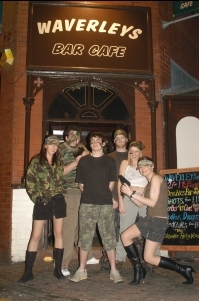 NORTH WEST GIRLS REVEAL ALL (ABOUT GETTING DRESSED UP)

GIRLS just wanna have fun this Christmas - even if it takes them more than two hours to get ready, reveals a survey from the region's leading radio station.

Research by 105.4 Century FM has discovered that the average length of time it takes women in the North West to prepare for a big night out is a staggering two hours and 14 minutes.

But, with special events such as Christmas or New Year's Eve, this can spiral out of control, with some women taking a whopping eight hours to get ready.

Women spend the biggest proportion of their time on their hair, followed by make-up, nails, feet and choosing their outfit. Add to this bathing time and drinking time - the research also revealed that three-quarters of women enjoy at least one glass of wine or another tipple while getting ready - 134 minutes just fly by.

Of the two hours and 14 minutes spent on primping and preening, women spend 45 minutes on their hair, 20 minutes showering or bathing, 30 minutes on their make-up, 20 minutes on painting nails and toe-nails and 19 minutes choosing an outfit.

The research, commissioned by radio station 105.4 Century FM, also revealed that Cyndi Lauper's 'Girls Just Wanna Have Fun' is North West women's number one choice for music to get them in the mood for a great night out.

With such mammoth preparation times, its no wonder that when girls are getting ready for a night out, they don't just listen to their current chart favourites, they have a playlist that spans decades!

The results show that in addition to recent chart toppers such as Kylie and Liberty X, the top 10 also includes songs which never seem to go out of style including 'Love Shack' by the B52s and 'Its Raining Men' by the Weather Girls.

105.4 Century FM station Marketing Controller, Stephanie Barker, said:- "Girls have a ritual when they are getting ready for a good night out. The preparation is all part of the fun and they often invite a group of friends round and make an occasion of it. The girls we asked took preparations for their night out very seriously and put a great deal of time into creating a playlist of songs to listen to while they are getting ready.

Feedback from the girls we interviewed shows that when girls are preparing to go out they like to listen to music that reminds them of great bights out to get them in the party mood."

The research was carried out to mark the launch of the new Hairbrush Divas CD which was compiled to create the perfect soundtrack for every girl to get ready to go out to and 1000 women from across the North West completed the online questionnaire.

The top 10 tracks are:-


1. Cyndi Lauper - Girls Just Wanna Have Fun 22%
2. Liberty X - Just a Little 20%
3. B52s - Love Shack 14%
4. Gloria Gaynor - I Will Survive 13%
5. Kylie Minogue - Spinning Around 10%
6. Sister Sledge - We Are Family 8%
7. Wham - Club Tropicana 5%
8. Mary Mary - Shackles 3%
9. The Weather Girls - Its Raining Men 3%
10. Ronan Keating - Loving Each Day 2%

The CD is currently on general release.

Amnesty International

On 13 December Southport and Formby Group met out side the front of Christ Church, in Southport with the Tree of Hope Vigil.

The group was asking people to sign a petition concerning Human Rights abuses in Russia. Budding artists were able to draw self portraits on postcards advocating control of the International Arms Trade. Oxfam and Amnesty together have collected 1,000,000 world wide.

Photograph on frint page (link photo) is of the meeting.