24 HOUR TRAINING TOOL
BUSINESSES across Sefton can now access state-of-the-art IT training from the comfort of their offices as part of a new £12.5 million skills initiative.

The SkillWorks, launched by the Learning and Skills Council for Greater Merseyside and European Objective 1 programme, offers every small and medium enterprise (SME) in the region a chance to up skill their employees, by paying 80 per cent of any training.

As part of the SkillWorks programme a new flexible information technology training scheme has been made available as a result of collaboration between The SkillWorks, MERIT and Mersey Grid Ltd (MGL) offering IT training via an employee's desktop computer.

MERIT, a member led IT user organisation, established that there was an on going demand for staff working in local businesses to have flexible access to training in basic IT applications. MERIT turned to The SkillWorks for assistance with the project.

The training on offer is available online or via CD ROM allowing employees to access the training from their desktop at a time that is convenient to them and the company while avoiding additional overhead costs sometimes associated with training. The scheme's flexibility means employees can learn new skills as and when required, so their IT knowledge matches their current job requirements.

Stephen Connolly, Chief Executive of MERIT said:- "This is a fantastic opportunity for our members and, in fact, any Merseyside SME to fulfil an ongoing need for flexible IT training.

Our members have been asking us for some time to devise a cost-effective, flexible IT training programme. The combination of The SkillWorks support and the MGL IT Training products mean we are able to meet this request exactly.

The SkillWorks' subsidy means that all SMEs can afford to train staff and if they are serious about the development of their business then they have to be serious about the development of their staff. The real value of every business is the staff and the skills of those staff."

The IT training packages on offer are easy to use with no complicated terminology or jargon. SMEs can access packages that cover Microsoft applications (e.g. Word, Excel, Access) at basic, intermediate or advanced level or they can undertake the European Computer Driving Licence qualification which covers subjects such as email, word processing, spreadsheets, and databases.

All of the IT training comes with telephone helpline support, student logbooks (when required) and optional face-to-face tutoring. The SkillWorks subsidy of 80 per cent means that the IT training ranges in cost from £33 to £133 (for the Microsoft Applications) with the ECDL course costing £108.

The aim of SkillWorks is to encourage SMEs to utilise training organisations to produce a skilled workforce which in turn increases profitability of businesses within the Merseyside area.

Steve Rotheram from The SkillWorks said:- "It is our view that the combined expertise of MERIT and MGL together with the subsidy provided by the SKillWorks programme makes a formidable offering that is able to respond to the demands of the market and deliver a solution in a highly cost effective manner.

The training is available to all Merseyside SMEs, not just members of MERIT. The SkillWorks can be contacted by calling freephone 0808 178 1782."

MORETON SEA CADETS LEND A HELPING HAND AT ICELAND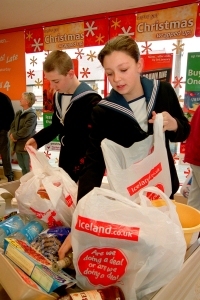 THE local Wallasey Sea Cadets joined in the festive spirit this weekend at Moreton's recently revamped Iceland store. They were on hand to help busy shoppers with their bag packing in the hectic countdown to Christmas.

The Moreton store on Hoylake Road has everything your family needs this Christmas following a recent £200,000 refurbishment. Mark Jones, store manager of Moreton Iceland said: "We're very lucky to have the Sea Cadets helping our customers with their Christmas shopping. This is a very busy time of year and we're sure Iceland shoppers will appreciate their help.

It's ideal for mums because there's something for everyone; whether it's the family feast, Boxing Day banquet or the New Year party treats... it's all here and lots more! It's the season to be jolly"

The Cadets received kind donations from Iceland shoppers and the £237.00 raised will go towards the Wallasey Sea Cadets. The 90 strong unit with boys and girls aged 12 – 18 years old also won an award for best Cadet Unit in the North West last year.
SLEG ANNOUNCES IT'S NEW EVENTS PROGRAMME
ENTHUSIASTIC followers of Esperanto, the international language, can look forward to a series of interesting meetings in the forthcoming months in Lancashire and Merseyside, during 2004 - the centenary year of the Esperanto Association of Britain. South Lancashire Esperanto Group meets regularly in Chorley and Southport, as well as arranging joint meetings with other groups and attending regional Esperanto Federation meetings. The group's programme for early 2004 reads as follows:-

January Esperanto's creator, Viv Isherwood profiles Zamenhof, to be held in Southport

February Friendship across boundaries, Meeting with Morecambe Bay Group, to be held in Morecambe

March Where time stands still, Jim Voiels finds a tranquil location Southport

April How to improve your Esperanto, Linguistic tips from Steven Hodson, to be held in Chorley

May Nord-Okcidenta Esperanto-Federacio (provisional), The North West's top Esperanto event, Empire Services Club, Preston

June Esperanto on the web, to be held in Southport

All esperantists are welcome to these events. For further details contact SLEG secretary Jim Voiels on 01704 226776 or e-mail jim@voiels.fsnet.co.uk.