£5 million Investment into Recycling Facilities in Merseyside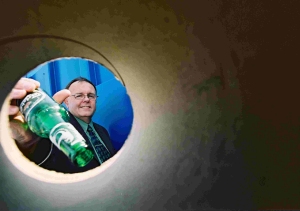 MERSEYSIDE Waste Disposal Authority (MWDA) has welcomed the £5 Million DEFRA funding award announced last week. The funds have been earmarked for the development of a waste sorting facility that will enable all of the recycling collected from the home to be divided into separate waste streams, so that, cans, bottles, plastics and paper can all be sold on to be turned into something new.

The investment, from the Department for the Environment, Food and Rural Affairs (Defra) was announced by the Environment Minister, Elliot Morley. MWDA propose to build a sorting facility at its existing Bidston site that will separate recyclables recyclables from Wirral, with capacity for other districts within Merseyside to supply materials.

Cllr John Fletcher, Chairman of MWDA, welcomed the announcement. He said:- "This is wonderful news. A lot of hard work has been put in by our team to obtain the investment, but it's been worth the effort. We will be working very closely with Wirral Council and our contractor, Mersey Waste Holdings Ltd, to create the new facility and this is just the first step in an ongoing programme of building recycling infrastructure.

We will be working with all of the districts in Merseyside to develop further facilities in a bid to attain our target of recycling 22 per cent of waste by 2006."

The facility will also include composting vessels, and further composting provision will be created at Gillmoss, to the east of Liverpool. This will enable the collection and recycling of green waste from throughout the district, which can be resold for landscaping activities.

The investment will also provide funds for an education centre at Bidston and MWDA, together with Wirral Council, is already working on an education strategy that will teach the recyclers of tomorrow why it is essential to reduce and reuse waste, rather than creating further landfill sites around the district.

The education facility will provide information for Merseyside's youngsters about kerbside recycling schemes, how materials are reused and how a sorting facility will increase recycling participation.

It is expected that the new facilities will create at least 20 new jobs in the area.

Fatal Fail-to-Stop Road Traffic Collision - Crosby Road South
MERSEYSIDE Police are appealing for witnesses to a fatal road traffic collision in Seaforth. At about 4am on Wednesday (24th December) a Rover car was in collision with a motorbike on Crosby Road South. The 49 year old driver of the motorcycle was taken to hospital where he later died of his injuries.

The 26 year old driver of the Rover, who is local, left the scene but was later arrested on suspicion of causing death by dangerous driving.

Anyone who may have witnessed the incident is asked to contact Traffic Police on 0151 777 5730 or Crimestoppers on 0800 555 111.
CCTV Images Released of Robbery on Moss Lane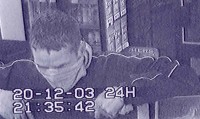 MERSEYSIDE Police have released CCTV images of a robbery which occurred at Huttons Off Licence on Moss Lane, Fazakerley, at around 9.30pm on Saturday 20 December 2003.

Two men who entered the store with their faces covered. One carried what is believed to have been a handgun. The men escaped with an amount of cash from the till.

The man in the CCTV shot is described as white, around 5ft 10in tall and in his early 20s. He wore a black jacket top, with a white pinstripe or beading, down the arms. He had light trousers, a grey scarf over the lower part of his face, and short dark hair with what appears to be an inch-long scar to the rear of his left ear just behind his hairline.

The other man, who carried the gun and wore a baby-pink coloured balaclava over his head, was also white and around 5ft 10in tall, and wore a khaki jacket, black gloves, dark Adidas tracksuit bottoms and white Reebok classic trainers, which were dirty.

The money which the offenders took had a security device in it, which may have been activated and which would have emitted red dye.

Anyone who recognises the man featured in the CCTV pictures can contact Crimestoppers on 0800 555 111