'It Ain't Over 'Til It's Over'.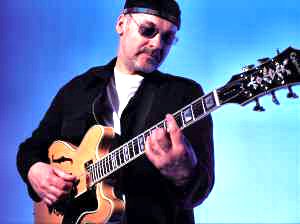 PAUL Carrack will be on stage in Southport on the 7 February as part of a promotional tour of the UK. Pual Carrack was first bitten by the music bug as a small child back in his native Sheffield, where he would bash away at a home made drumkit up in his parents' attic, playing along with an old wind-up gramophone.

By the time he reached his teens, the Mersey Boom was in full swing, and the young Carrack proceeded to pave his way into a series of local bands, learning to play the organ and following the gig circuit to Germany, where he underwent the obligatory Hamburg nightclub baptism, as pioneered by The Beatles and many since.

In the early '70s, his progressive rock outfit Warm Dust released a few albums, but it was only when his pub-rock band Ace had a huge global hit with his song "How Long" that Paul's career really started to take off.

After a highly successful career, he has now on the road for his new album is called It Ain't Over 'Till It's Over.

To see him live on the 7 February at 7:30pm book now. Tickets £17.50. Ticketmaster:- 0870 6077560 (subject to booking fee) For Group Bookings call:- 01704 500036
Visit the Southport Theatre Box Office, open Monday to Saturday 10am to 6pm.

Junior Fame winner 2003
Photograph with thank to Pleasureland.
THE winner of the Junior FAME contest was 10 year old Stephanie Ann Davis from Merseyside. Stephanie came first from over 100 entrants with her rendition of "Ma, he's makin' eyes at me!", and won £200, season tickets to Pleasureland and Blackpool Pleasure Beach, 2 tickets to Justin Timberlake and the chance to perform at the FAME grand final in April. The runners up were Sarah Jane Whitehead (pictured) and Rebecca Doyle. Judges for the evening were Pleasureland General Manager Phil Pickett and Marie Cavney-Proctor from Blackpool Pleasure Beach Stageworks division. Don't panic if you missed it as the new 2004 Adult FAME starts on Thursday nights from 22nd Jan to 19th February – Heats
11th, 18th & 25th March Semi and the Finals on 1st April 2004.

Other music events at Cassablanca, Pleasureland are:- Friday 30 January from 8:00pm Helico + Strikeout (Battle of the Bands winner), Live music from Moco + Helico + Vegan Slaughterhouse Wednesday 3 March from 8:00pm, Caroline Alexander + Helico + 13 Eve, on Friday 26 March from 8:00pm, Friday 14th M from 8:00pm Jim Bob (formerly of Carter USM) + Atomic Hound Dog + Audiorush + The Room.

Also on Saturday 21 February 1:00pm to 5:00pm Charity Auction of memorabilia in aid of Southport Lifeboat with a selection of unusual items from both Pleasureland and Blackpool Pleasure Beach will be available to the highest bidders. All proceeds will go to the Southport Lifeboat Trust. All bidders must pay a registration fee of £5, but this includes a hard hat, riding on one of Pleasureland's white knuckle rides before the start of the season and a behind the scenes look at the new Lost Dinosaurs of the Sahara attraction. Call 01704 532717 for more details.