PETS AT HOME FERRET FRENZY
Photographs by Patrick Trollope.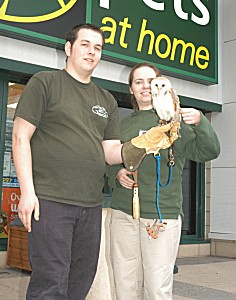 THE Exotic Animal Welfare Trust and some of its furry ferret friends were at the Pets at Home store in Southport on the and 11 January.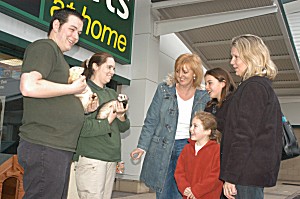 Peter Heathcote of the Exotic Animal Welfare Trust as well as his owl and ferrets surprised passers by and customers with the show and it prompted lots of questions. Customers were given the chance to get close to the ferrets, as well as learn all about their likes and dislikes. The events was aimed at giving information from buying, to neutering and vaccinating a ferret, together with providing in depth advice from the trained handlers on feeding and caring. While Pets at Home does not sell ferrets, they are the number one pet choice in the USA and becoming increasingly popular in the UK. This prompted the store into booking the trust as the popularity of the animal is worry. Customers also received free fact sheets and information on all aspects of responsible exotic pet ownership.
Peter, who heads the registered charity has appeared on numerous TV shows including, 'Pet Rescue' (Channel 4), 'Animal Hospital' (BBC1) and 'National Geographic' (Channel 4). He said:- "The Exotic Animal Welfare Trust offers free impartial advice on the health and welfare of captive exotic animals. With exotic species now the fastest growing sector of the UK's pet industry, it is important to share our knowledge with pet owners on what is actually involved in keeping them as pets.

Unfortunately, some owners have a fairly limited understanding of the subject, and we are grateful to Pets at Home for inviting us to help them promote responsible pet ownership in their superstores."

Karen Dawson, deputy manager at the Southport store said:- "Exotic animals can make suitable pets providing the owner has researched their needs thoroughly before making a purchase. We have to ensure that people have realistic expectations and know how to keep their pets safely and sensibly."

SWITCHED ON THIS WEEK - THE BEST BITS ON TV
Written by Caren Clark from TV and Satellite Week Magazine
ON TV for Saturday 17 January to Friday 23 January

1. Britain's Best Sitcom, BBC2, Saturday 9.10pm…
Has John Sergeant got a cunning plan? Following on from last week's announcement of the nation's top ten sitcoms, the political journalist kicks off the second round of the contest by arguing the case for Blackadder, with interviews from the cast.

2. Malcolm in the Middle, Sky One, Sunday 7pm…
In the first of a two-parter, it will soon be booties and bottles all round as Malcolm and the family gear up to welcome their new arrival. The only problem is, Grandma Ida has come to stay.

3. The Great Nazi Cash Swindle, Channel 4, Monday 8pm… An investigation into the remarkable story of Operation Bernhard, a German plot to flood Britain with fake money and ruin the economy in World War II. Former inmates of a Jewish concentration camp tell how they were forced to produce notes for the world's biggest currency forgery.

4. The Handler, Sky One, Monday 10pm, NEW SERIES… After being bumped off in The Sopranos, Joe Pantoliano is on the right side of the law in this new US crime drama about an FBI expert who trains and supervises agents to go undercover in LA.

5. Career Boot Camp, BBC2, Tuesday 9pm, NEW SERIES… Desperate to find a job? Call 'The Brothers', three American trainers who are putting 12 unemployed young men through their paces on a tough training course which makes over every part of their lives to render them employable.

6. Storyville: Who Am I Now? BBC4, Tuesday 9pm…
Cameras follow broadcaster Sheena McDonald as she learns to cope with the changes in her life and tries to piece together her identity following the head injuries she received after being hit by a police van in 1999.

7. NYPD Blue, Channel 4, Thursday Midnight, NEW SERIES…. You'll need to stay up late to see the Big Apple's finest detectives return for a new run. As Sipowicz and co. struggle to deal with the aftermath of 9/11, the murderer of four young girls is on the loose and Sorenson is still missing.

8. Mad About Alice, BBC1, Friday 8.30pm, NEW SERIES… Amanda Holden and Jamie Theakston star in this sitcom about a divorced couple who remain friends for the sake of their young son but can't admit they still have feelings for each other.

9. American Idol 3, ITV2, Friday 8.30pm, NEW SERIES… Just when we thought we could have a breather from Simon Cowell's nastiness, he's back again terrorising more wannabes, but thankfully on the other side of the pond.

10. Timewatch:- The Lives and Loves of Enzo Ferrari, BBC2, Friday 9pm, This profile of the enigmatic Italian behind one of the world's most glamorous car brands, reveals a life touched by scandal and tragedy.

VARIATIONS:- None

SPECIAL OFFER

Subscribe to TV &Satellite Week for only £9.99 every 3 months!
Call 0845 676 7778 quoting your special code of 27B or visit www.ipcsubs.co.uk/TVS/itsg

GET SEEN... ADD your ADVERT....
SPECIAL 30 DAY OFFER FOR ADVERTISEMENT
Ring us today on 01704 513 569 for more info. and prices.