BORE DRAW AS SOUTHPORT STRUGGLE
Report and Photographs By Sally Devine
COLD comforts were the only greetings that Haigh road gave the Sandgrounders as the weather ran rampant over the seaside football team, stuttering their Unibond ambitions lying in tenth position of the league and faster running out of ideas - even against a Wakefield team that trudge at the foot of footballing aspiration.

It was bottom of the league Wakefield that gave the initiative as they went looking for goal almost immediately after Kenworthy saw his blinding shot saved by Dickinson in the first minute.

The opening counter attack came just a minute later as Southport replied with Jimmy Williams crossing from the right to Pickford sending in a power diving header past Paul Cuss. But from that point, Southport showed little in the way of anything that resembled creativity after their influential number ten suffered injury from a heavy foul resulting in his substitution after ten minutes of play.

Seeing their opposition's main player out through injury, Wakefield seized their chance with a header from Wilson turned away with the rebound blocked by Dickinson at the end of the first half leaving a question mark over the Haigh road sides defence.

Wakefield got their answer after upping the stakes and adding pressure to the Sandgrounders defence as Southport dug deep to try fend off the inevitable ensuing goal that eventually came from a low cross converted by Scott Clarke from close range after Kenworthy delivered sweetly from the mid park to level the game.

The game after what seemingly offered hope from Wakefield's pressure took a dramatic slump, offering little in ideas to break the deadlock from either side of the pitch as desperation feverishly took a grip of the game. Leaving the Sandgrounder's receiving a deserved booing off the pitch and in search of a new game plan if they are to succeed in gaining a place for promotion for the closing stages of the season despite remaining unbeaten in the last four games.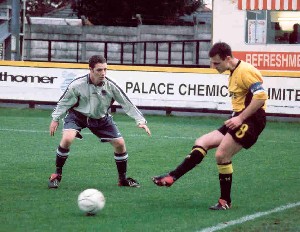 SOUTHPORT TEAM:- DICKINSON/ WILLIAMS/ MORTIMER/ JONES/ FITZHENRY/ PICKFORD/ BAKER/ PRICE/ DALY/ ASHCROFT / MULVANEY
WAKEFIELD TEAM:- CUSS/ NICHOLSON/ SELBY/ FOWLER/ WOOD/ FEARON/ TONKS/ BAIRSTOW/ MANOUSIOS / KENWORTHY/ BOWLER.
ATTENDANCE:- 653 Result:- 1 / 1