COTTARS CANCELLED
SOUTHPORT Arts Center's Young Canadian folk sensation The Cottars have, unfortunately, had to cancel their visit Southport Arts Centre due to ill-health. The youngsters, aged 13 to 16, were due to visit the UK to for the prestigious Celtic Connections festival in Glasgow this month. Their show at Southport Arts Centre, planned for Friday 23 January, would have been their only other UK date. Arts Centre Programme Manager, Jake Roney is hoping that he will be able to rearrange the date for later in the year.

Ticket holders should contact the Arts Centre box office on 01704 540011 for refunds.
THE CHINESE STATE CIRCUS @ THE SOUTHPORT THEATER
THE amazing and unforgettable show, The Chinese State Circus will role in to Southport and perform on the 27 and 28 January at the Southport Theater. Call the booking office on 0870 607 7560 NOW...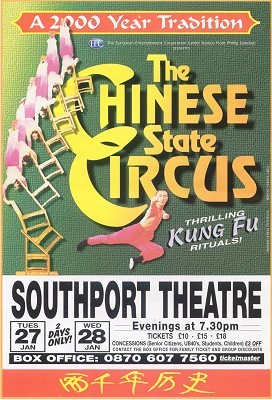 GREASE MANIA HITS LIVERPOOL
THE smash hit musical Grease is breaking Box Office records ahead of its return to the Liverpool Empire. With a month still left to go before the start of the week-only run, this production of Grease has already taken more than the previous visits have yielded with their final figures.

Since breaking out on Broadway in 1972 Grease has seduced the hearts of millions with its back-to-back sizzling tunes, and has now been voted the No. 1 Greatest Musical by Channel 4 viewers.

As leader of the T-Birds, the rebel Danny Zuko oozes sex appeal and can have any 'chick' he desires. High School is only an excuse to flirt with the 'bombshells', get up to mayhem and smoke cigarettes. Along comes Sandy Dumbrowski - a true beauty but a real square - and the chase is on!

Ben Richards plays the role of Danny. Previously playing Kenickie, Ben has also played the lead role of Jerry Lukowski in The Full Monty and Tony Manero in the hit musical Saturday Night Fever, for which he received great critical acclaim.

Originally from Liverpool, Suzanne Carley is making her professional stage debut in Grease. She has played Mary in Jesus Christ Superstar, Nancy in Oliver, Hodel in Fiddler On The Roof, and Carmen in Fame. She is also recognised for reaching the final 50 contestants in the hugely popular Pop Idol in 2003

Grease has proved that a musical love story, bursting with denim, cheerleaders, slick hairstyles, and raging teenage hormones is timeless.

Written by Jim Jacobs and Warren Casey, directed by David Gilmore and choreographed by Arlene Phillips, the show features all the unforgettable songs from the hit film including You're The One That I Want, Sandy, Grease Is The Word, Hopelessly Devoted and many more.

Back by popular demand, Grease is the perfect outing for all the family - this slice of 50s Americana is guaranteed to have even granny hand jiving in the aisle.

Grease will be on stage from the 9 to 14 February 2004 and tickets available from the Liverpool Empire Box Office from £8.50 to £27.50