Director Alex Cox takes Revenge on Q&A's
ALEX COX, Director of cult movies Sid & Nancy and Repro Man and presenter of 90's film review program 'Moviedrome', talks about the making of his latest film Revengers Tragedy, starring Christopher Eccleston, Derek Jacobi and Edie Izzard, talks about his post apocalyptic film and his experience of working in community based media studios in his home town of Liverpool.

Question:- What relationship does Revengers Tragedy have with your home town, Liverpool?

Alex:- "The film is based on a play by Thomas Middleton written in 1606 and was adapted by for the screen by a Liverpool writer, Frank Cottrell Boyce. The crew were almost entirely local and the cast was a 50-50 split between Liverpool and London. It was shot entirely in Merseyside, all central Liverpool except for two days in Birkenhead. It was edited at Media Station, which is across Windsor Street from what is now TTV, in the basement of a building called The Mission Hall."

Question:- What is your relationship with Toxteth TV?

ALEX:- "I haven't done anything for TTV except shoot there and eat the excellent food prepared by Gina! I am one of its neighbours. And, having worked in the TV studio for a couple of weeks, I am also one of its satisfied customers!"


Question:- What TV work have you carried out at Toxteth TV?

Alex:- "'I'M A JUVENILE DELINQUENT - JAIL ME!' was made for BBC Education, and produced by Sol Papadopoulos of Hurricane Films. It's a comedy, starring Neil Fitzmaurice, Barry Sloane, Carla Henry, Christine Tremarco, Andrew Schofield, and Shaun Mason. It was all shot in Liverpool - mostly in Toxteth - and we made TTV our base."

I think ours was the second production to shoot in the stage, and we were really impressed. It's the only sound stage, with a lighting grid and a 360 degree green screen, in the city.

Question:- How did you find the experience of working at a community based studio?

Alex:- "I was delighted by the experience of being based, and working, at TTV, and hope to return soon. To have such a great facility, and to have it based in Toxteth, is a fantastic achievement on the part of everyone involved."

Question:- Public Service Broadcasting and regeneration projects are certainly far removed from life in the jet setting movie world….. Do you think that it is important for the great and the wise of the industry to get involved in grass roots projects?

Alex:- "I have yet to meet anyone great and wise in the film industry. I've met some great actors and technical people, who I'm sure could share their knowledge with the TTV students. The students should avoid anyone who thinks they're great and wise, and come up with their own ideas and stories. They'll make more interesting films that way."

Question:- Finally, what have you got planned for the New Year?

Alex:- "The life of a film director is always uncertain. It isn't possible to plan properly since everything that might happen is contingent on other things, i.e. money. The only certainties for me are that I will drink beer in the New Year, kiss my wife and my dog, and vote for the most progressive candidate in European Parliamentary Elections, on 10 June!"

And who could blame him, with seemingly a masterpiece etching away from his fingers every time he directs, it would be only of true spirit to take a well earned break down at the pub.

'I'M A JUVENILE DELINQUENT - JAIL ME!' first UK screening on BBC2 0200 hrs, Thursday 15 January 2004.
RAC OUTRAGE AT COUNCIL FUNDING REFORMS
THE announcement earlier this week by the Local Government Association that they would like additional powers for local authorities to introduce congestion charging schemes as a means of supplementing council taxes has provoked serious questions of fairness, according to the motoring organisation RAC.

The motoring organisation is concerned that if local authorities are given wider powers to introduce charges in other towns or cities, they may not have adequate public transport systems to cope with the extra passengers. This could cause big problems with many drivers, particularly those on low incomes, being forced off the roads but given few other options of how to travel.

RAC spokesperson Rebecca Bell said:- "If congestion charges are to be widely introduced simply as a way of adding to a local authority's taxation pot, motorists are unlikely to be happy. Congestion charges should be considered only as a way of reducing car dependency, not for pure revenue raising purposes.

Motorists already spend one quarter of their average weekly expenditure by owning and running a car due to taxes and costs. They contribute £42 billion to the Exchequer as it is. Additional contributions to local Council Tax are put towards the upkeep of local roads. If new congestion charges were added onto their bill without clarification that the revenues would be used to improve local transport systems, they will be strongly opposed by motorists.

Both of these requirements are set out within local authorities' existing powers to introduce congestion charges, with London and Durham already using these to introduce schemes. The question raised by today's announcement is whether an appropriate additional objective of these powers would be to raise revenue along with a menu of other localised taxes, or rather to cut congestion when traffic problems reach acute levels.

Although the congestion revenue scheme in London has proven to be a success due to greater public transport facilities throughout the capital. The question remains on how this would work on a national scale. A government white paper is to be set in motion through parliament during the coming months."

Send us your views on this topic today at:- hot-topic@southportreporter.com
Congratulations From Merseyside St John Ambulance

Photograph by Patrick Trollope.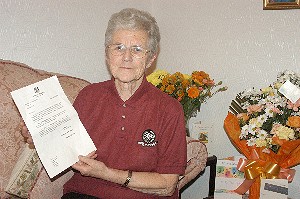 MERSEYSIDE St John Ambulance has said congratulations to one of it's many devoted members. Mrs Mary Myfanwy Platt who is the founder of the St Helens division of the St John Fellowship was awarded the M.B.E. She told us:- "I was suppressed and very pleased when I found out. The branch and my relatives have all planed lots of celebrations running up to the big day, when I get the medal given to me."
A spokesman for Merseyside St John Ambulance said:- "She deserves the award and we would like to say a very big thank you for all her work she has done as well. Congratulations."
Click to see the full list of recipients.