CONSERVATION CENTRE GETS RESEARCH GRANT
THE pioneering research at Liverpool's Conservation Centre received a major boost this week with a grant of £750,000 from the Government's Public Sector Research Exploitation initiative, announced by Science and Innovation Minister Lord Sainsbury.
The PSRE initiative was set up three years ago to help public sector organisations other than universities make the most of their research. The fifteen other successful bidders in this, the second round of funding, include various medical and scientific research bodies.
The Conservation Centre is already a recognised world leader in the development of laser technology for cleaning sculpture and other delicate artefacts. Another application for this expertise is three dimensional computer modelling using laser scanning, which can produce replicas of complicated items that are accurate to within a fraction of a millimetre. Both of these areas of research will benefit from the funding announced today.
John Larson, head of sculpture and inorganic conservation at the Conservation Centre said:- "It is very exciting that National Museums Liverpool is the only museum to receive PSRE funding. We are delighted to get this award which will help to further improve our high technology research, enabling us to purchase more equipment and hire more specialist staff."
The innovative work of the Conservation Centre was originally recognised with an award in the first round of PSRE funding in 2001. The continued support of the PSRE, which has now allocated over £1 million to National Museums Liverpool, reflects the importance and success of the conservation technologies development. Their expertise is in great demand, with commissions already undertaken ranging from local projects such as the repair of the Peter Pan statue and replication of works from the Weld Blundell collection, to work for private artists and museums across the world.

URBAN DESIGN CHAMPION HONOURED
LIVERPOOL'S Urban Design Champion has been honoured for her work in promoting good design.

Councillor Beatrice Fraenkel received one of the Commission for Architecture and the Built Environment's Festive Five which are given to individuals 'whose forward thinking and motivation has led to better buildings and public spaces'.

Councillor Fraenkel said:- "It's a terrific compliment both to me and the city that CABE has recognised that we're really serious in trying to improve the quality of design, architecture and urban planning in Liverpool. This is a most encouraging start and one that has been achieved with the support and assistance with a range of partners."
Armed Robbery at William Hill Bookmakers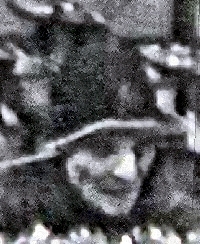 MERSEYSIDE Police have released a CCTV image of a man they would like to speak to in connection with a robbery which took place at William Hill bookmakers in Breck Road, Everton, on Saturday, 27 December.

A man walked into the bookmakers at about 5:20pm and threatened staff with what is believed to have been a pistol before escaping with a quantity of cash.

The offender is described as white, between 5ft 9inches and 5ft 11inches tall, slim build, late 30's to early 40's, with drawn gaunt facial features and a pointy nose. He was wearing a black woolen hat with a motif on the front and a black padded jacket.

Anyone who has information which could help the police with their inquiries can contact Crimestoppers on 0800 555 111.