MORETON'S STARS OF THE FUTURE
FROM rap to writing and sport to singing, teenagers in Moreton could be soon be hitting the stars for fame thanks to their after-school club Yew Tree After School Club being one of the first in the country to gain official Make Space Status!

Make Space is a campaign to create a nation-wide network of contemporary after-school clubs for young people, which is funded by the Nestlé Trust which has been encouraging the small town's youth to creatively excel.

The status means that the club can now apply for a number of activities which Make Space provides for its clubs. These include making records, learning new sports and dance moves; and taking part in courses on subjects such as creative writing.

Yew Tree After School Club in Yew Tree Road, was awarded the status after providing evidence that it met the criteria, which include ensuring that the young people have a chill out room in which they can relax after school hours and have access to activities, including sports and quite areas for study.

Boredom is one of the main complaints of young people throughout the UK, with six out of ten teenagers and eight out of ten parents thinking that there is simply not enough for young people to do in their area, and 80% of teenagers admitting to often feeling bored.

The aim of the Make Space clubs and the activities they provide is to alleviate this boredom and provide young people with a stimulating and sociable place to congregate. Yew Tree After School Club has gone from strength to strength since opening in August 2003 and now boasts and IT suite and 145 members.

Baroness Thornton, chair of the Make Space Development Fund, comments:- "I'm delighted to congratulate Yew Tree After-School Club as they achieve Make Space status. As ever, it is of ongoing encouragement to see a community committed to investing in local youth - and this status means that there will now be even more opportunities for these young people."

* Figures taken from Nestlé Family Monitor, an examination of what 11 to 18 year olds do with their time when they are out of school, published October 2002.
Songscribbler launches songwriter website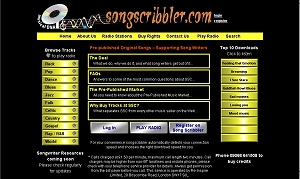 SOUTHPORT BASED Songscribbler is launching a website where songwriters can promote and sell their unpublished music, and listeners can hear and download original, new songs.

Music lovers can listen to new music from the pre-published market for free. Preview tracks can also be downloaded free, with a 50p charge to download the complete track. Songwriter registration is only £20.00, and the songwriter receives 80 percent of the download revenue after tax and transaction charges. Songscribbler.com goes live from mid January 2004.
IT'S LIVE....
OUR FIRST live camera is working 24 hours a day in the center of Liverpool. This is the first camera in our network of web cams. You can hit here to see what is going on in Liverpool now! WEB CAM!
If your business has a computer online 24 hours a day and you want to get a free advert, contact us today at web-cam-team@southportreporter.com and let us know all your information.
BANDS GET IN CONTACT!
DUE TO a massive response in CD's being sent to us we are asking all bands who want to be featured on our new system to email or phone us first. Our email is live-band@southportreporter.com and our phone number is 01704 513 569.