'Pocket' fireworks to be banned
NEW rules were unveiled last week by the government to ban air bombs and other cheap 'pocket money' fireworks. They are often used by "anti-social louts commonly use on streets and housing estates." according to the government.

Air bombs and mini rockets have already been removed from the market by the fireworks industry and under the new regulations that were announced will see a further tighten of the definition and to supply.

Retailers will be required to request proof of age if they suspect a customer attempting to buy any firework is under the age of 18.

A twelve week consultation on the proposals will run until 23 April 04.

Consumer Minister Gerry Sutcliffe said "By making it harder for under 18s to get hold of them and other fireworks, we are continuing to tackle the issue of firework safety and their anti social use - stopping young people being a danger to themselves and others."
Scottish Opera returns to Liverpool with two stunning productions
SCOTTISH OPERA returns to Liverpool on March 10 after a 13 year absence with two of the world's best loved operas; Verdi's Aida and Mozart's The Magic Flute.

Part-time pantomime, part-journey to philosophical enlightment, The Magic Flute features one of Mozart's most scintillating and enchanting scores. Arriving in a strange landscape, a young hero is saved from a serpent by three beautiful women and given a mission. In this production, director Jonathon Moore provides contemporary dialogue and Kit Hesketh-Harvey a new English translation of the lyrics. Conducted by Vincent de Kort, the designs are by Rae Smith and lighting by Bruno Poet.

Aida, Verdi's triangular love story explores the plight of individuals caught up in the tide of political events. Despite its epic reputation, for most of its length, the emotionally charged drama remains on a human scale, an intimacy perfectly realized in Anthony McDonald's striking contemporary production.

Described as one of the world's great Verdi conductors, Richard Armstrong conducts, with lighting by Wolfgang Gobbel and movement direction by Phillippe Giraudeau. As Aida, Inessa Galante makes a rare UK appearance in her Scottish Opera debut in the lead role. Said to be one of the finest lyric sopranos of her generation, she also enjoys an extremely successful recording career.
DO YOU WANT A JOB?
TOP ATTRACTION Pleasureland is seeking staff for full time, part time and weekend work in the following departments:-
Catering & Retail
Ride Operations
Arcades
Security
Ticket Sales
Car Parks
Mature applicants welcomed. Bonus scheme in operation, uniform provided, discounted food and beverages and access to staff facility.  
For an Immediate Interview, contact Staff Services at:- Pleasureland, Marine drive, Southport, PR8 1RX or phone on 01704 532 717 ext 205 or 208. Apply online at www.pleasureland.uk.com.

SWITCHED ON THIS WEEK - THE BEST BITS ON TV
Written by Caren Clark of TV and Satellite Week Magazine.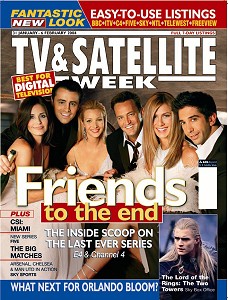 For the week Saturday 31 January to Friday 6 February.
1. CSI:- Miami Five Saturday 9pm... NEW SERIES... The Florida crime team returns for a second series and while the they investigate the hit and run death of a model, Horatio (David Caruso) confronts his feelings for Yelinas (Sofia Milos). Heidi Klum guests.

2. Veritas:- The Quest Sci-Fi Monday 8pm... NEW SERIES... This new adventure drama follows a teenager who discovers his bereaved dad is leader of an organisation seeking to uncover the truth behind archaeological mysteries.

3. Sea of Souls BBC1 Monday and Tuesday 9pm... NEW SERIES... Bill Paterson heads the cast of this X-files-esque drama about a parapsychology unit investigating the unknown. Siobhan Redmond guests as telepathic identical twins who were separated at birth.

4. Faking It Channel 4 Tuesday 9pm... NEW SERIES... Faking It Changed My Life Channel 4 Tuesday 11.05pm The award-winning series returns with more jaw-dropping transformations, kicking off with a bike courier who tries to pass himself off as a top polo player - without ever having been on a horse. Later, previous participants reminisce.

5. The House That Lotto Built ITV1 Tuesday 11pm... What kind of pad would you buy if you won the Lottery? Winners let the cameras into the homes they have spent their cash on, including a former hotel and a French chateau.

6. Will & Grace Living TV Wednesday 9pm... Onetime child star Macaulay Culkin guest stars in the sitcom as a seemingly immature lawyer who is working on Karen's (Megan Mullalley) divorce case.

7. Betrayal:- Oswald Mosley - The English Fuhrer History Thursday 8pm... NEW SERIES... A fascinating profile of the British fascist leader who gained half a million supporters in the 1930s before being imprisoned during World War II for his Nazi links.

8. ER E4 Thursday 9:30pm... Linda Cardellini (Scooby-Doo's Velma) joins the cast as Samantha Taggart, a feisty new nurse with a troublesome past, while Kovac (Goran Visnjic) makes a welcome return from the jungle.

9. A Wife for William E4 Thursday 10.30pm... NEW SERIES... Vernon Kay calls on the nation to help Prince William choose our future Queen from a short-list including pop princesses and European blue bloods. Then it's just down to Wills to buy the ring.

10. Friends E4 Thursday 9pm Channel 4 Friday 9pm... NEW SERIES... In this final series, will Rachel's new relationship with Joey keep her from Ross? Will the Bings hear the patter of tiny feet? And will Phoebe sing Smelly Cat one last time?

VARIATIONS:- None

SPECIAL OFFER... Subscribe to TV &Satellite Week for only £9.99 every 3 months! Call 0845 676 7778 quoting your special code of 27B or visit www.ipcsubs.co.uk/TVS/itsg