Strikes Hit Civil Service Where It Hurts......
CHEFS and restaurateurs from Liverpool and Manchester met for the first time this week in Liverpool's Hope Street Hotel to debate the issues that will impact upon them in the lead up to European Capital of Culture event.

The idea came following Liverpool's successful Capital of Culture bid and the inaugural Liverpool Food and Drink Festival held in October 2003. With the anticipated rise in visitor numbers in the run up to Capital of Culture year, the idea followed Liverpool's successful Capital of Culture bid and the inaugural Liverpool Food and Drink festival last October, placing an emphasis on the visitor experience.

Chris Brown, Director of Operations at The Mersey Partnership said:- "The purpose of tonight's event is to raise awareness of the opportunities for the restaurant sector as part of Liverpool's successful bid to be European Capital of Culture. It is important that as we move towards 2008 Liverpool and Merseyside responds by constantly seeking ways to raise quality standards and develop links with national representative bodies."

The impetus to drive this idea forward is re-enforced by the Northwest Development Agency's tourism vision for the northwest which identifies "Fantastic Food" as one of the thematic marketing campaigns that will highlight the region's uniqueness and special appeal.

13 YEARS FOR NORTH WEST COCAINE PAIR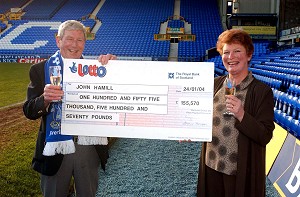 A LIFELONG Everton supporter from the Halewood area is enjoying a great result after scoring a £155,570 Lotto windfall.

John Hamill, 59, is still celebrating with his wife and family after matching five numbers plus the bonus ball from the draw on Saturday 24 January 2004. He discovered he had scooped the top prize while watching Saturday night's National Lottery draw show live on television. January is a lucky month for John who won £7,000 on Lotto HotPicks™ this time last year.

John said:- "I couldn't believe it when I saw that we had won - I had to check the tickets four times! My wife and I phoned our son and daughter who came over straight-away and we spent the rest of the evening enjoying some celebratory drinks."

Professional painter and decorator John will finally be putting his skills to good use in his own home, as he now plans to work part time until his retirement in July.